When I was roaming the world as a foreign correspondent, I spent hours and hours talking to American ambassadors in places like Tokyo, El Salvador, Vietnam, Cambodia, Peru, Mexico, etc. The list goes on and on.
Most of them had extensive knowledge of the countries in which they represented the United States.
Mike Mansfield, for example, was the longest serving U.S. Ambassador to Japan in history (1977-1988). He had a significant knowledge of Japan and Asia and was fond of saying that the United States-Japan relationship is the 'most important bilateral relationship in the world, bar none.'
His successor, Michael H. Armacost (1989-1993), was the former ambassador to The Philippines; a member of the National Security Council to handle East Asian and Chinese affairs, and was acting Secretary of State.
When you had a conversation with either of these men about Japanese-U.S. relations, it was substantive.
That same cannot be said for the two most recent ambassadors confirmed by the Senate:
·
New Ambassador to Hungary Colleen Bradley Bell, 47, a soap opera producer (
The Bold and the Beautiful)
, Obama donor ($800,000) and bundler ($2.1 million) for his campaigns.
·
New Ambassador to Argentina Noah Bryson Mamet, 44, a political consultant and bundler who raised $500,000 for Obama's presidential campaign.
Neither of America's newest ambassadors have any significant knowledge of the countries they will be working in and neither distinguished themselves during Senate confirmation hearings.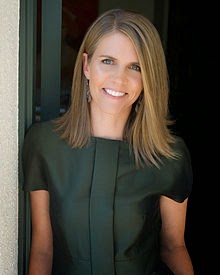 Colleen Bradley Bell
Take this exchange between Bell and Sen. McCain at this week's hearing:
MCCAIN: So what would you be doing differently from your predecessor, who obviously had very rocky relations with the present government?
BELL: If confirmed, I look forward to working with the broad range of society —
MCCAIN: My question was, what would you do differently?
BELL: Senator, in terms of what I would do differently from my predecessor, Kounalakis
MCCAIN: That's the question.
BELL: Well, what I would like to do when — if confirmed — I would like to work towards engaging civil society in a deeper — in a deeper —
MCCAIN: Obviously, you don't want to answer my question.
Then there was this exchange between Mamet and Sen. Marco Rubio:
RUBIO: "Mr. Mamet, have you been to Argentina?"
MAMET: "Senator, I haven't had the opportunity yet to be there. I've traveled pretty extensively around the world. But I haven't yet had a chance."
Mamet also conceded that he speaks no Spanish and has little or no knowledge of Argentine history or politics.
Noah Mamet
And so it goes. The truth is that both Bell's and Mamet's appointments are just another example of the Washington game which rewards campaign donors and friends of the president with ambassadorial positions.
By recent historic standards, Obama is already pushing the ceiling when it comes to putting friends and campaign supporters in U.S. diplomatic posts.
According to research by the American Foreign Service Association, 35 percent of Obama's assignments have been political appointments. But in his second term, the number has grown to 41 percent according. The AFSA union represents career diplomats and wants more strict enforcement of a 1980 law that says campaign donations may not be considered a qualification for any foreign posting.
Good luck with that.
Among other things that law says: "An individual appointed or assigned to be a chief of mission should possess clearly demonstrated competence to perform the duties of a chief of mission, including, to the maximum extent practicable, a useful knowledge of the principal language or dialect of the country in which the individual is to serve, and knowledge and understanding of the history, the culture, the economic and political institutions, and the interests of that country and its people."
Whoops! Somebody in the White House must have forgotten that. Ditto the Senate. But wait, the confirmation votes for Bell and Mamet were along strict party lines. So forgetfulness was not a factor.
Money was.
I was thinking that I were still roaming the world as a foreign correspondent, what could I talk to Ms. Bell about if I were writing about Hungary?
It's oppressive form of government? Nah. It's sick economy? Nah Corruption in the government of PM Viktor Orban? Nah.
But we could spend a good hour discussing the Bold and the Beautiful and its most recent episode:
"Liam badgers Quinn to admit she went to the shower and took the cake as a momento. Quinn hollers at him to let it go. He accuses her of stalking Hope. Quinn says being treated like a pariah instead of a loving grandmother-to-be is ripping her apart. She insists the baby changes everything. Hope and Wyatt's marriage is secure and she'll never be a threat again. Liam promises as long as she's a threat to Hope's happiness…"
And I could walk away with a reporter's notebook bulging with news.
Comments
comments