Back in Feb. 1990, when I was the Chicago Tribune's Tokyo Bureau Chief, I covered the Mike Tyson-Buster Douglas heavyweight champion fight in Tokyo, one of greatest upsets ever.
For the past few weeks the
Japan Times
has been running a fascinating series of stories about that historic event written by reporter Ed Odeven. In them he interviewed a wide range of folks, including Buster Douglas himself.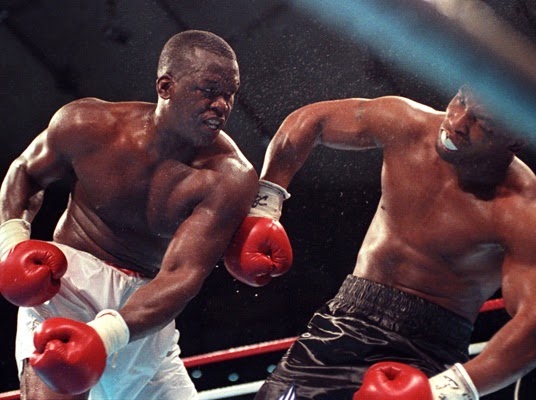 Ed also interviewed a few of us who covered the fight in the vast Tokyo Dome. You can access those stories by clicking on the links below.
I have also included the story I filed for the Chicago Tribune that day. Take a look.
Douglas KO's Tyson in 10; Champion floored by right hook
TOKYO–Mike Tyson, a prohibitive favorite to retain his world heavyweight championship, was floored in the 10th round of his bout with James "Buster" Douglas Sunday in one of boxing history's biggest upsets.
With a mild typhoon howling outside the
Tokyo Domeand an unbelieving crowd of some 40,000 shrieking inside, Douglas peppered Tyson with a right uppercut, several left-right combinations and a crushing right hook to send the former undefeated champion crashing to the canvas.
Tyson, his left eye swollen shut and his knees still weak, couldn't climb to his feet in time to beat the count by referee Octavio Meyran Sanchez.
For a moment those at ringside seemed stunned at what had happened and Tyson, himself, seemed unable to grasp what had just happened. He looked across the ring at a jubilant, unmarked Douglas as Douglas hoisted his 11-year-old son Lamar in the air.
"You did it, Daddy, you did it," the youngster said.
"I sure did," Douglas said, breaking down in tears as he hugged his son.
"I did it for my mother," Douglas said, wiping tears from his eyes. Douglas' mother, Lula Pearl Douglas, died in mid-January just before Douglas was due to travel to Tokyo to train for his fight with Tyson. "I sure did it, didn't I," he said.
Indeed, he did. But earlier in the eighth round, it appeared it would be business as usual for Tyson when he caught Douglas with a crunching uppercut that sent the 6-foot-4-inch, 233-pound challenger crumbling to the canvas.
The fight might have ended there, but the knockdown came at the end of the round and Douglas was able to stagger back to his corner where his cornermen worked feverishly to revive him.
Tyson, who lacked the fire and intensity of previous fights, uncharacteristically failed to press his advantage in the ninth round and allowed Douglas to regain his strength and composure. As the ninth ended, Douglas peppered Tyson with left-right combinations-a harbinger of what was to come for Tyson in the fateful 10th.
Through most of the fight Tyson had difficulty getting inside the awkward Douglas' 12-inch reach advantage and resorted to lunging at the taller fighter. Douglas responded with left jabs to Tyson's head, which kept the former champion at bay.
Though Tyson managed to walk from the ring, when he got under the
Tokyo Dome's stands, his cornermen carried him down the steps to his dressing room.
"No comment, no comment," Tyson's entourage shouted at reporters who mobbed the former champion's dressing room. "This room is off limits!"
Tyson also refused to conduct a post-fight interview with
Home Box Office fight analyst Sugar Ray Leonard. HBO beamed the fight back to the United States.
Back in the middle of the ring, Douglas, who seemed dazed by his historic upset, waved to the crowd and shouted at the Japanese audience:
"Thank you for making me and my son and my trainers feel so at home here in Japan. Thank you for making all of this possible."
Even more dazed than Douglas was Evander Holyfield, the undefeated top-ranked challenger that Tyson was to have fought June 18 at Atlantic City.
"It was a great fight for Douglas," said Holyfield. "He was the best man tonight. No doubt about it. But this didn't look like the Mike Tyson I've watched before."
"We rooted hard for Mike Tyson," said Dan Duva, Holyfield's promoter. "Now it's back to the drawing boards."
A Holyfield-Douglas matchup will not carry the luster nor the money of a fight with Tyson, admitted promoter Don King.
"My goal is to be world heavyweight champion and I don't care who I have to fight to reach it," said Holyfield. "Douglas has the championship now, so he's the one I want to fight."
For their efforts Saturday night, Tyson reportedly earned $9 million and Douglas $1 million.
Douglas, 30-4-1, was too busy celebrating to think about his next opponent.
"Let me enjoy this one first," he said, when asked if Holyfield would be his next opponent.
Douglas seemed to take command of the fight from the opening bell and won the first three rounds as the frustrated Tyson tried unsuccessfully to reach his taller opponent.
By the fourth round Tyson had battled back with punishing body shots that seemed to hurt Douglas. Both fighters appeared to tire in the sixth round with Tyson still unable to connect against Douglas.
In the seventh and eighth rounds both fighters traded jabs and combinations until Tyson connected with a vicious uppercut that dropped Douglas in the end of the eighth.
With Tyson unable to put Douglas away in the ninth, the challenger peppered the champion with five straight punches that closed his left eye completely.
The fight was Tyson's 10th title defense-the last six of which had ended in knockouts.
As Douglas sent Tyson crashing to the canvas, an American judge had the challenger ahead on points 88-82. One of two Japanese judges had the fight scored 87-86 for Tyson while the last judge had it 86-86.
"I don't think Mike was hungry enough today," said Holyfield.
The prospect of Tyson stepping into the ring against Douglas had electrified the Japanese about as much as a plate of yesterday's sushi. That was reflected in the slow ticket sales for the 63,000-seat
Tokyo Dome, a facility normally used for baseball by Japan's champion Yomiuri Giants.
Ironically, some 2,000 ringside "Golden Seats" sold briskly at $1,035 each, snapped up by Japanese corporations as gifts to top customers and perks for executives, and by Japanese and foreign celebrities such as the Rolling Stones (in town for a series of concerts) and New York real estate tycoon Donald Trump, along with several Japanese pop singers, movie stars and television personalities.
However, a
Tokyo Domeofficial confided before the fight that more than half the remaining 60,000 tickets were still unsold.
It took King to keep the usually kinetic Japanese press and public pumped up for the contest, a formidable task after reporters were invited to watch the 5-foot-11-inch Tyson walk through several listless practice bouts with taller sparring partners such as Greg Page and Phillip Brown.
The most excitement generated during the three-week run up to the fight came when Page floored Tyson with a short right during a sparring session two weeks ago.
Comments
comments