In two weeks it will be 40 years since the world watched as South Vietnam fell to the Communist North Vietnamese.
I was there when it happened and it is one of those events that I will never forget. At the time I was the Chicago Tribune's Far East Correspondent and I had been sent to Vietnam to write about Vietnam two years after the 1973 Paris Peace Agreement that was supposed to have brought peace to this war-ravaged country.
Only it didn't.
Instead, between 1973 and April 29, 1975, when the war finally came to a frantic, ignominious end, thousands of Vietnamese soldiers and civilians died. Thousands more South Vietnamese were thrown into Communist "re-education" camps after 1975 where they perished or served out long sentences for the crimes of working with the Americans or fighting against the North.
When I was evacuated the night of April 29 aboard a U.S. Marine CH-53 Sea Stallion helicopter that lifted off from the Defense Attaché Office compound I wasn't sure when or if I would ever return to Saigon.
As it turned out, I returned 10 years later for the 10th anniversary of the fall of Saigon–along with many other correspondents. It was the first time many of us had been back to Vietnam since the collapse in 1975.
I returned again in 1995 for the 20th anniversary of South Vietnam's defeat.
I filed several stories during those visits and in the run up to the 40th anniversary of the Fall of Saigon, I plan to share a few of them on my Foreign Correspondent blog.
l hope you will find them interesting.
VIETNAM BLITZED, THIS TIME BY THE PRESS
SAIGON, April, 29, 1985–While Vietnam prepares to celebrate the 10th anniversary of communist Hanoi's victory over the South Vietnamese regime Tuesday, another celebration is taking place in the dim and dour hotels and restaurants of Saigon.
It is the reunion of the foreign press corps that covered the Vietnam War until that frenzied April 29, 1975, when, amid the inhuman screech of artillery and rocket fire, they were evacuated on U.S. Marine Corps helicopters.
For some journalists, it is their first trip to Vietnam in 10 years. But for others, it is their first trip, which means sitting through long nights over Vietnamese beer while correspondents who haven't seen each other in a decade relive the past.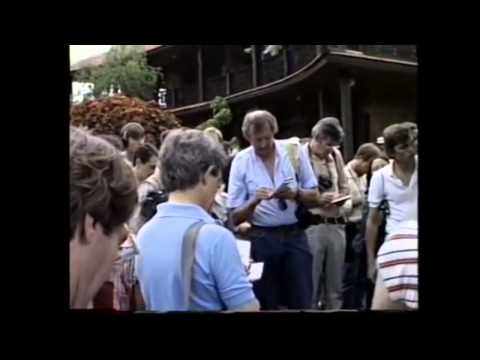 Reputations were made here and great friendships, too, said CBS correspondent Liz Trotta, who covered the war in the 1960s.
Indeed, in hotel lobbies all over Saigon, now called Ho Chi Minh City, correspondents greet each other with bear hugs and shouts.
All are a little older and a little grayer and their khaki bush suits are a little larger around the waist.
At least 150 of them have converged on Ho Chi Minh City for the anniversary. Their numbers are less than the 400 who covered South Vietnam's collapse 10 years ago, but they have made up for that by coming with much more equipment and technology.
Ten years ago, newspaper and magazine reporters flew into Saigon with their steel-cased Olivetti typewriters, ball points and notebooks. Television reporters covered the war with film cameras and bulky battery packs.
Last week, correspondents arrived in Saigon with portable computers and microtape recorders. TV crews have been scouring the grimy streets of Saigon recording everything with mini-cameras that can transmit to satellites.
The American media are not overkilling this story, they are murdering it, said one British journalist as he watched NBC and ABC camera crews converge on three startled Amerasians.
To produce its "Today" show from its specially constructed studio in the old Presidential Palace, NBC has imported 52 journalists, editors, technicians and producers and has built a dedicated transmitting station to send the show live via satellite to the U.S.
The cost of that operation has been almost as guarded a secret as the American bombing runs at the height of the war, but according to an NBC producer, the network is paying the Hanoi regime more than $1 million so Bryant Gumbel can interview the mayor of Ho Chi Minh City, assorted journalists, authors and antiwar dissidents on "Today."
Running second to NBC is ABC, which has countered with Ted Koppel and "Nightline," scheduled to air live Monday night.
Like Gumbel, Koppel will interview Vietnamese luminaries, American dissidents, journalists and other experts on Southeast Asia to put Vietnam in perspective for the American public, said Rex Granum, director of TV news for ABC.
ABC's effort is less ambitious than NBC's, says Granum, who will say only that "we are spending one-third of whatever NBC is spending. The network has 18 correspondents and technicians in Saigon and instead of direct satellite transmission, it is relaying its live material to America via a Soviet Sputnik."
More than 750 requests were made by journalists who wanted to come to Vietnam for the 10th anniversary of the revolution, said Doung Minh, deputy director of the Vietnamese foreign press center in Hanoi. But with limited hotel space in Saigon and too few staff to watch over the crush of correspondents, the government decided to limit the number of visas to 200, he said.
American television people are making this 10th anniversary celebration bigger than the government intended it to be. Indeed, several Vietnamese officials have told journalists privately and off the record that the Vietnamese government is spending more than it wanted to on the pomp and media blitz, so American television networks will have something to send back to the U.S.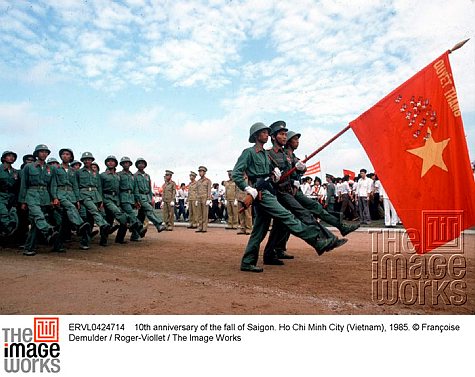 For most journalists, the story in Vietnam in 1985 is not the parade of tanks and troops through Saigon. April 30 is a much broader story. It focuses on the conditions of the people in Vietnam 10 years after the North defeated the South, on the emotional and physical scars left by a war that saw 57,000 Americans and more than a million Vietnamese killed in 12 years of slogging through rice fields and trudging over jungle.
The Vietnamese seem to view the affair as an opportunity to put forth their best face to a world largely critical of its continued occupation of neighboring Cambodia. They also see Tuesday's celebration and the media exposure as a way to speak directly to Americans about the war and the correctness of the revolution.
"For me it seems strange to be working with people I regarded as my worst enemies just 10 years ago," said Nguyen Vo, a foreign ministry employee.
Comments
comments