Periodically, my blog participates in virtual book tours which allow authors to showcase their books to a broader audience. Today I am hosting fellow author Jean Shorney whose new novel PROGENY OF A KILLER  is available on Amazon. The descriptions, interview and biographical information are provided by the author.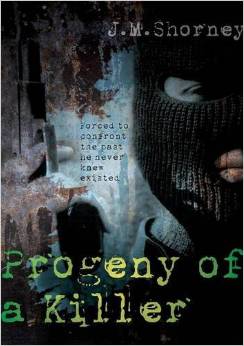 AUTHOR BIO
I live in a country village called Thatcham, in rural Berkshire, England. I am a widow with two sons and a granddaughter. My granddaughter also writes and is training to be a dance choreographer.  I love music, especially old Country, as I have since I was a child. I enjoy listening to Irish Country music, which I also write to. When I'm not writing, I work in a care home for the elderly with dementia. I enjoy watching movies and collect old gangster and horror films. I once owned over two hundred and fifty books on supernatural accounts, but was compelled to give them to charity shops as I had run out of room.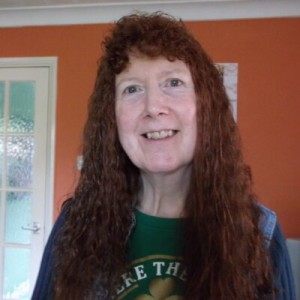 I own over five hundred movies, and enjoy old anthology series such as The Twilight Zone and The Outer Limits. My favourite writers are Elliott O'Donnell, Robert Bloch, MR James and HP Lovecraft. I also enjoy the Irish terrorism thrillers of Jack Higgins.
I would like to post an acknowledgement to the lovely Helen Treharne, @Tea_Talks on # Twitter for recommending  Rave Reviews Book Club, and for her continued support.  She's read all my books to date. Bless her.
MY WRITING JOURNEY: Jean Shorney
I suppose from the time I could read I had yearnings to become a writer. During my school holidays I cajoled my mother into buying books, not merely fiction, but books on history, which I love. I was never seen out playing with others. I suppose mine was, to all intents and purposes, a lonely childhood, but one that was so populated by books I didn't care. I devoured them with a passion. Perhaps books were my child-minders. While I browsed the books in a department store so my mother could do her shopping, she could still find me in the same place when she returned.
I wrote my first novel when I was ten. An illegible scrawl in a tattered exercise book, but I still remember the story and the title. It was called Murderous Home. In it a young man murders his uncle for his money. When he buries the uncle beneath the floorboards, the stench of decaying flesh alerts the other residents of the tenement. A  police officer is called, and the young man is arrested.
Many stories I have written have become lost in various moves over the years, but there was one I had entitled South Of The River. The story was set between Berkshire and London, in which a young cab driver, Danny, picks up Victoria in his cab and feels an attraction toward her. Victoria is an heiress and Danny robs banks when he's not driving cabs.
I had worked on the conclusion of the story where Danny gets shot by his jealous girlfriend and bleeds to death in the snow, with something akin to pride. My family loved the story and suggested that I should try to place the book with an agent. Nervously I did so. I sent the usual three sample chapters and enquiry letter, expecting to receive a negative response, but the agent was so enthusiastic over the book. Although it was right on Christmas, and I was concerned my parcel would be swamped by other Christmas mail, he wanted to read the book over the holidays. So I sent the rest of it.
But from elation at hopefully being accepted, he wanted to change so much, including the ending I had so lovingly worked on. In hindsight, perhaps I should have gone along with it, but he  told  me the ending should be a happy one. They couldn't possibly use it. Naturally I couldn't pretend I wasn't disappointed. My family were also. I suppose I was angry too, and let him know my feelings in no uncertain terms. 'If you feel that way then,' he said. That book has such potential. He'd asked someone to help me with it, but our letters crossed, and I never heard from the agent again. For a while, I had lost my zest for writing. I never sent a book again until the advent of self-publishing.
My first two novels Staying Out and All Of Them Vampires! were published on Kindle and Smashwords. This was before the swamp. The books were, to my surprise, quite a success. Though, at the outset, they tended to disappear off the radar until I hired a publicist. He advertised them over Social Media and soon I was voted third favourite author on Smashwords with 170 likes on Facebook. The first couple of months, I suppose I sold 150  copies when I expected about half dozen if I was lucky.
I have penned five novels to date. Beside Staying Out and All Of Them Vampires!, there's Stalking Aidan, the first book in The Aidan McRaney Series, in which our hero is first released from prison. He attempts to get his life back, although he becomes the target of revenge-seekers who will stop at nothing. The Devil In Soho sees Aidan and his young brother Ruairi running a nefarious nightclub while the owner, gang boss Ray Lamond is in jail. In Progeny Of A Killer, Aidan is sent into infiltrate fellow Irishman Danny Corrigan's terrorist activities. In retaliation for what the British have perpetrated on the Irish over the years, Corrigan's plan is using soft targets, children, to gratify his sadistic ends and as a means of revenge.
My latest work Night Of All Evil is a breakaway from the crime thriller. It's a Gothic Horror of Satanism and Witchcraft in the Dennis Wheatley mould. Parts of which are set in Highgate Cemetery, and introduces two new characters; medium Freya Monroe and her husband Nick, a one-eyed ex-U.S Army Captain.
I am currently writing another Aidan McRaney story entitled The Dangerous Ones.
This tour sponsored by 4WillsPublishing.wordpress.com

Link to Blog: https://jmshorney.wordpress.com
Twitter: @jmshorney
Stalking Aidan
Amazon: http://www.amazon.co.uk/Stalking-Aidan-JM-Shorney-ebook/dp/B00FL0I35S
Barnes & Noble: http://www.barnesandnoble.com/w/stalking-aidan-jm-shorney/1116997236?ean=9781909878662
Progeny Of A Killer
Amazon: http://www.amazon.co.uk/Progeny-Killer-J-M-Shorney/dp/1910223050/ref=sr_1_1?ie=UTF8&qid=1426852661&sr=8-1&keywords=progeny+of+a+killer
Barnes & Noble: http://www.barnesandnoble.com/w/progeny-of-a-killer-j-m-shorney/1119687532?ean=9781910223055