One of the best things about cruises is getting off the ship and strolling on terra firma. In our case, terra firma meant St. Thomas, the U.S. Virgin Islands; Tortola, the British Virgin Islands; and Nassau, the Bahamas.
I can only imagine what the local populations thought as the mammoth S S Norwegian Escape pulled into the ports of these places with its 4,500 passengers and 2,200 crew.
For example, when the ship docked and the gang planks were lowered onto the quay at St. Thomas the mass exit from the Escape was something akin to an invasion of locusts. Of course, these "locusts" were wearing cargo shorts and flip flops and carrying cash and credit cards and were not there to strip away the mangoes and banana figs.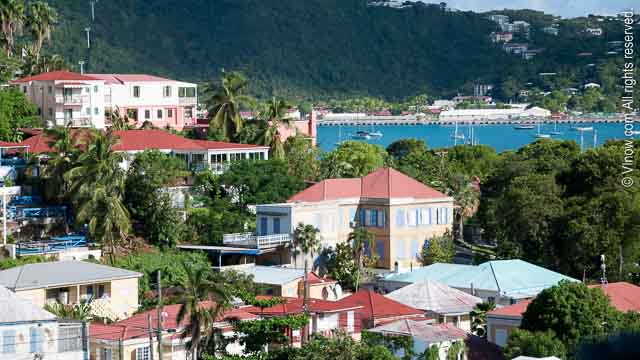 They came to snorkel, go kayaking, scuba diving, swim with dolphins, roast on the white sand beaches, take open air bus tours around the 32 square-mile island, explore Blackbeard's Castle, or swarm through the plethora of duty-free shops on Main Street in Charlotte Amalie town.
We chose to take a bus tour of the island. As with all bus tours in any tourist destination, our driver made strategic stops along the twisting two-lane road that winds through the verdant hills of St. Thomas. These were meant to be stops to view the scenery and take photographs. Naturally, they also happened to be right next to small shops and refreshment stands so we locusts could drop some dollars before going on our way.
Fair enough. The people we met at these places were pleasant and helpful and even supplemented the information our tour guide was giving us with some insights of their own.
"You want to live here?" asked the owner of a small kiosk on a bluff overlooking  Magens Bay.
"That depends. How much do houses cost here?" I wondered.
"Cheap, very cheap," he replied.
A quick check of the real estate market revealed that there were about 200 houses listed ranging in price from $200,000 for a two bedroom two bathroom house to $28 million for a ten bedroom, 11 bathroom mansion on 62 acres bordering two beaches. I figured the only person who might be able to afford that place was the actor Kelsey Grammer, who was born in St. Thomas.
I opted instead for a local lemon-lime drink and climbed back on the bus which soon deposited us in Charlotte Amalie town.
Later, the walk along Main Street was a bit like running a gauntlet. Shop owners hovered in front of their shops blocking the sidewalks and coaxing the locusts inside to buy a range of items from diamonds (they are supposed to be cheaper here than anywhere else on the planet) to clothing, art, and antiques.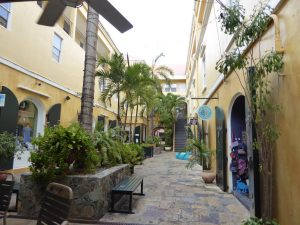 Incredibly, I managed to escape without leaving too many dollars behind. I only bought a white Panama Jack hat and a pair of white cotton shorts.
We ate lunch at an open air restaurant called The Greenhouse overlooking Cay Bay. That's where we met another couple who were on their 21st cruise. Naturally, we picked the brains of these veteran "cruisers" for as much insight as possible.
The next day we were in Tortola, the British Virgin Islands. Only this time we did a tour of the 21 square-mile island by land and sea. Our boat took us past several smaller islands and then it was back to land and another open air bus tour along Ridge Road. Once again, we made strategic stops next to assorted kiosks and shops.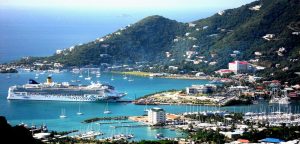 Like St. Thomas, Tortola was visited by Christopher Columbus in 1493 as he continued to search for a passage to the East Indies. And like St. Thomas, Tortola was inhabited mostly by pirates like Blackbeard and Captain Kidd.
Tortola seemed less developed than St. Thomas and we had less time there to explore. We grabbed a quick lunch in Road Town at the Village Cay Hotel & Restaurant in on the bay and then hoofed it back to the ship for a 4:30 departure.
Our final stop was Nassau, the Bahamas. Without a doubt, this was the most developed of all the places we visited. It had enough automobile traffic and congestion to remind me of southern California. In fact, with a population of almost 250,000, it is actually bigger than the area north of San Diego where we live.
Like St. Thomas and Tortola, Nassau began as a base for pirates, including such legendary buccaneers as Charles Vane, Thomas Barrow, Benjamin Hornigold, Calico Jack Rackham, Anne Bonny, Mary Read, and the infamous Edward Teach, aka "Blackbeard."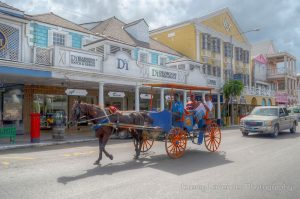 The British eventually drove out more than 1,000 swashbucklers in the early 18th Century, and now the only pirates around are the ones who operate tourist concessions and shops along Bay Street a few blocks from Prince George Wharf, where the Norwegian Escape tied up.
Our tour took us to Paradise Island where we got to spend about 20 minutes looking at the mammoth Atlantis Resort. We also visited Fort Fincastle and the Queens Staircase—66 steps stone leading up the hill to Fort Fincastle. Then, it was back to Bay Street for a few minutes of shopping and a short walk back to Prince George Wharf. Somehow, the six hours we had in Nassau just wasn't enough.
Seven days in the Caribbean is not enough time to acquire any real knowledge or affection for the islands we visited.
It was a bit like the 1969 David Wolper movie, "If it's Tuesday, This Must Be Belgium" in which a tour guide takes a group of American tourists on a whirlwind 18-day tour of every country in Western Europe.
Too much to see and not enough time to do it.
(NEXT: A Pilgrimage to Hemingway's Key West House)
Comments
comments