A new Gallup poll has just confirmed what most Americans have known or at least suspected about America's mainstream media for the past couple of years.
The news media have lost credibility at an alarming rate, and confidence that the news is being impartially reported has dropped to his lowest level in Gallup polling history.
Only 32 percent of Americans have a great deal or fair amount of trust in the media—down eight percentage points from last year.
Here is the question put to a random sample of 1,020 adults, aged 18 and older, living in all 50 U.S. states and the District of Columbia:
"In general, how much trust and confidence do you have in the mass media—such as newspapers, TV, and radio—when it comes to reporting the news fully, accurately, and fairly—a great deal, a fair amount, not very much, or none at all?"
Gallup has been asking this question since 1972. It is interesting to note that in 1976 fully 72 percent of Americans trusted the news media to present news in an unbiased and accurate manner.
So what is going on? Why the 44 percent plunge in the past 40 years?
The answer is simple.
America's news media have moved consistently to the left of center and now see themselves as exponents and defenders of political agendas that reflect liberal viewpoints.
Reporters today have much more leeway to insert their political beliefs and shared values into news stories. There are fewer editors and producers in newsrooms who demand at least a semblance of balance and fairness in the stories reporters turn in.
To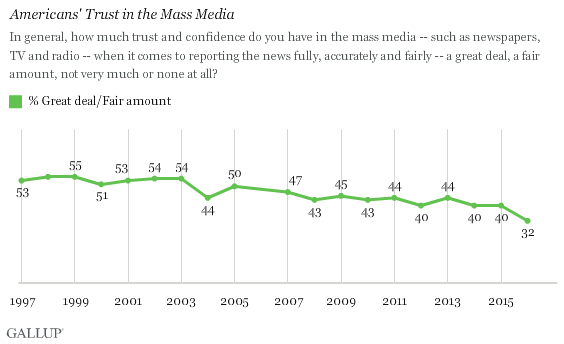 o many journalists see themselves as advocates for specific societal dogmas and attitudes that they identify with or support rather than as objective witnesses.
Okay, here is where I get to sound like an old fogey journalist from the green eyeshade era.
Actually, I am quite proud of that appellation. Because when I entered the world of journalism right out of college back in 1970 as a general assignment reporter for the Chicago Tribune, the concept of objectivity was not considered some quaint, outdated notion that was impossible to attain and therefore could be ignored.
You couldn't get away with inserting your political or social beliefs into any story that you turned into the Tribune's City Desk. If you did, a cranky old school City Editor by the name of Don Agrella would yell at you and chuck the story back at you.
"You can't write that kind of biased crap in the Tribune," he would bellow. "Leave your stupid opinions at home. Our readers don't give a rat's ass what you think. "
It only took one or two tongue lashings like that and any notion you had of incorporating your political perspective or your attitudes about social issues in a news story quickly receded.
Where are the Don Agrellas today? Sadly, they are few and far between, and the result is a world in which reporters feel they have a right and duty to inflict their predominately liberal opinions on readers, viewers and listeners.
It is not just what is inserted into a news story that can make it unfair and unbalanced. Often, it is what is left out—the bias of omission.
For example, I recently heard a National Public Radio report on how Republicans are conflicted about the 2016 presidential election. Several Republicans were interviewed, and almost all said they couldn't vote for Donald Trump. A couple of them stated that they were voting for Hillary Clinton, and a few others said they would pull the lever for Libertarian candidate Gary Johnson.
If I were to go out onto the street today and stop 50 Republicans, I bet you I would have trouble finding more than one or two who are thinking of voting for Clinton or Johnson. To produce a report that leaves listeners with the impression that Republicans are switching en masse to Clinton or Johnson rather than vote for Trump is clearly dishonest or at the very least an attempt to push a liberal agenda.
During the 2016 presidential campaign that agenda has been on display day after day in the mainstream media. You can be sure that if there is just a hint of a negative story about Donald Trump, it will be the lead story on NBC, CBS, or ABC—not to mention CNN and MSNBC, both of which have lost all credibility in their fawning support of Hillary Clinton.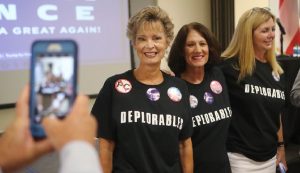 Just look at how they handled Clinton's labeling of 60 million Trump supporters as potential racists, sexists, homophobes, xenophobes, Islamophobes. Her comment that half of Trump's supporters are in a basket of "deplorables" represents one of the greatest gaffes in American electoral history.
The mainstream media did its best to sweep Clinton's "deplorables" comment under the rug.
"She walked that back," one news anchor said. "But, you have to admit a lot of Trump supporters fit the categories Hillary Clinton mentioned."
Really? Which supporters? And what about the Democrat party? Are there no "deplorables" in it? I suspect there are plenty.
After all, this is the party of Jim Crow, which spawned the KKK, that supported slavery, and which condoned lynching and segregation. It was the Democrat Party that opposed the 13th Amendment abolishing slavery, as well as the Fourteenth and Fifteenth amendments that gave legal rights to African-Americans as well as the right to vote.
Has the Democrat party ever apologized for its long history of racism and sexism? Answer: No.
The appellations Clinton iniquitously bestowed on 60 million Americans are not bound to Trump or one party. There are plenty of "ists" and "phobes" to go around.
Then, there is the issue of Hillary Clinton's health. The media have gone to great lengths to insist that Clinton is healthy and the fainting episode Sunday was brought on by pneumonia. Here's the link:
https://www.youtube.com/watch?v=FVDyciOQCak
However, the executive director of the Association of American Physicians and Surgeons has questioned how the mainstream media can ignore signs of what could be a traumatic brain injury in Clinton.
Dr. Jane Orient, executive director of the Association, observes that "strangely silent is the mainstream media about the fitness" of Hillary Clinton to be President.
On the AAPS' website, Orient summarizes the concerns about Clinton's health that she says are growing:
In addition to the episode on 9/11 in which Clinton was recorded collapsing into the arms of her secret service detail, "there's the photograph of Secretary Clinton's difficulty walking up some steps. Now inability to climb stairs does not necessarily disqualify a person from public office. The people helping her seem to be preventing a fall. Did she simply trip? Or was it a seizure or a stroke?
"Videos widely circulated on the internet are, if authentic, very concerning. One shows prolonged, inappropriate laughter; another, strange head movements. In a third, she appeared momentarily dazed and confused and lost her train of thought.  Reportedly, she has a volcanic temper.  A man who stays close to her, who is reportedly not a Secret Service officer, was photographed carrying something in his hand that appears to be an auto-injector of Valium."
Is it any wonder then, that when Americans see a left-leaning mainstream media covering up Clinton's health issues, or carrying her water when she makes dumb statements about "baskets of deplorables" that they have little or no confidence in the honesty and integrity of journalism today?
It's sad to see the steady demise of an occupation that I once felt honored and privileged to be a part of because too many journalists today believe it is more important to advocate for a position or candidate than it is to practice professional, responsible, non-partisan journalism.
I am sad to say it, but I feel fortunate that I am no longer associated with a once honorable profession that more and more is overseen by a network of unethical propagandists rather than unbiased, professional journalists.
Comments
comments