Recently, the British newspaper The Guardian ran a long story on the impact technology is having on our perception of truth.
It was a thoughtful, informative piece that pointed out how social media are not only disrupting but corrupting journalistic integrity and honesty world-wide. We are seeing that happen in the United States with an open and uninhibited social media brimming with fabrications, smears, deceptions, and outright lies. Regrettably, those stories are posted and forwarded to millions of people as "truth."
The story was reported and written by Katharine Viner, editor-in-chief of Guardian News & Media. Because it was such a long story, I am running it on my blog in five parts. I have opted to leave British spelling and style intact. Here is Part 1.
By Katharine Viner
One Monday morning last September, Britain woke to a depraved news story. The prime minister, David Cameron, had committed an "obscene act with a dead pig's head", according to the Daily Mail. "A distinguished Oxford contemporary claims Cameron once took part in an outrageous initiation ceremony at a Piers Gaveston event, involving a dead pig," the paper reported.
Piers Gaveston is the name of a riotous Oxford University dining society; the authors of the story claimed their source was an MP, who said he had seen photographic evidence: "His extraordinary suggestion is that the future PM inserted a private part of his anatomy into the animal."
The story, extracted from a new biography of Cameron, sparked an immediate furor. It was gross; it was a great opportunity to humiliate an elitist prime minister and many felt it rang true for a former member of the notorious Bullingdon Club. Within minutes, #Piggate and #Hameron were trending on Twitter, and even senior politicians joined the fun: Nicola Sturgeon said the allegations had "entertained the whole country", while Paddy Ashdown joked that Cameron was "hogging the headlines."
At first, the BBC refused to mention the allegations, and 10 Downing Street said it would not "dignify" the story with a response – but soon it was forced to issue a denial. And so a powerful man was sexually shamed, in a way that had nothing to do with his divisive politics, and in a way he could never really respond to. But who cares? He could take it.
Then, after a full day of online merriment, something shocking happened. Isabel Oakeshott, the Daily Mail journalist who had co-written the biography with Lord Ashcroft, a billionaire businessman, went on TV and admitted that she did not know whether her huge, scandalous scoop was even true. Pressed to provide evidence for the sensational claim, Oakeshott admitted she had none.
"We couldn't get to the bottom of that source's allegations," Instead she said on Channel 4 News. "So we merely reported the account that the source gave us … We don't say whether we believe it to be true." In other words, there was no evidence that the prime minister of the United Kingdom had once "inserted a private part of his anatomy" into the mouth of a dead pig – a story reported in dozens of newspapers and repeated in millions of tweets and Facebook updates, which many people presumably still believe to be true today.
"Social media has swallowed the news – threatening the funding of public-interest reporting and ushering in an era when everyone has their own facts. But the consequences go far beyond journalism."
Oakeshott went even further to absolve herself of any journalistic responsibility: "It's up to other people to decide whether they give it any credibility or not," she concluded. This was not, of course, the first time that outlandish claims were published on the basis of flimsy evidence, but this was an unusually brazen defence. It seemed that journalists were no longer required to believe their own stories to be true, nor, apparently, did they need to provide evidence. Instead, it was up to the reader – who does not even know the identity of the source – to make up their own mind. But based on what? Gut instinct, intuition, mood?
Does the truth matter any more?
Nine months after Britain woke up giggling at Cameron's hypothetical porcine intimacies, the country arose on the morning of 24 June to the very real sight of the prime minister standing outside Downing Street at 8am, announcing his own resignation.
"The British people have voted to leave the European Union and their will must be respected," Cameron declared. "It was not a decision that was taken lightly,
not least because so many things were said by so many different organisations about the significance of this decision. So there can be no doubt about the result."
But what soon became clear was that almost everything was still in doubt. At the end of a campaign that dominated the news for months, it was suddenly obvious that the winning side had no plan for how or when the UK would leave the EU – while the deceptive claims that carried the leave campaign to victory suddenly crumbled.
At 6.31am on Friday 24 June, just over an hour after the result of the EU referendum had become clear, Ukip leader Nigel Farage conceded that a post-Brexit UK would not in fact have £350m a week spare to spend on the NHS – a key claim of Brexiteers that was even emblazoned on the Vote Leave campaign bus. A few hours later, the Tory MEP Daniel Hannan stated that immigration was not likely to be reduced – another key claim.  It was hardly the first time that politicians had failed to deliver what they promised, but it might have been the first time they admitted on the morning after victory that the promises had been false all along. This was the first major vote in the era of post-truth politics: the listless remain campaign attempted to fight fantasy with facts, but quickly found that the currency of fact had been badly debased.
The remain side's worrying facts and worried experts were dismissed as "Project Fear" – and quickly neutralised by opposing "facts": if 99 experts said the economy would crash and one disagreed, the BBC told us that each side had a different view of the situation. (This is a disastrous mistake that ends up obscuring truth, and echoes how some report climate change.) Michael Gove declared that "people in this country have had enough of experts" on Sky News. He also compared 10 Nobel prize-winning economists who signed an anti-Brexit letter to Nazi scientists loyal to Hitler.
"It can become very difficult for anyone to tell the difference between facts that are true and 'facts' that are not."
For months, the Eurosceptic press trumpeted every dubious claim and rubbished every expert warning, filling the front pages with too many confected anti-migrant headlines to count – many of them later quietly corrected in very small print. A week before the vote – on the same day Nigel Farage unveiled his inflammatory "Breaking Point" poster, and the Labour MP Jo Cox, who had campaigned tirelessly for refugees, was shot dead – the cover of the Daily Mail featured a picture of migrants in the back of a lorry entering the UK, with the headline "We are from Europe – let us in!" The next day, the Mail and the Sun, which also carried the story, were forced to admit that the stowaways were actually from Iraq and Kuwait.
The brazen disregard for facts did not stop after the referendum: just this weekend, the short-lived Conservative leadership candidate Andrea Leadsom, fresh from a starring role in the leave campaign, demonstrated the waning power of evidence. After telling the Times that being a mother would make her a better PM than her rival Theresa May, she cried "gutter journalism!" and accused the newspaper of misrepresenting her remarks – even though she said exactly that, clearly and definitively and on tape. Leadsom is a post-truth politician even about her own truths.
When a fact begins to resemble whatever you feel is true, it becomes very difficult for anyone to tell the difference between facts that are true and "facts" that are not. The leave campaign was well aware of this – and took full advantage, safe in the knowledge that the Advertising Standards Authority has no power to police political claims. A few days after the vote, Arron Banks, Ukip's largest donor and the main funder of the Leave. EU campaign, told the Guardian that his side knew all along that facts would not win the day. "It was taking an American-style media approach," said Banks. "What they said early on was 'Facts don't work', and that's it. The remain campaign featured fact, fact, fact, fact, fact. It just doesn't work. You have got to connect with people emotionally. It's the Trump success."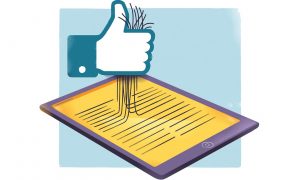 It was little surprise that some people were shocked after the result to discover that Brexit might have serious consequences and few of the promised benefits. When "facts don't work" and voters don't trust the media, everyone believes in their own "truth" – and the results, as we have just seen, can be devastating.
How did we end up here? And how do we fix it?
Tomorrow: The diminishing status of truth
Comments
comments