Recently, the British newspaper The Guardian ran a long story on the impact technology is having on our perception of truth.
It was a thoughtful, informative piece that pointed out how social media are not only disrupting but corrupting journalistic integrity and honesty world-wide. We are seeing that happen in the United States with an unrestricted and uninhibited social media brimming with fabrications, smears, deceptions, and outright lies. Regrettably, those stories are posted and forwarded to millions of people as "truth."
The story was reported and written by Katharine Viner, editor-in-chief of Guardian News & Media. Because it was such a long story, I am running it on my blog in five parts. I have opted to leave British spelling and style intact.
Here is Part 5.
Traditional news values are important
 By Katherine Viner
The truth is a struggle. It takes hard graft. But the struggle is worth it: traditional news values are important, and they matter, and they are worth defending. The digital revolution has meant that journalists – rightly, in my view – are more accountable to their audience. And as the Hillsborough story shows, the old media were certainly capable of perpetrating appalling falsehoods, which could take years to unravel.
Some of the old hierarchies have been decisively undermined, which has led to a more open debate and a more substantial challenge to the old elites whose interests often dominated the media. But the age of relentless and instant information – and uncertain truths – can be overwhelming. We careen from outrage to outrage, but forget each one very quickly: it's doomsday every afternoon.
The challenge for journalism today is to establish what role journalistic organisations still play in public discourse
At the same time, the levelling of the information landscape has unleashed new torrents of racism and sexism and new means of shaming and harassment, suggesting a world in which the loudest and crudest arguments will prevail.
It is an atmosphere that has proved particularly hostile to women and people of colour, revealing that the inequalities of the physical world are reproduced all too easily in online spaces. The Guardian is not immune – which is why one of my first initiatives as editor-in-chief was to launch the Web We Want project, to combat a general culture of online abuse and ask how we as an institution can foster better and more civil conversations on the web.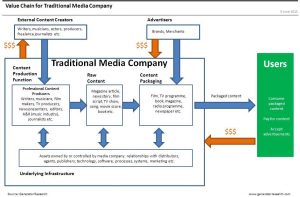 Above all, the challenge for journalism today is not simply technological innovation or the creation of new business models. It is to establish what role journalistic organisations still play in a public discourse that has become impossibly fragmented and radically destabilised. The stunning political developments of the past year – including the vote for Brexit and the emergence of Donald Trump as the Republican candidate for the US presidency – are not simply the byproducts of a resurgent populism or the revolt of those left behind by global capitalism.
As the academic Zeynep Tufekci argued in an essay earlier this year, the rise of Trump "is actually a symptom of the mass media's growing weakness, especially in controlling the limits of what it is acceptable to say." (A similar case could be made for the Brexit campaign.)
"For decades, journalists at major media organisations acted as gatekeepers who passed judgment on what ideas could be publicly discussed, and what was considered too radical," Tufekci wrote. The weakening of these gatekeepers is both positive and negative; there are opportunities and there are dangers.
As we can see from the past, the old gatekeepers were also capable of great harm, and they were often imperious in refusing space to arguments they deemed outside the mainstream political consensus. But without some form of consensus, it is hard for any truth to take hold.
The decline of the gatekeepers has given Trump space to raise formerly taboo subjects, such as the cost of a global free-trade regime that benefits corporations rather than workers, an issue that American elites and much of the media had long dismissed.
When the prevailing mood is anti-elite and anti-authority, trust in big institutions, including the media, begins to crumble
I believe that a strong journalistic culture is worth fighting for. So is a business model that serves and rewards media organisations that put the search for truth at the heart of everything – building an informed, active public that scrutinises the powerful, not an ill-informed, reactionary gang that attacks the vulnerable.
Traditional news values must be embraced and celebrated: reporting, verifying, gathering together eyewitness statements, making a serious attempt to discover what really happened.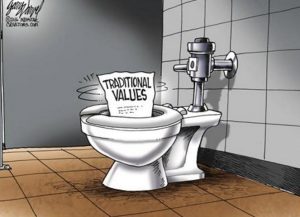 We are privileged to live in an era when we can use many new technologies – and the help of our audience – to do that. But we must also grapple with the issues underpinning digital culture, and realise that the shift from print to digital media was never just about technology.
We must also address the new power dynamics that these changes have created. Technology and media do not exist in isolation – they help shape society, just as they are shaped by it in turn.
That means engaging with people as civic actors, citizens, equals. It is about holding power to account, fighting for a public space, and taking responsibility for creating the kind of world we want to live in.
Comments
comments