Today I am pleased to provide a platform for the re-launch of fellow author John W. Howell's My GRL, the first book in the John J. Cannon thriller series. Following the re-launch information, there is a fascinating interview with the author. Take a look. Ron Yates
The cover is new, and the book is edited once again to enhance the reading experience. What is nice is the price. It has been cut for the re-launch. You can buy the Kindle version for a special introductory price of:
$0.99
Synopsis of My GRL
John J. Cannon, a successful San Francisco lawyer, takes a well-deserved leave of absence from the firm and buys a boat he names My GRL. He is unaware that his newly purchased boat had already been targeted by a terrorist group. John's first inkling of a problem is when he wakes up in the hospital where he learns he was found unconscious next to the dead body of the young woman who sold him the boat in the first place. John now stands between the terrorists and the success of their mission.
Here is the link to Amazon for the Kindle version
Here is the link to Amazon for the Paper version
Check them out and read the first few pages on Amazon.
Also, you can check out John Cannon's other two adventures, as well as, the new My GRL at John W. Howell's Author Page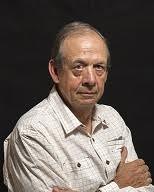 Author Bio
John W. Howell began writing full-time after an extensive business career. His specialty is thriller fiction novels, but John also writes poetry and short stories.  His first book, My GRL, introduces the exciting adventures of the book's central character, John J. Cannon. The second Cannon novel, His Revenge, continues the adventure, while the final book in the trilogy, Our Justice, launched in September 2016.  All books are available on Amazon in paperback and Kindle editions.
John lives in Port Aransas, Texas with his wife and their spoiled rescue pets.
Author Interview: John W. Howell
Tell us a little about yourself. How do your days begin, what do you enjoy doing (besides writing)?
My day starts in the morning with a big cup of coffee and a few e-mails. Then it is off to the beach with the two boxers and my wife. Depending on the day of the week, next, it is either an eight-mile bike ride or 1000 words on my WIP. Then the rest of the day includes writing and an occasional chore until it is time to walk the dogs before their dinner. I love to cook and usually prepare the people dinner. After serving up my latest creation and a glass of wine, my wife and I watch an hour of television. We record our shows and skip the commercials. This recording schedule leaves time for 15 minutes of news. Free time is at a premium. When I can find time away from writing, I enjoy walking on the beach and some beach activities up to and including a frosty IPA. I read in my spare time, so the beach affords some opportunity to kill two items at a time. I also cook as I mentioned and love to do home repairs and yard work. As you can see I'm a full-time writer and have been since 2012 when I escaped from being held captive of organized commerce.
Now, tell us about your writing.  At what age did you begin writing?
I was a pretty old guy when I started writing back in 1993. I decided to write a book after hours as I was working full time. It took me until 2003 to finish what is now holding my laundry door open. I decided I had to either devote full time to writing or give it up. I finally began in earnest in 2012 when I retired from a business career.
How did you know you wanted to be a writer?
That is hard to answer. I just knew it. I would tinker with stories just for the fun of it and even wrote a screenplay. None of these things were published, and I didn't care. It was the love of putting words together that gave me enjoyment.
What was your favorite book as a child?
I read some adult books when I was only ten years old. I also read the classics, and I think my favorite child's story was The Adventures of Tom Sawyer and Huckleberry Fynn. I think the adventures of Tom and Huck were those that a young boy living in Detroit could build dreams around and escape what was a challenging environment.
Favorite book as an adult?
I still come back to On the Beach by Neville Shute. This was a book that did not even pretend to craft a happy ending but kept pursuing a theme of life for life's sake. I was mesmerized by the characters and the story. I was also a child of "duck and cover" exercises in school, so the premise of nuclear devastation was a very real concept.
Tell us a bit about My GRL? How did you come up with the idea?
My sister and I were touring the aircraft carrier Lexington to see where our naval aviator father served during World War II. While on the massive flight deck it occurred to me that this symbol of American victory was venerable to an attack by terrorists since it was not guarded and devoid of any weapons. On the way home I thought about how I would attack the Lexington and then how to defend her. My GRL is not about the Lexington, but the story grew from the experience.
Tell us about John Cannon? Is he based on anyone you know?
John Cannon is a combination of the personality that I have always wanted to have plus some traits of various men I have known in my life. He is not based on anyone I knew when I started writing the stories about him. He is now someone I would like to have as a friend.
How did you come up with John's story?
John is a San Francisco attorney. He is specifically a litigation attorney. The reason I chose that specialty is I could see myself practicing law as that kind of lawyer. The idea of being the victor in a case of one individual seeking justice against a predator is very appealing to me. The protagonist in the John Cannon trilogy is a predator, and it gave me pleasure to see John prevail in a case against him. John's story is a matter of being a regular guy caught up in abnormal circumstances. I think we all see ourselves as normal and some of the bad stuff that happens to us as abnormal. I wanted John's story to represent the ability of the average person to overcome the challenges of life. I picked San Francisco since I love the city and used to live in the area.
Have you always wanted to write contemporary thrillers?
I guess I have. When I started My GRL, I didn't give the genre a thought. I just finished the manuscript and then had to figure out where it fit. I loved the idea of twists in the story and wanted the reader to come along on the adventure. I guess early on I ruled out the mystery as my cup of tea because quite honestly I couldn't keep secrets that well. What I mean is every good mystery has a moment where everything comes together, and the case is resolved. Usually, in a thriller, the reader knows right away who done it, and the idea is to see what is going to happen next. This is the kind of story I like to write.
What is your writing process?
I write at least 1000 words a day. I don't leave the computer until I have done that. The 1000 words are dedicated to my current novel and do not include words written for my blog, short stories or social media. Once I finish the 1000 words, I am free to do other things for the day.
How long did it take you to write My GRL?
I began the first draft on April 1st of 2012. I was finished with the first draft by August 8th, 2012. So I would say 120 days.
Now, onto book two – His Revenge. Tell us a bit about it?
The characters from My GRL continue to His Revenge and on to Our Justice. In his Revenge, John seeks to atone the killing of Gerry Starnes, the woman who sold him My GRL. The action moves from Port Aransas to California and on to Ecuador. His enemy, Matt Jacobs, has a twisted idea that John would make an excellent spokesperson for the terrorist group. He figures out a way to get John to cooperate on a plan that is designed to embarrass the President and wreak havoc on the oil industry. John must pretend to go along, hoping he can create a way to get revenge. The question remains who will get the revenge?
And book three – Our Justice. Recently released, tell us a bit about that?
Our Justice is the final story in the trilogy. John has been keen on bringing Matt Jacobs to justice. Matt has been keen on getting John to help him in a plot to assassinate the President. He plans to use John's hero status to get close to the President to do his duty work. Both Matt and John feel their cause is right and both want justice extracted in their favor. We have to see who in fact achieves Justice, Matt, John or neither.
Is there a book four coming?
There won't be another John Cannon book, but there is a fourth book titled Circumstances of Childhood which is s scheduled for the fall of 2017. Here is a blurb: A full ride to college on an athletic scholarship leads to a pro career for Greg Petros. He and his best friend Keith had planned this since high school, but Keith fell short. After football, Greg goes on to a sports broadcasting career and an equity fund on Wall Street. Greg's life is content and prosperous until someone hacks into the firm through his personal account and helps themselves to twenty million dollars. The amount of money is not significant, but the fact that an audit uncovered the break-in raises questions at the Justice Department. Although not guilty, all evidence indicates Greg misused shareholder funds and is facing mounting Federal charges. Greg needs the help of his old friend Keith to try and establish his innocence. Keith holds the key that could save Greg from twenty years in prison. Will Keith be able to help his friend or will his current situation prohibit intervention?
Finally, what advice would you give to someone wanting to write a book?
My advice is twofold. 1. Write the damn book and don't stop. Don't edit, don't second guess what you are doing. Finish the manuscript, and then you can toy with it all you want. 2. Don't show anyone the document or parts of it until the whole thing is finished. A writer does not need anyone to approve the work or to give feedback on the quality. In fact, writer confidence tends to shrink in the face of feedback. I have seen many promising writers give up because someone they value decided the work was not good enough. A writer must write for the readers and themselves. No one else can help that process. Once the manuscript is finished, you can show it to anyone you wish and get the feedback needed.
Thank you, John, it has been good to talking with you.
You can find John at any of the following:  And hey…There is a sale going on at the moment – Jump in and buy My GRL while it's just $0.99!
Blog Fiction Favorites, http://johnwhowell.com/
Facebook – https://www.facebook.com/john.howell.98229241
Twitter –https://www.twitter.com/HowellWave
Authors db –http://www.authorsdb.com/authors-directory/6604-john-w-howell
LinkedIn –http://www.linkedin.com/pub/john-w-howell/48/b59/462/
Google +https://plus.google.com/+JohnHowellAuthor/
Goodreads –https://www.goodreads.com/author/show/7751796.John_W_Howell
Amazon Author's page –https://www.amazon.com/author/johnwhowell