The Rave Writers International Society of Authors (RWISA) has honored yours truly as its Rising Writer for May 2018. I am honored by this selection. RWISA is an exclusive community of talented writers and I feel privileged to have been invited to join, let alone to be selected for this honor.
Here is a link to a very short video RWISA has produced about me. Please take a look if you have time.  https://ravewriters.wordpress.com/rwisa-rising-writer/
In the meantime, I want to thank all of you who have supported me, my blog, and my books.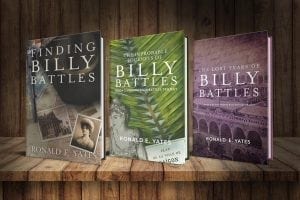 Coincidentally, this honor coincides with the May 29 release of Book #3 in the Finding Billy Battles trilogy (The Lost Years of Billy Battles).
I hope you will pick up either an e-book or softcover version of the book and let me know what you think of it.