It is my pleasure today to host Maretha Botha, author of "Fauna Park Tales" a series of children's books that focuses on the animal world. These are wonderful books. Please read on. . . .
 "I've received a few free gifts – one is the gift of life and another the gift of choice – and so I choose to live my life positively, despite life's many ups and downs,  hoping that tomorrow will always be better."
― M.M. Botha
Maretha Botha is an Italian National who grew up in South Africa. She and her family now live in the United Kingdom. She has written and illustrated a series of children's books, "Fauna Park Tales" for 9-14 years old, but she is convinced that anyone who loves animal and bird adventures, coupled to survival stories will also enjoy reading these tales – often based on fact – to younger listeners.
She tries to live up to the words quoted above and one way to do so is to make readers aware of the wonder of nature, because so many folks live in cities.  Wild life has much to offer, but they cannot survive without our care and protection. Throughout this series, the furry and feathered friends live up to their Fauna Park Promise to care for vulnerable, young and hurt bush creatures. A few good humans help them.
Excerpt from Trail Three – "The Risky Route."
HOURS LATER – JUST AS OLD Star began to fade in the early morning sky, the horses suddenly stopped, neighing in fright and rearing.  Fortunately, they remained in their saddles.  If the horses hadn't stopped, they would have gone straight into a small area where a clan of brown hyenas squabbled, yowling and growling at each other.  They surrounded a small group of young calves and tired, frightened cows.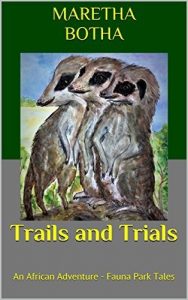 'Oh no! Where did they come from?  The brown hyenas must be hungry, attacking such big animals.  I must chase them away!' Clement cried.  While he spurred his horse on to go to upwind from the clan of predators, Kgabo slipped off his horse, sank down into the shrubs, crawling through the grass.  He came to a hole in the ground.  In Old Star's fading light, he saw a movement and heard a warning hiss.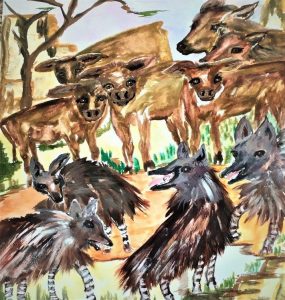 Kgabo struck out at a curled-up cobra, stunning it long enough to grab it behind its neck. Then he jumped up and ran at full speed towards the clan of brown hyenas, shouting at the top of his voice and swinging the snake up above his head.  When he was within throwing distance from the clan, he flung the cobra right into their midst. They had such a fright that they began to fall back.
The brown hyenas had to face another attack that night.  Clement, riding on his horse with the other two in tow, came from the other side.  He also shouted as loud as he could while swinging a piece of camel thorn tree back and forth.  Their tactics worked, because the clan scattered in all directions with loud yaps and growls. Clement whistled shrilly, and the frightened calves, recognising his sounds, immediately followed him into a glade surround by rocks and thorn trees.
Maretha's links:
https://www.amazon.com/Maretha-Botha/e/B00MOORJAO/
https://twitter.com/MarethMBotha
https://twitter.com/FaunaParkTales
https://www.facebook.com/MarethMB
https://www.facebook.com/flameandhope.co.uk/
https://marethmbotha.wordpress.com/
https://marethabotha2013.com/ (child-friendly blog)
https://www.pinterest.co.uk/marethabotha/pins/
https://www.linkedin.com/in/maretha-botha-976191b8/
THANK YOU SO MUCH RAVE REVIEWS BOOK CLUB AND THE BLOG POST HOSTS FOR YOUR WONDERFUL SUPPORT AND THE PRIVILEGE TO BE THE SPOTLIGHT AUTHOR THIS MONTH!
The brave furry friends in Book 4 also say thanks in their own way – with barks, whinnies and meows. The birds of prey, Mars the martial eagle and his friend Vera, the eagle owl would have said thanks too, but they are not in the end – yet.