Today, ForeignCorrespondent is pleased to host award-winning author Jan Sikes as she continues her Spotlight Author tour for her book, Home at Last.
 Jan is not only an excellent writer, but she is also an accomplished musician. Home at Last, is part of a series of four biographical books about a Texas musician who is a pioneer in the Outlaw Music movement, a subgenre of traditional Country & Western music. Along with each book, Jan also released a music cd of original songs that fit the time period of the story. Why? Because the stories revolve and evolve around a passion for music.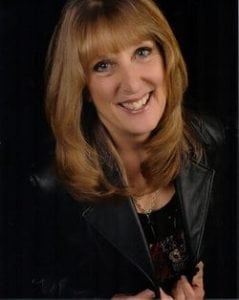 For the uninitiated, Outlaw Music is best represented by C&W singers such as Willie Nelson, Shooter Jennings, Tanya Tucker, Merle Haggard, Sturgill Simpson, Johnny Paycheck, Jessi Colter, Hank Williams, Jr. and Waylon Jennings.
And I would add that Jan Sikes who, like Johnny B. Goode, can "play a guitar just like a-ringin' a bell," belongs in that line up too!
Read on as Jan discusses Home at Last.
 ABOUT HOME AT LAST
The third book in the series was originally intended to be one book. But, it got too long, and I had to divide it up.
The biggest challenge was deciding where to end it. I finally concluded that I needed to end it on an upbeat note with the beginning of a new music career.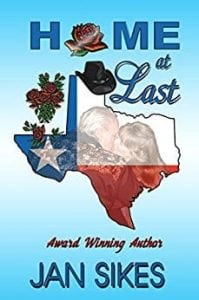 After much editing and re-writing, I was satisfied with it.
But, I made a mistake in this book that a multitude of readers never caught until one day, a reader discovered that I had inadvertently used Rick's name instead of Luke's in a passage. 😊
I considered turning the mistake into a challenge and contest to see who could find it, but eventually corrected it and uploaded a revised version.
This book is all about starting over with nothing but dreams and love. It wasn't easy, and Darlina didn't get her fairy-tale ending that she'd been so sure of. At times, the obstacles seemed insurmountable. But, they never gave up.
It is my hope that anyone who reads this book will be inspired to face life's obstacles head-on and never lose sight of their goals, dreams, and wishes.
Here's the back cover blurb:
With empty pockets and a heart full of dreams, Luke Stone leaves behind the nightmare of fifteen long years in Leavenworth prison, not giving it a backward glance.
Eyes firmly on the future, he boards a Greyhound bus bound for Texas…for freedom…for the one who holds his heart. The unjust conviction no longer matters, and revenge haunts him no more. Darlina Flowers, the woman who takes his breath away, waits ahead and with her by his side, nothing can stop him, or can it?
He is headed HOME AT LAST.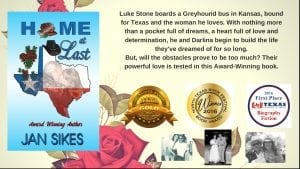 CONNECT WITH JAN:
Thanks for joining me on this RRBC SPOTLIGHT AUTHOR TOUR. I'll see you at the next stop!
 Click on this link to follow Jan on the rest of her book tour: https://ravereviewsbynonniejules.wordpress.com/spotlight-authors