Today, ForeignCorrespondent is pleased to host author John Fioravanti during his Spotlight Author Blog Tour. John's topic today is Fear, or more precisely, Does Fear Own You?
The topic comes from John's book, Reflections: Inspirational Quotes and Interpretations. It is just one of fifty thought-provoking essays in the book that cover a multitude of topics. The book is available in the Amazon book store, but for now, here is John's reflection on the theme of Fear.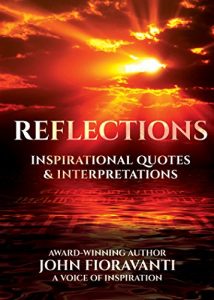 The REFLECTIONS Blog Tour
By John Fioravanti
I'm grateful to my host of this sixth post of the REFLECTIONS TOUR, and to Nonnie Jules and the #RRBC Team who arranged it all!
Reflection 40: Does Fear Own You?
"If you want to conquer fear, don't sit home and think about it. Go out and get busy." ~ Dale Carnegie
Dale Carnegie (1888-1955) was an American writer, lecturer and developer of courses in self-improvement. He has always been near and dear to my heart because his book, How to Stop Worrying and Start Living (1948), helped me immensely in my lifelong battle against fear and self-doubt. I purchased the book while in the throes of debilitating anxiety, read it cover to cover, and felt myself relax a little more with each page I read. I don't have the book anymore. I loaned it to a student who suffered from anxiety attacks and I never got it back. But I don't mind – I just hope that the book helped her as much as it helped me.
Mr. Carnegie wrote in straight-forward prose that was easy to understand. He didn't overwhelm his readers with psycho-babble, and I remember that the deeper I got into the book, the more grateful I felt about his simple wisdom. I'm sure there is plenty of contemporary literature to help souls lost in fear and self-doubt today, but I credit Dale Carnegie with my success in battling those demons. Unfortunately, they've never completely left me – they do come out to play from time to time – but I know them and their tricks, and I meet them head-on with plain old common sense and strong resolve.
He begins the quote with very solid advice about how to conquer fear, "… don't sit home and think about it." As a teenager and young man, I remember doing just that. I would sit around my room and fret about everything in my life that I thought wasn't going perfectly. The more I focused on my worries, the bigger the demons became. I was creating, in my mind, the worst possible scenarios, and convincing myself that these were the most probable outcomes. The mind is a wonderful thing, and one can conjure up delightful fantasies to while away the hours; but as my experience has shown, it can also create a frightening prison that is difficult to escape.
He exhorts us to "Go out and get busy." There are two ways to look at this advice. First, sitting and thinking about the horror of our problems only makes them worse. We need to calm down and apply common sense. The last sentence of this quote gives us the route to follow to make that happen. Advising someone to calm down isn't very helpful. Knowing that Carnegie wisely counsels us to get out of our heads and get busy doing something. Activity will facilitate finding a way out of our mental maze of horror to a place of relief. In a more relaxed state, we can re-engage our brains to apply common sense to the situation.
Another aspect of getting busy is doing something to resolve the problem at the heart of our anxiety. Problems don't disappear by wishing them away. Usually, concrete action is required to resolve the issue. The solution may involve researching more information or getting advice from a more experienced person. Once a course of action is clear, and a plan is created, we're in a position to act with a reasonable expectation of success. Sitting in isolation, fretting over a problem, and literally, worrying ourselves sick – is self-defeating.
"If you want to conquer fear…" assume the responsibility for its defeat, and act.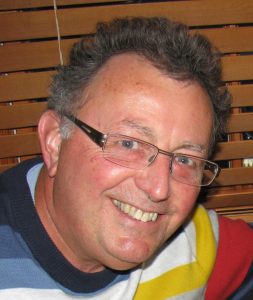 Author Bio:
John Fioravanti is a retired secondary school educator who completed his thirty-five-year career in the classroom in June 2008.
Throughout his career, John focused on developing research, analysis, and essay writing skills in his History classroom. This led to the publication of his first non-fiction work for student use, Getting It Right in History Class. A Personal Journey to the Heart of Teaching is his second non-fiction work; it attempts to crystallize the struggles, accomplishments, and setbacks experienced in more than three decades of effort to achieve excellence in his chosen field.
John's first work of fiction is Passion & Struggle, Book One of The Genesis Saga, and is set within Kenneth Tam's Equations universe (Iceberg Publishing). He claims that, after two non-fiction books, he's having the time of his life bringing new stories and characters to life! Book Two is Treachery & Triumph.
At present, John lives in Waterloo, Ontario with Anne, his bride of forty-six years. They have three children and three grandchildren. In December of 2013, John and Anne founded Fiora Books for the express purpose of publishing John's books.
Comments
comments