Today, Foreign Correspondent is pleased to host author Robert Fear on his Rave Writers International Society of Authors' "Rise UP" Blog tour.
Welcome to our 2nd RWISA "RISE-UP" TOUR!
Because of the current state of the world where we are faced with a pandemic like none has ever seen before, where homelessness, hunger, job losses, and world-wide lock-downs are the norm, we wanted to give you a glimpse into our world as we are now living it.
Since we are also in the month of May, when Mothers should be celebrated even more than they should be every day, some of us are going to reflect upon our lives without our moms.  Yes, we have two themes this year!
For 14 days, we invite you here to the RWISA site to enjoy, engage, and to become enlightened – awakened even to the many plights of our communities and to share in our memories and sorrows as we navigate our world without the moms who brought us into it.  Hopefully, in some of these stories, you will also be compelled to RISE UP and share your story in hopes of making someone else's day brighter and their load a little lighter.
Come along with us on this journey!
MOTIVATING OTHERS ON SOCIAL MEDIA
by Robert Fear
If anyone had told me at the start of the year what was going to happen in 2020, I would have thought they were crazy.
Over the past few weeks, I have learned to cope with this new reality. The initial feelings of anxiety and fear subsided, and my views changed as I became more sensitive to others and aware of how fragile our society is. 
We are among the lucky ones. Although work from my day job has evaporated, my wife and I live in a comfortable house, our three cats keep us company, and we have enough money to last through this crisis. As a bonus, the weather has been warm and sunny for the daily exercise walks we are allowed to take.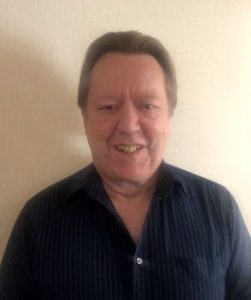 When the lockdown was implemented, my thoughts turned to those less fortunate. Older people unable to leave home, those suffering from grief and depression, and residents of countries with even stricter lockdowns. I thought about how I might share my experiences on social media, to give motivation and bring a smile to the faces of those within my reach.
Living where we do in Eastbourne, on the south-east coast of England, we have many beautiful spots close to our home. There are several parks filled with trees, plants, grassland and lakes. Not far away is a farm track that winds through fields where horses, sheep and cattle graze. Birds sing as though nothing is wrong with the world. Then there is the seafront, along which runs a three-mile promenade, with views out across the English Channel.
Because of the lockdown and social distancing measures, there have been few people around on my daily walks. I gained a sense of tranquillity and tried to capture those precious moments on my smartphone, so I could share them with others. 
With video clips, I recorded nature's sights and sounds. These included gentle swaying trees with uplifting birdsong in the background, views across idyllic farmland to the hills of the South Downs, and waves crashing onto the shingle beach on a windy but sunny afternoon. 
Amongst other subjects, my photos captured the beauty of spring flowers, rainbows drawn by children hung in windows, colourful beach huts, seafront carpet gardens, and the pier's golden dome sparkling in the sunlight against a backdrop of clear blue skies.
I posted these to Facebook, both on my timeline and in two groups. In addition, I shared selected videos and photos on Instagram and Twitter. Three of those images are included here.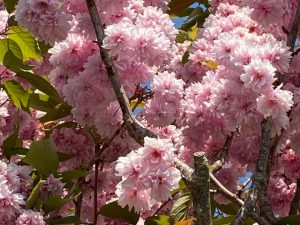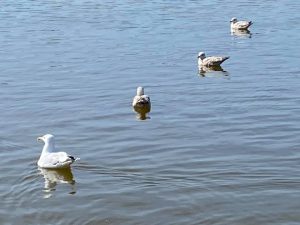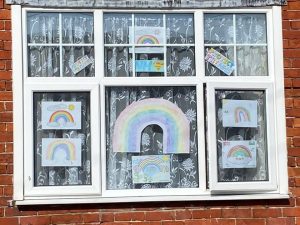 The responses to my posts have been encouraging and there has been positive feedback from around the world:
Ah, the sound of the sea. Just what I needed. Very clear skies.  Robyn – New Zealand.
Oh, happy memories of a childhood near Brighton! The shingle beach and big waves. Thanks for sharing.  Jackie – France.
I don't know about you, but I'm appreciating spring more this year. It's so lovely to watch the birds, butterflies, bees and other creatures carrying on with their daily lives amid the blossoms and blooms.  Jay – Turkey.
Ebony was watching the birds outside from her perch and listening to the birds on your video thinking she was in real time.  Laurie – USA.
One can't be stressed watching the cows graze and listening to the bird song.  Carola – Canada.
Lovely sights and sounds! Thanks!  Susan – Uruguay.
How lucky to be able to go out for a walk. Thanks for sharing the pics.  Patricia – Spain.
If you are on Facebook and want to view the video clips and see more photos, please send me a friend request and visit my page by clicking here. 
As I bring this piece to a close in late April, the weather here has changed, and there is some much-needed rain. Our first rose of spring has chosen this day to make an appearance. A sign of hope for the future?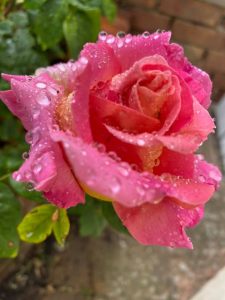 Link to Robert Fear's RWISA Profile Page:
MEET #RWISA #AUTHOR, ROBERT FEAR – @FredsDiary1981 #RRBC
Thank you for supporting today's RWISA author along the RWISA "RISE-UP" Blog Tour!  To follow along with the rest of the tour, please visit the main RWISA "RISE-UP" Blog Tour page on the RWISA site.  For a chance to win a bundle of 15 e-books along with a $5 Amazon gift card, please leave a comment on the main RWISA "RISE-UP"Blog Tour page!  Once you're there, it would be nice to also leave the author a personal note on their dedicated tour page, as well.  Thank you, and good luck!
Comments
comments