For a limited time, I am offering The Improbable Journeys of Billy Battles, Book Two in the Finding Billy Battles Trilogy, for the special price of $1.99. You can't beat the price! So pick up a copy today!
Awards
Winner, 2018 Book Excellence Award, Action/Adventure category
Grand Prize Winner, 2017 KCT International Literary Award
John E. Weaver Excellent Reads Award, Historical Fiction 2017
First Place: 2016 Chanticleer International Book Awards in the Literary Category
2016 New Apple Literary Award in the Action/Adventure category
Finalist: 2017 Diamond Book Award in the United Kingdom
Click here to download The Improbable Journeys of Billy Battles from Amazon now
This book is on a temporary promotion and is available for $1.99 for a limited time.
You do NOT need a Kindle. You can read this book for free on ANY smartphone, tablet, or computer using the Free Kindle App.
Feel free to share this post with others by clicking on the share buttons to the right.
Here is the most recent review of the book by Chanticleer Book Reviews:
Ronald E. Yates continues the robust adventures of a lawman, gunslinger, and journalist in The Improbable Journeys of Billy Battles, the second volume in his trilogy about the title character.
As in the first volume of the trilogy, William "Billy" Battles addresses the reader, but Ted Sayles, Billy's great-grandson, is the one who compiled Billy's life story through studying his great-grandfather's journals, letters, newspaper articles, tapes, and other materials. And what an adventurous life it is! Living a full one hundred years, William Fitzroy Raglan Battles was born in Kansas in 1860 but eventually travels the world. Readers familiar with the first volume will no doubt want to continue William's journey with the second book which begins in 1894. The Improbable Journeys, however, can function as a stand-alone volume because Yates takes great care to bring the reader up to speed with what has already taken place.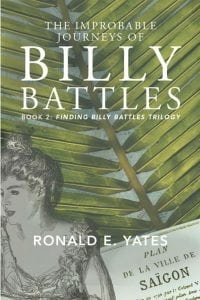 The opening chapters of Book 2 find William aboard the SS China, bound for French Indochina although the ship will make stops along the way. He is grieving the loss of his beloved wife and seeks to assuage that grief with travel, leaving behind his mother and young daughter, Anna Marie. However, the Pinkerton Detective Agency is hot on his trail, investigating William's part in the deaths of members of the Bledsoe family back in Kansas.
His future is also set in play when he meets Baroness Katharina von Schreiber, a brilliant intellectual who, despite her aristocratic German title and surname, was born and raised in Chicago. Like William, her spouse is dead but the circumstances involving Rupert's death are suspicious, and she takes great pains to avoid questioning by the authorities. William learns that some officials believe she's in possession of top-secret German documents that she confiscated from her husband. There's much political intrigue, but Katharina and William delight in each other's company, and he feels the first stirrings of romance since his wife's death.
William's journeys bring him face to face with the realities of late 19th-century colonialism. As an American traveler and journalist, native peoples expect that he will sympathize with their struggles against colonial powers. After all, America set the example for the rest of the world by throwing off the chains of England more than one hundred years earlier. In the Philippines, Katharina's brother, Manfred, supports a secret organization that seeks to overthrow colonial rule and establishes independence for the nation. And while William has great admiration for the Philippine revolutionary leader, Aguinaldo, William is coaxed into military service. He fights alongside American soldiers from Colorado and Kansas – even though he knows all too well that McKinley's "Proclamation of Benevolent Assimilation" is not truthful; the U.S. ultimately annexes the Philippines not as "friends" but as invaders and conquerors.
These fascinating chapters are narrated with an experienced journalist's objective and encompassing eye. Yates, also a journalist, does an exemplary job of having William note every angle of the despotic nature of colonialism and the vast and complex difficulties involved in native peoples achieving independence.
The book is not without humor. William is witty and candid, occasionally sliding into cowboy-speak, and he knows a cast of characters, real and fictional, who provide surprising hilarity throughout the book. Bat Masterson is on hand, as is Jefferson Randolph "Soapy" Smith. We leave William anticipating more dangerous exploits, one involving Francisco Villa, better known as "Pancho Villa."  Thank heavens this is a trilogy because it's clear Billy Battles adventures are far from over.
Ronald E. Yates won first place in the 2016 Chanticleer International Book Awards for Somerset, Literary category.