Join me tomorrow for the 2nd annual San Diego Festival of Books where I, along with other authors will be signing books, talking about writing, and generally schmoozing with readers, (and one another). Most of all, browse the author booths in Authors' Alley, attend the book and author sessions, visit the vendors, and enjoy festival food! The festival runs from 10 a.m. till 5 p.m.
Click on the link below to see a short video about the festival and for more information take a look at the San Diego Union-Tribune story that follows.
The day will begin with the announcement of the 2018 One Book, One San Diego selection, culled from 10 finalists. Then it's on to the panels, 30 of them, up from a dozen last year.
Attendees can hear from more than 90 authors discussing a variety of topics: contemporary fiction, crime, and mysteries, military history, science-fiction, romance, sports, comics, the "dark side" of business, self-help, microbes.
Among the featured authors: Brit Bennett, whose debut novel, "The Mothers," was a New York Times bestseller; Bill Walton, retired basketball star and memoir writer; crime novelists Lisa Brackmann, Matt Coyle and T. Jefferson Parker; Lynn Vincent and Sara Vladic, whose "Indianapolis" is enjoying success on themes' non-fiction list; and children's book illustrators Kadir Nelson and Janell Cannon.
Admission to the festival grounds is free, but the panels are ticketed at $3 each, with part of the proceeds benefiting the San Diego Council on Literacy. Last year, most of the panels sold out in advance.
There will also be a free panel called "Fake News, Real Problems," featuring Union-Tribune editors Lora Cicalo and Matthew T. Hall, as well as Brooke Binkowski, former managing editor at Snopes, a fact-checking website.
For children, there will be a reading stage and an activities pavilion.
Dozens of writers will be in "Author Alley" and more than 60 exhibitors, including local bookstores, will be offering items and services for sale.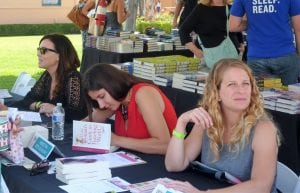 Tickets and more information are available by clicking on the following link: