It's been a few months since Book Three (The Lost Years of Billy Battles) in the Finding Billy Battles Trilogy was published, so I want to remind my followers to check out the book if you haven't already. I would also appreciate it if you would write a review on Amazon or elsewhere if you have read this final book in the trilogy.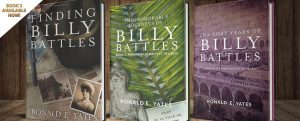 For those who don't know about Book Three here is a little background along with some comments from readers who have already read the book.
About the lost years of Billy Battles:
The year is 1914, and the world is in turmoil. In Europe, the Great War is raging. In Asia, bloody insurgencies are in progress against the colonial powers of Europe. In Mexico, a bloody revolution is ripping that nation to shreds and threatening to spill over into Texas, New Mexico, and Arizona.
Meanwhile, in Chicago, Billy Battles and his wife, the former Baroness Katharina von Schreiber, have managed to live an uncommonly sedate life for almost ten years. But, with one telephone call their peaceful world is shattered.
Katharina and Billy set off on a succession of wild adventures that will alter their lives for all time. Their new and violent world is one brimming with miscreants, secret agents, betrayal, and tragedy. But most importantly, it triggers Billy's mysterious decades-long disappearance. Where is he? What happened? The answers are in The Lost Years of Billy Battles, Book 3of the award-winning Finding Billy Battles trilogy.
What readers are saying about this final chapter in the amazing life of Billy Battles:
"This well-written conclusion to the Billy Battles Trilogy is its crown jewel. The characters are so vivid and compelling it's hard to believe that this is a work of fiction. Astounding imagery puts you right in the thick of things. In more ways than I can count, this book is a masterpiece." Marcha Fox, author of the Star Trails Tetralogy Series.
"I've begun few books as eagerly as I did this one. Having read the first two volumes of Ronald E. Yates' extraordinary trilogy, Finding Billy Battles, I couldn't wait to continue his story in the final volume, The Lost Years of Billy Battles. The third installment lived up to the exceedingly high standard set in the first two volumes. Billy Battles is as dear and fascinating a literary friend as I have ever encountered. I learned much about American and international history, and you will too if you read any or all of the books. Each is an independent work, but if read in relation to the others, the reader experiences that all too rare sense of complete transport to another world, one fully realized in these pages because the storytelling is so skillful and thoroughly captivating. Trust me; you'll want to read all three volumes." Carrie Meehan, Chanticleer Reviews
"Ron Yates is a master of historical fiction. The Lost Years of Billy Battles is an epic finale to an incredible lifetime."  Scott Skipper, best-selling author of Artifact and many other titles.
"Exclamations all OVER the place about this wonderful trilogy!" Heidi Mastrogiovanni, screenwriter and author of Lala Pettibone's Act Two
"A perfect finish to a masterful series expertly written and researched as only award-winning author Ron Yates could do. The characters were terrific!" John Howell, author of Circumstances of childhood.
"This is a series of books that kept me thinking about the storyline even when I was not actively reading.  I constantly looked forward to where the story took me and suffered a huge letdown when the story ended.  I did not want the story to end but wanted it to go on. The characters were very easy to get to know and to picture in my mind. I also got a great history lesson as I read about all of the adventures of Billy Battles. Before reading the series, I was totally unaware of the US involvement in the Philippines and the 'invasion' of Veracruz." Larry Plano, First Reader 

"A trilogy that will have your attention from book 1, Finding Billie Battles. Book 3, The Lost Years of Billy Battles, brings back so many characters you've come love and hate. I'm sorry it's over but will have the chance to begin again. Thank you, Ron Yates, for sharing your gift." Terry Bruton, First Reader
Here is the Amazon link:
https://www.amazon.com/gp/product/B07DKD5MYX/ref=dbs_a_def_rwt_hsch_vapi_tkin_p1_i0
I want to especially thank my Editor, Susan Hughes and my First Readers for their exceptional work in going over the book with incomparable assiduousness. (Billy Battles would NEVER use those last two words!)
Once again, thank you, and I hope you will give The Lost Years of Billy Battles a look see.