Along with a few hundred other authors, I attended the 2019 Chanticleer International Book Awards Conference which took place April 26-28 at the luxurious Hotel Bellwether in Bellingham, Washington.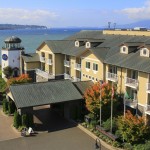 As with some 275 other authors from around the world, I was a semi-finalist in one of 16 divisions from which a secret panel of Chanticleer judges selects first place and grand prize winners, as well as the biggest award: The Best Book of the Year.
Winners are announced from sealed envelopes during a suspense-filled evening banquet. Sort of like the Oscars, only at Chanticleer you get a meal with the anxiety.
As a former journalist, I have attended my share of rubber chicken dinners. Unless I myself was speaking, I attended these as an observer. This time, however, I was up for an award.
Spoiler alert! When I arrived at the conference as one of 18 semi-finalists for a First Place Award in the Goethe Historical Fiction category, I was just happy to have made it that far. The process Chanticleer uses to evaluate books is involved and rigorous. Those who apply for an award in one of the 16 divisions must first escape the "Slush Pile" where several hundred books are assessed, appraised, and ultimately jettisoned.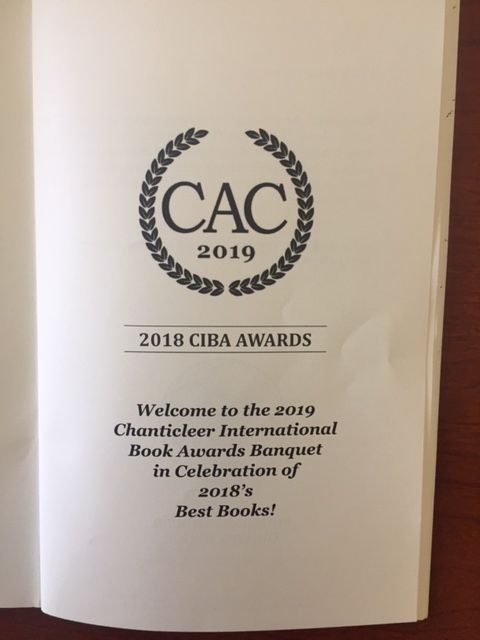 Books that survive the Slush Pile, are added to a "Long List" along with dozens of other books where they are further evaluated by a secret jury of professional editors and authors. During that process more books are eliminated and those that survive are included on a "Short List" where they undergo even more scrutiny. At the last stage before the awards banquet, the best books are moved from the "Short List" into the "Semi-Finalist" category. And that's where I was when the banquet began April 27.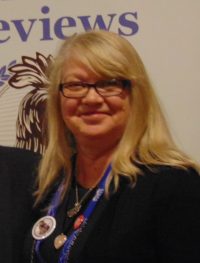 The night was kicked off by Kathryn "Kiffer" Brown, President and Founder, and Sharon E. Anderson, Chief Review Editor of the Chanticleer organization.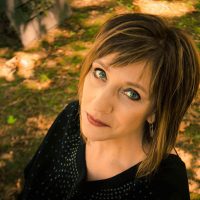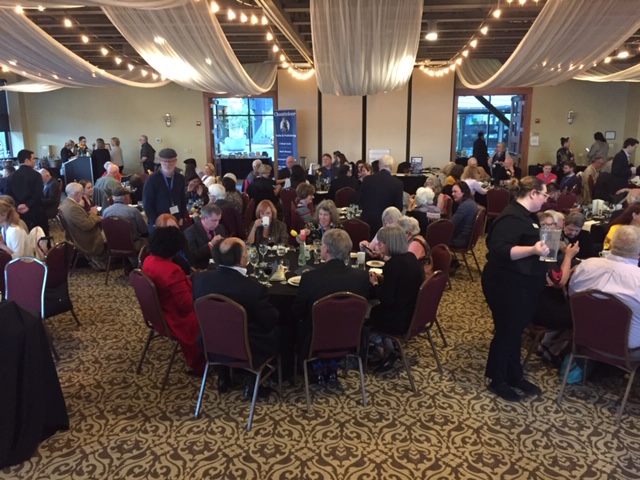 Within minutes the First Place Category winners were named in each of the 16 divisions—usually between six and eight out of semi-finalist lists that ranged from as few as 11 to as many as 30. When my name was called as one of the First Place Winners in the Goethe Historical Fiction category I was feeling pretty happy. I trotted up to the podium and got my blue ribbon. At that point, I considered the evening a huge success.
But Chanticleer wasn't done with me. New sealed envelopes arrived and the Grand Prize winners in each of the 16 categories were announced. I looked over the list of other First Place winners in the Goethe Historical Fiction category. Stiff competition. These were all excellent books or they wouldn't have been awarded First Place status.
I recall taking a drink of my Widmer Hefeweizen beer as the Goethe envelope was torn open: "The winner of the Grand Prize in the Goethe Historical Fiction Division is The Lost Years of Billy Battles, Book three in the Finding Billy Battles trilogy by Ronald E. Yates."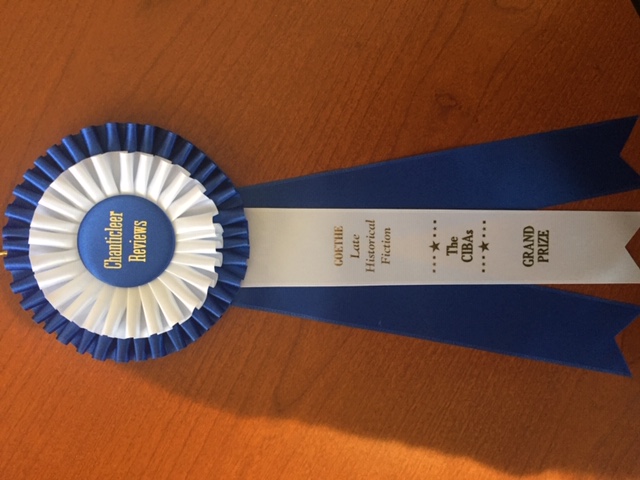 "What," I gasped. "Are you kidding me?" And up I careened toward the podium where Kiffer Brown presented me with a much larger blue and white ribbon and a hug. I hadn't been so stoked since I won my first Edward Scott Beck Award for international reporting along with a Pulitzer nomination.
Back at my table I placed the ribbon in front of me and thought to myself. "Now we can leave. Such an honor."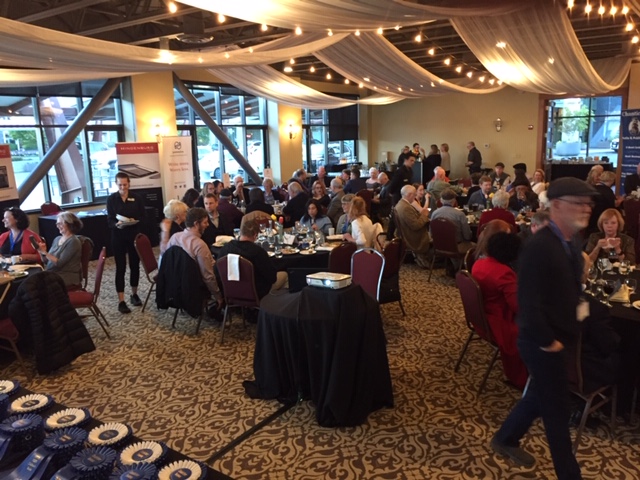 "But wait," as those television commercials say, "that's not all!"
"Now for the highlight of the evening," Kiffer Brown said. "The Overall Best Book of 2018." Before the envelope was ripped open I found myself looking around the ballroom at the other tables and the expectant faces of authors seated at them.
"I wonder who will get that award." I thought to myself.
Then came the announcement: "The winner of the Overall Best Book of 2018 is Ronald E. Yates, author of The Lost Years of Billy Battles."
At first it didn't register with me. Then, I recall saying something brilliant and inspired like: "What? OMG!"
And up I stumbled once again to the podium where Kiffer gave me an even bigger blue and white ribbon and another robust hug.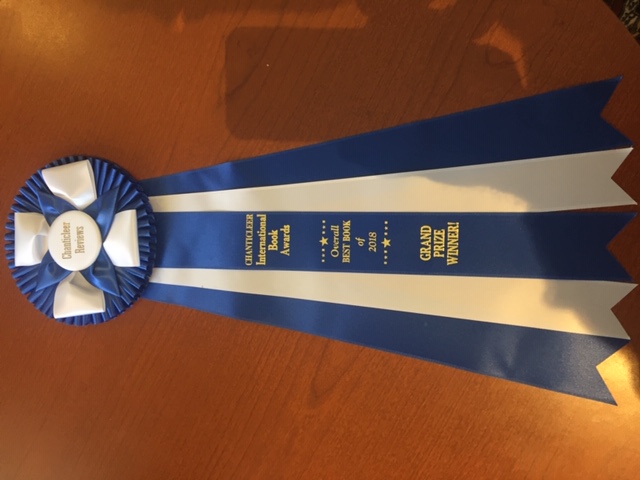 As fellow author, Mary Adler, who writes award winning mystery novels set during World War II, said recently: "You must have been chuffed!"
Chuffed I was and dazed as well. Never in my wildest dreams did I ever think I would leave Bellingham with such a haul of awards and prizes.
In addition to a $1000 prize, I received a 24-month license from Hindenburg Systems for Audiobook Creator software and Journalist Pro software for Podcasters. I also received one year of free distribution of my books through PublishDrive, an eBook publishing platform and distribution network designed to get an author's titles into hundreds of bookstores and 240,000 digital libraries in 70+ countries around the world.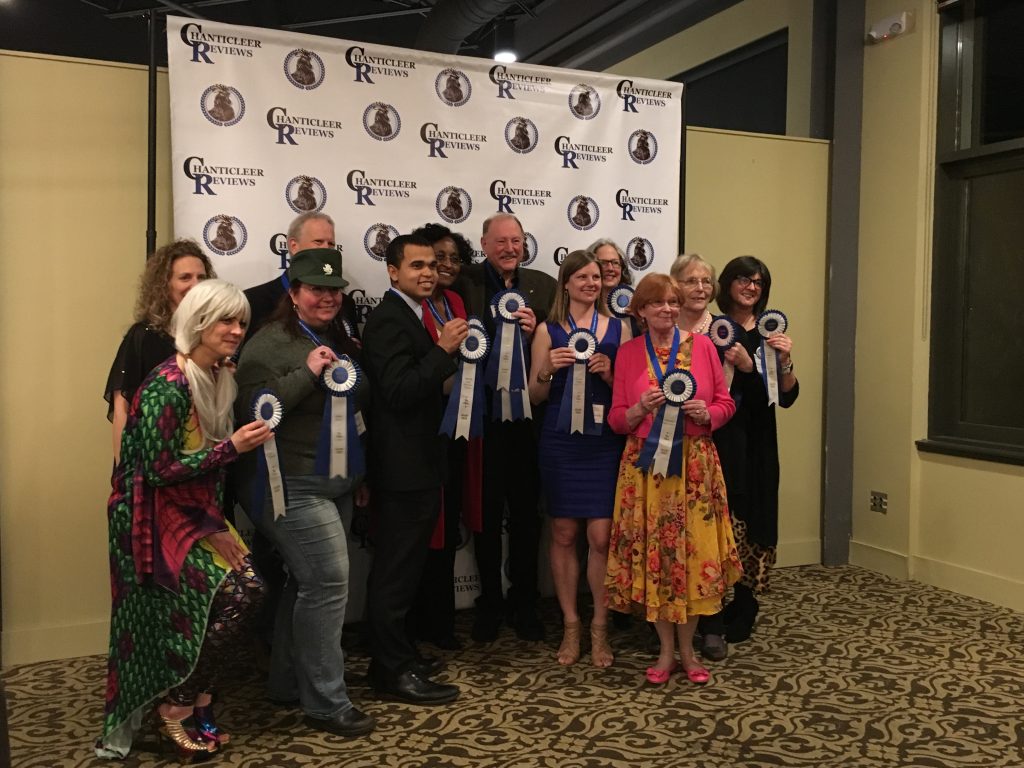 Chuffed? You bet! Of course, the greatest thing about a writers' conference and awards banquet—in addition to possibly picking up an award—is the opportunity to talk to other authors and to attend sessions and workshops on a variety of topics critical to the writing life.
At this year's conference, there were plenty of opportunities to do that. Of particular note was the presence Keynote Speaker J.D. Barker, the international best-selling author of THE FOURTH MONKEY and FORSAKEN.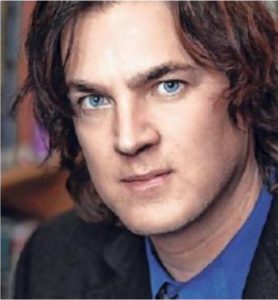 As a finalist for the Bram Stoker Award and winner of the New Apple Medalist Award, his work has been compared to Stephen King, Dean Koontz, and Thomas Harris. His third novel, THE FIFTH TO DIE, was released in June 2018. The Stoker family was so impressed with his novel, Forsaken, that they reached to him to co-author a prequel to DRACULA, which was written by Bram Stoker in 1897. Barker's novels have been translated into numerous languages and optioned for both film and television.
The Chanticleer conference is notable because it intermixes the work of both traditionally published and indie authors.
At this year's conference there were sessions on a wide variety of topics:
MAKING THE LEAP FROM INDIE TO TRADITIONAL PUBLISHING
CROSSING GENRE & WHY YOU SHOULD DO IT!
AUDIOBOOK CREATION Workshop
JOURNALIST PRO Workshop (for podcasters)
Revision & Editing: Secrets of The Dark Arts
Writing Fiction so Readers Land Amid Your Story and Don't Want to Leave. Ever.
METADATA TIPS AND TRICKS THAT HELP YOU SELL MORE
From Page to Stage – Public Speaking and Podcasting
Become an Ethical Literary Thief: Robbing from Life for Your Fiction/ Stealing Fiction Techniques for your Memoir
A DIALOGUE ABOUT DIALOGUE
CLUES THAT CAPTIVATE YOUR MYSTERY AUDIENCE
SCULPT UNFORGETTABLE CHARACTERS
Making Social Media, Smart Media
GETTING MEDIA ATTENTION as a SMALL PRESS or INDIE AUTHOR
MEDIA OUTREACH: CHECKLIST & TIMETABLE
HOW TO OVERCOME WRITERS BLOCK with MEDITATION
How to Create a Book Trailer on a Budget
How to Write Online Content that People Will Actually Read
The biggest problem was finding time to attend all of the sessions, which of course is impossible unless you are able to clone yourself.
No doubt planning for the 2020 Chanticleer Conference and Book Awards Banquet has already begun. That means I need to get busy and finish my next book which is not in the historical fiction genre, but likely to fall into the Global Thriller or Contemporary Literary categories.
The working title of that effort is: Asia Hands: A Tale of Foreign Correspondents & Other Miscreants in the Orient. Is it based on my own life as a foreign correspondent? You will have to read it to find out.
Stay tuned!