All of us have struggled to achieve perfection at one time or another. Perhaps it was in our work, in some athletic competition, in some artistic endeavor, or in something as mundane as a home improvement project.
For authors, it's that desire to write the perfect story or novel—something that has never been done as far as I can tell.
Nevertheless, we strive for perfection and there is nothing wrong with that unless in the striving we find ourselves paralyzed by the knowledge that what we are doing is far from perfect.
I found the following essay in The Learning Mind on the dangers of Perfection Paralysis thought-provoking, so I thought I would share it with my followers. Take a look and let me know what you think. I think Becky Storey makes a lot of sense.
3 Signs of Perfection Paralysis and How to Overcome It
By Becky Storey
I think it would be fair to say that we've all struggled with perfection paralysis at least once in our lives. We've all wanted so badly to be perfect that we haven't been able to do anything at all. It is a fairly common experience to be so afraid of being less than perfect that you can't bring yourself to even try.
It's great to strive to do your best. Generally speaking, we should all want to be our best selves, at least most of the time. Sometimes though, we can put too much energy into being our best. We can try so hard to be perfect that we can't do anything at all. This is known as perfection paralysis.
What Is Perfection Paralysis?
It is a mental state caused by stress and anxiety towards the need to be perfect. When we're so convinced that we have to create something perfect, we often freeze completely, unable to even start. This could include schoolwork, work for your career or even in your personal life.
This is a defense mechanism due to the fear of failing or not producing or being, something entirely perfect. This often leads to avoiding opportunities to succeed, because of the fear of not performing at your very best.
It is a similar fear to that of rejection or failure but varies just slightly. Perfection paralysis is caused by the fear that something you do won't be without a single flaw. To these kinds of people, imperfection means rejection or failure, or just shame and embarrassment.
If you don't feel that total perfection is possible, then you're likely to avoid trying at all. Similar to the stress response reaction, the panic sensation brought on by the need to be perfect can force you to freeze completely.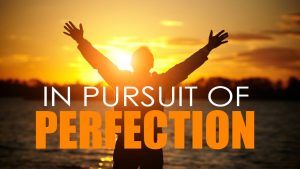 Signs of Perfection Paralysis
Scrapping Work Before It's Finished
If you are feeling paralyzed, you likely can't stand seeing work that isn't perfect. If you feel that what you've produced isn't everything you want it to be, your mind likely won't be open to "fixing" it. It just has to go.
Imagine creating a painting or drawing with a small detail that isn't as beautiful as you'd like it to be. Would you be able to ignore it, or would you try to correct it a little? These are healthy options that are easy for a person who doesn't experience perfection paralysis.
For those who do suffer, scrapping the entire work is the only option. To handle the crippling fear of failure and not being the very best, sufferers would rather not have to even think about the less than perfect work they produced.
Fear of Judgement
Perfectionists who experience this kind of paralysis often feel this way because they're afraid of ridicule from others. Some might have this fear because of past trauma that involved being told they aren't good enough, smart enough or talented enough. Some, on the other hand, may have developed this irrational fear without any clear trigger.
This feeling causes us to feel ashamed of what we produce, regardless of how good it really is.
If you're afraid of being embarrassed, then you probably work too hard to be perfect to overcome this. Our minds trick us into believing that if we produce flawless work or behave flawlessly, others will have nothing to judge us for. Reality is, if people want to judge, they'll always find a way.
Comparing Yourself to Others
We often feel paralyzed after we've seen work produced by others. Whether it's artwork, writing work or even academic reports, we can't help but compare what we create to what others have done first. When we feel the pressure of living up to standards already set by others, we start to panic. This usually results in perfection paralysis. You believe that if you can't do as well as someone else, then you don't feel like you can do it at all.
We all hate being compared to others, but we assume others will do it anyway. We don't want our bosses, teachers or parents seeing what we've created just in case it pales in comparison to someone else's work. The idea of feeling inferior is terrifying enough to put us off trying at all.
How to Overcome Perfection Paralysis
Prioritize Your Time
Perfectionists who suffer from this type of paralysis often feel like there isn't enough time in the world to do everything on their "to-do" lists. This is only because they feel like every task on the list has to be done perfectly. From the minor errands to the major jobs, there's no difference in how flawlessly the task has to be executed. This quickly leads to an overwhelming sense of doom because there isn't enough time to do everything as well as they want to.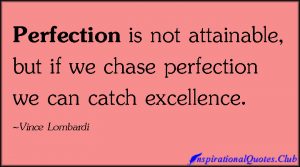 This overwhelming stress leads to perfection paralysis. The brain shuts down in fear of not making everything perfect, and nothing gets done at all.
Instead of falling apart at the prospect of executing every single task perfectly, a person who struggles with this problem should work on prioritizing. Some tasks simply just don't require that much energy. Not everything needs to be perfect.
Approach a "to do" list with an open mind and prioritize in order of what actually requires perfection (if any do at all). Then decide what you can squeeze in and do just well enough, and what really requires more time.
Understand That Perfection Isn't Everything
In order to prioritize, you might first have to come to the realization that not everything needs to be done perfectly. Perfection paralysis can only occur if you're truly terrified of producing something less than perfect.
By developing the ability to put things into perspective, you'll spend far less time worrying over the smallest things. This applies to perfectionism too. When you learn that sometimes, perfection isn't necessary, you'll find it much easier to get on with work.
Some suggest that to rid yourself of perfectionism, you should let go of one thing a day, slowly increasing as you get more comfortable. This could be minor things at first, such as choosing a less than perfect outfit, having a less than perfect lunch or a less than perfect chat around the water cooler. As you learn to let go of the need to be perfect, you'll find that you won't be paralyzed anymore.
Freezing only occurs when you're so determined to be perfect that the mere prospect of not achieving it stops you from trying at all.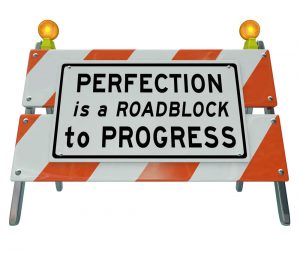 Learn to Enjoy Living
The best way to overcome perfection paralysis is to do things for joy, not for success or praise. When the work you do is valuable to you because you enjoy it, you'll be happier to just do your best. When you write, paint or work because you want to, being perfect isn't the top priority anymore.
Perfection paralysis is an unhealthy state of mind to be in. It's counter-productive too. The harder you try to be perfect, the further away you feel from it. Let go of past judgments and move forward in the knowledge that those who judge your imperfections aren't worth your time. Enjoy living for you, instead of constantly trying to be perfect.
References:
Becky Storey is a professional writer who has been passionate about the way we think and the human mind since she developed chronic anxiety many years ago. Now she loves to write and educate people on mental health and wellbeing. When Becky is not writing, you'll find her outside with her Labrador, sitting behind a jigsaw puzzle, or baking something with too much sugar.