While thousands of ANTIFA thugs, protestors, vandals, urban occupiers, looters, BLM adherents, and other malcontents were ripping down statues, looting, burning, attacking police, and demanding the obliteration of our past, Second Lieutenant Anmol Narang was actually making history.
The 23-year-old woman became the first observant Sikh to graduate from the United States Military Academy at West Point in New York. She was one of 1,107 other graduates who came together for the academy's annual commencement ceremony on June 14.
"It's an incredible feeling. It's a humbling experience, I have never worked harder for anything in my life," she told reporters. "Being a Sikh woman is a very important part of my identity and if my experience can play a small role in being an inspiration for others, regardless of their career field, that will be wonderful," she stated.
What a contrast to the thousands of victim-signaling agitators who screeched "systemic racism" as they demanded the defunding and abolishment of the nation's police forces, who defaced the Tomb of the Unknown Soldier in Philadelphia, and who threatened to desecrate the graves of Confederate soldiers.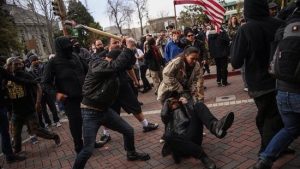 Born and raised in Roswell, Georgia, Narang says she always had an appreciation for military service because of her maternal grandfather's career in the Indian Army. During high school, she visited the Pearl Harbor National Memorial in Honolulu, Hawaii, which only furthered her interest in the military.
"Seeing the sacrifice those people made and the results of that sacrifice was really impactful. I stayed until it closed, then worked on my application when I got back to my hotel room," she recalled.
In 1802, President Thomas Jefferson signed legislation that established the United States Military Academy at West Point. Jefferson took the action with the expectation that those attending the Academy would be representative of a democratic society.
Although other Sikhs have graduated from the academy, Narang was the first observant Sikh woman to do so.
"The confidence and support of my community back home in Georgia has been deeply meaningful to me, and I am humbled that in reaching this goal, I am showing other Sikh Americans that any career path is possible for anyone willing to rise to the challenge," Narang said.
It's an upbeat and sanguine message that is likely to fall on the deaf ears of thousands of rabble-rousers and other malcontents who have infested the nation's streets the past few weeks.
Narang graduated with a degree in nuclear engineering and plans to pursue a career in air defense systems. She will finish her Basic Officer Leadership Course at Fort Sill in Oklahoma, then go to her first post in Okinawa, Japan, in January.
Meanwhile, thousands of whiners and faultfinders who are unable or who refuse to see the opportunities this country offers to all of its citizens will continue to spew their hatred of America and its past.
I wonder which group will inspire the next generation? The 1,107 self-sacrificing graduates of West Point? Or the thousands of America-haters who occupy our city streets?