Below is my review of Caleb Pirtle III's book Lost Side of an Orphan's Moon–the third book in his BoomTown saga series.
Here is Caleb's biography on Amazon:
"Caleb lives in the present but prefers the past. He is the author of more than eighty books, including four noir thrillers in the Ambrose Lincoln series: Secrets of the Dead, Conspiracy of Lies, Night Side of Dark, and Place of Skulls. Secrets and Conspiracy are also audiobooks on audible.com. All of the novels are set against the haunting backdrop of World War II. His Lonely Night to Die features three noir thrillers in one book, following the exploits of the Quiet Assassin, a rogue agent who has fled the CIA. He takes the missions no one else wants. He is expendable, and he knows it.
"Pirtle is a graduate of The University of Texas in Austin and became the first student at the university to win the National William Randolph Hearst Award for feature writing. Several of his books and his magazine writing have received national and regional awards.
Pirtle has written two teleplays: Gambler V: Playing for Keeps, a mini-series for CBS television starring Kenny Rogers, Loni Anderson, Dixie Carter, and Mariska Hargitay, and The Texas Rangers, a TV movie for John Milius and TNT television. He wrote two novels for Berkeley based on the Gambler series: Dead Man's Hand and Jokers Are Wild. He wrote the screenplay for one motion picture, Hot Wire, starring George Kennedy, Strother Martin, and John Terry.
"Pirtle's narrative nonfiction, Gamble in the Devil's Chalk is a true-life book about the fights and feuds during the founding of the controversial Giddings oilfield and From the Dark Side of the Rainbow, the story of a woman's escape from the Nazis in Poland during World War II. His coffee-table quality book, XIT: The American Cowboy, became the publishing industry's third bestselling art book of all time.
"Pirtle was a newspaper reporter for the Fort Worth Star-Telegram and served ten years as the travel editor for Southern Living Magazine. He was an editorial director for a Dallas custom publisher for more than twenty-five years. He and his wife, Linda, live in the rolling, timbered hills of East Texas. She is the author of two cozy mysteries.
Now that you know something about this accomplished author and writer take a look at my review of Lost Side of an Orphan's Moon.
Depression Era Whodunnit Keeps You Guessing
Review By
Ronald E. Yates
When I began reading Caleb Pirtle III's Lost Side of an Orphan's Moon, the third book in the author's Boom Town Saga, I immediately recognized the East Texas town of Ashland in which the novel is set. No, I have never been there, and I don't even know if Ashland, Texas exists.
But small towns in the Midwest all seem to exude the same mood and texture—especially ones in depression-era rural America.
That was the first thing that impressed me about Pirtle's prose. The descriptions of people and places are inspired and vivid. Ashland could have been the small town in Northeast Kansas where I grew up, and the people and places in the town could have been in Greenleaf, Kansas, population 650.
Good writers compel readers to "see" the scenes they are creating. The words they use are carefully crafted to create pictures in the reader's mind. Good writers enable readers to employ all relevant senses when they create a scene. I can go on and on here about the basic literary rule that says writers must "show" and not "tell."
Instead, I'll let the author himself demonstrate what I am talking about. Here is a scene from Chapter 22 of the book in which the newly appointed African-American constable of Ashland named Waskom Brown, who is investigating the murder of a young "taxi dancer," enters the Dinner Bell café.
"Waskom left the crime scene, turned his face into the wind, and climbed the hill toward the Dinner Bell. The cold followed him inside. The rain stopped at the door.
"He glanced around the café. Faces were staring down into empty plates, sopped clean by chunks of day-old biscuits. Few were talking, and it sounded as if they had little to talk about when they did, nothing more than simple eulogies to the weather, their jobs, the sonuvabitches who hired them, the sonuvabitches who fired them, how much money they were making, and how many hours they were working to earn it, how much they were worth, and the shame and disgrace of remaining poor while laboring eighteen hours a day and longer on the weekends to make other sonuvabitches rich. Waskom figured they were talking about him and Doc. Nobody liked their jobs. Nobody dared quit. The bread was stale, the meat tough, the potatoes cold, the coffee as watered down as the barrow ditch where Louise Fontaine fell, but, thank God, they could afford to eat, and they would not forget the days when they couldn't."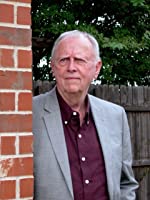 I have spent hours and hours in small-town cafes like that. I can almost "hear" the despondent, melancholic grumbling; "smell" the chicken fried steak, potatoes, coffee, and cigarette smoke; "see" the diners sopping up the gravy with dried biscuits from greasy white plates; and "feel" the desolate, cheerless ambiance.
The Lost Side of an Orphan's Moon is saturated with a "film noir" consciousness that takes you by the hand and leads you into the lives of richly developed characters such as Eudora Durant, publisher of the Ashland Reporter-Times newspaper; Doc Bannister, a con-man, card sharp, and wheeler-dealer; Ollie Porter, a 12-year-old boy who is looking for his father; and Waskom Brown, a scammer, and schemer with a checkered past.
As I was reading Lost Side of an Orphan's Moon, I kept thinking about the advice Chicago author Nelson Algren once gave in his depression-era novel, A Walk on the Wild Side:
"Never play cards with a man called Doc. Never eat at a place called Moms. Never sleep with a woman whose troubles are worse than your own."
Somehow Algren's counsel seemed relevant for this book.
Pirtle has deftly recreated the depression-era oil fields and boomtowns of East Texas, with their clammy black sludge, stagnant oleaginous stench, and assemblages of roughnecks, drillers, and speculators.
After reading a few pages of Pirtle's book, I had the odd urge to wipe my shoes on something so that I wouldn't dirty up the carpet.
At its heart, this is a murder mystery about a young woman named Louise Fontaine, who is found dead in a ditch on the outskirts of Ashland with a single bullet hole in her neck. Who could have done such a thing—even to a taxi-dancer who earned her living at 10 cents a dance and perhaps a few dollars more for dancing horizontally at Maizie Thompson's Sporting House?
You'll get no spoiler alert from me. If you want to know whodunnit, you'll have to pick up the book yourself. You won't be disappointed.