I wasn't going to blog about what happened in and around the U.S. Capitol building on Wednesday. Folks from all sides have already weighed in with their comments—both efficacious and flawed.
However, in the aftermath of that shocking event in which five people have died, I just can't keep silent.
The knee-jerk reaction is that the several hundred thousand (some say it was close to one million) Americans who gathered in Washington D.C. to hear President Trump talk and then who walked the one mile or so to the Capitol building, were a raging mob bent on death and destruction.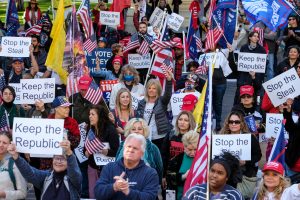 That is not true. The videos I saw showed that most of those demonstrating walked, even strolled peacefully from the Ellipse, where Trump had delivered his fiery speech, to Capitol Hill. Once there, they circled the building to protest what they believed was a fraudulent presidential election, which was their right under our Constitution.
"We're representing the seventy-five million Americans who voted for Donald Trump and who have now lost their voice because Democrats are going to do everything they can to silence and disenfranchise them and force socialism down their throats," I heard one woman tell a reporter. "But we will not be silenced."
Sadly, once at the Capitol, things quickly deteriorated as a minority of protestors forced their way into the building.
That never should have happened. I don't condone it and neither do most Americans no matter what their political stripe.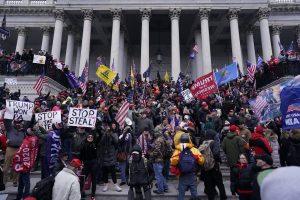 By the way, I didn't condone the riots and looting of private businesses and public buildings that occurred in several cities last summer in the aftermath of George Floyd's death at the hands of a Minneapolis policeman.
So now where does that leave us?
It leaves us even further divided as a nation than we were before the election. It leaves millions of people with a deep sense of pessimism and sadness—perhaps even depression—that our country is so riven and fragmented. It's painful to see Americans so alienated from one another because of such a torrent of political dogmata that rational conversation is now almost impossible without a plummet into violence.
Joe Biden, our president-elect, promises to bring the country together, "to heal the wounds." Judging from the last few public statements he has made, that pledge rings hollow. If anything, his statements that likened legitment protesters to a mob bent on an "insurrection" have driven an even larger wedge between us.
"This is not dissent. It's disorder. It's chaos. It borders on sedition, and it must end now," he said. In fact, with the exception of a violent minority of demonstrators who broke into the Capitol building, those who assembled at the Ellipse to hear a speech by the President were exercising their Constitutional right of assembly and to demonstrate—just as Black Lives Matter did this past summer.
The radical left is not the only group in America that is allowed to stage massive protests. All sides of our political spectrum have that right—the objections and disparagements voiced by unhinged talking heads on cable news networks notwithstanding.
Now we hear calls to invoke the 25th Amendment to remove the president from office and failing that, to once again put the nation through the agony of another impeachment process.
We know how much House Speaker Nancy Pelosi and Senator Chuck Schumer hate Donald Trump. We know how frustrated they are that they were not able to remove him from office during the past four years and thereby overturn the 2016 election. We know they would like nothing better than to drive him from the White House in disgrace even though he has less than two weeks remaining in office.
But is this what our nation needs right now? Is this how Biden and the Democrats are going to "heal our country, restore democracy, decency, honor, and respect for the rule of law" as Biden declared Wednesday?
I am not excusing President Trump from his responsibility for what happened. While he never told demonstrators to attack and rampage through the Capitol, his words were rife with disappointment and anger over what he and millions of other Americans consider an election stolen by Democrats.
However, the media are being disingenuous by insisting that Trump purposely instigated the violence.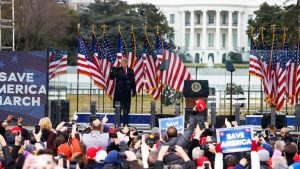 Here, in fact, is what he said:
"it's now up to Congress to uphold democracy". . . ."we are going to walk down to the capitol to cheer on our brave senators, congressmen and women" . . . . "to peacefully and patriotically make your voices heard."
Once again, I am not giving Trump a pass here. I can't count the number of times in the past four years that I thought to myself, "Trump needs to stop tweeting and hurling insults at those who disagree with him. Sometimes, he just needs to take a few deep breaths and cool it—perhaps even ignore the slings and arrows."
 Of course, he never did that. Then I would think, "Well, Trump is a brash and brassy New Yorker. He's a brazen scrapper. He fights back. That's his nature. He's not a politician and God knows he's no diplomat or tactician when it comes to responding to or countering an insult or attack."
It saddens me to watch the many successes Donald Trump had as president shoved aside because of a handful of idiots who chose to storm the Capitol: a vibrant and flourishing economy; unprecedented job growth and unemployment especially in minority communities; a historic Middle East peace agreement; the restoration of our depleted military; his tough stance against unfair trading partners such as China; the creation of more than 4 million jobs, 400,000 of which were manufacturing jobs; and median household income at the highest level ever recorded. Trump also signed the VA Choice Act and VA Accountability Act, expanded VA telehealth services, walk-in-clinics, and same-day urgent primary and mental health care.
And the list goes on. But because of what happened last Wednesday, those amazing accomplishments will soon be forgotten.
For four years Trump owned the bully pulpit of the Presidency. He had incredible power to answer critics without crawling into Washington's notoriously sordid political pigpen. He chose, however, to engage the partisan swine on their fetid turf. And that was a mistake.
As someone once said: "Never wrestle with a pig. You both get dirty and the pig likes it."