[Yesterday, I posted about the Ken Burns documentary/biography on Ernest Hemingway that is currently airing on PBS and the pilgrimage I made to Hemingway's house in Key West, Florida. Hemingway lived in the house in the 1930s during the apex of his career as a novelist. In this post, I point out that Hemingway would hate what has happened to Key West today. I hope you enjoy it]
 Once upon a time, Key West was known for its fishing, sea salt refining, and salvaging operations. It was also the largest and wealthiest city in Florida.
Today, Key West is primarily known as a trap for tourists—hordes of them. In fact, last year some four million tourists ascended on the 7.4 square mile island, and its 25,000 permanent residents that are actually closer to Cuba (90 miles) than Miami (160 miles).
Some tourists come so they can say they visited the southernmost city in America; some are deposited there by giant cruise ships, and some come because they want to visit the place that Ernest Hemingway once called home and where he produced almost 65 percent of his work.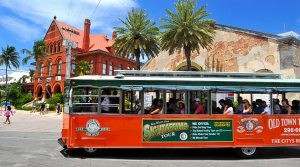 Having traveled to Key West, I am convinced that Hemingway would absolutely hate the place today.
Were he to walk from his house at 907 Whitehead Street to Sloppy Joe's saloon (his favorite watering hole), Hemingway would have to elbow his way through throngs of tourists, tacky t-shirt stores, cafes, ice-cream stands, street performers, overpriced jewelry shops, shady art galleries, and bars—lots of bars with music blaring at a level Hemingway would no doubt have found annoying.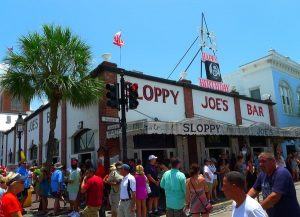 Hemingway would probably recognize the saloon at 201 Duval Street today. It hasn't changed too much since 1937 when Hemingway was there knocking back Bacardi light rum Dobles, otherwise known as "Hemingway Hammers." (Recipe is at the end of this post).
Locals will tell you that today's Sloppy Joe's is not the original Sloppy Joe's. That bar is now called Captain Tony's. It was there, from 1933 to 1937, that "Sloppy Joe" Russell, a charter boat captain and Hemingway fishing pal, ran a bar from a building that once housed the city morgue.
In 1937, Russell abruptly moved half a block to the current Sloppy Joe's location, upset that his landlord raised his rent $6 a month. At midnight, his patrons, including (legend has it) Hemingway, helped him move lock, stock, and barrel to the current location.
Some locals insist that Hemingway provided Russell $5,000 to buy the new bar. Others point out that Hemingway removed the marble urinal from the old bar and took it home.
"I used the damned thing so much I figure I already paid for it," Hemingway said. He set it up as an outdoor watering trough for his beloved polydactyl (six-toed) cat named Snow White. It is still there behind Hemingway's house and Snow White's six-toed descendants—all 40 or 50 of them—still drink from it.
Unlike the 1930s, today's Sloppy Joe's features a restaurant and gift shop loaded with Hemingway-related souvenirs. It also hosts the annual Hemingway Days Festival and Hemingway Look-Alike Contest.
I have to wonder what Papa would think about all of that.
I also wonder what he would think about the ubiquitous key lime pie shops that abound in the town where the dessert originated in the 1850s. They are everywhere and Key West is rife with arguments about which place has the best key lime pies.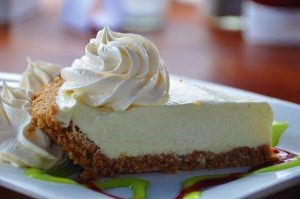 If there is one takeaway from Key West and other hallowed places steeped in the nostalgia of bygone days (and nights), it is this: They are not the same unspoiled places they were when their reputations were evolving.
Take, for example, legendary wild-west towns like Virginia City, Nevada, or Dodge City, Kansas, or Tombstone, Arizona. When we visit these places we hope against hope they will be at least a little like they once were.
They are not. Like Key West, they are inundated with tourists surging through t-shirt shops and souvenir shops that sell everything from whoopee cushions to cheap jewelry.
But let's not stop there. When I think of the venerated historical sites I recently visited in Europe it's apparent how tourism has impacted them also. Take Rome's Forum and the Coliseum, where for a few Euros you can have your picture taken with re-enactors dressed as Roman Centurions or  Vestal Virgins. And yes, you can buy t-shirts and other junk nearby.
Or how about England's enigmatic collection of monoliths at Stonehenge and the Tower of London complex along the Thames? More t-shirt shops, more throngs of tourists, more junk in nearby shops.
With increasing numbers of people traveling further and faster than ever before, places with even a modicum of historical significance are now targets for tour operators and their convoys of pervasive buses. Even Machu Picchu, that ancient Inca city high in the Peruvian Andes that was once visited by a handful of hearty travelers, is now teeming with flocks of sightseers.
The reaction of many tourists is often: "Gee, I expected something more authentic with fewer people."
Wishful thinking.
Key West has done a good job of preserving some of its past. Hemingway's 165-year-old house, for example, is in surprisingly good condition given the number of tourists who traipse through it to ogle the furniture and other trappings of the renowned Nobel-prize-winning author. It also boasts a cadre of well-informed docents who will lead you through the house and grounds while providing you with running commentaries that are highly instructive and enlightening.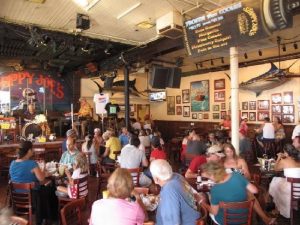 Even Sloppy Joe's, with its ancient, wobbling ceiling fans, jalousie doors, and original long curving bar has managed to preserve some authenticity. It seems almost as grungy and cluttered as it was back in the day, and the booze still flows liberally.
And Key West, even with its plethora of overpriced shops, ice cream stands, rubber-wheeled trolleys, conch trains, and street performers, retains a kind of eccentric charm.
Maybe it's the utter tackiness of the place, the crush of tourists, or the vague mystique associated with Hemingway, it's most famous resident.
Or maybe it is something Hemingway once said about Key West when asked to describe the place.
"Key West is the St. Tropez of the poor," he said.