Boo Hoo. Millions of mask-loving leftists and other human-sheep must be bawling their eyes out at this news.
I have never seen so many people dedicated to wearing face masks in my life—unless of course, we are talking about people who admire Spiderman, Darth Vader, Hannibal Lecter, Leatherface, or Doctor Doom—sometimes known as Dr. Fauci.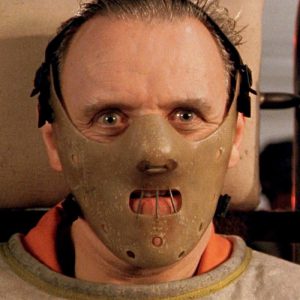 Yes, folks, Dr. Rochelle Walensky, director of the Center for Disease Control & Prevention announced unequivocally Thursday during a White House COVID-19 briefing that people who are fully vaccinated against coronavirus no longer need to wear masks while indoors or outdoors or physical distance in either large or small gatherings.
That seems pretty clear to me, folks.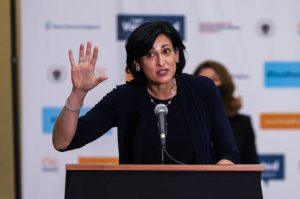 STOP WEARING FACE MASKS INDOORS AND OUTDOORS & CEASE SOCIAL DISTANCING IF YOU'VE BEEN FULLY VACCINATED.
So now what? Here's what I think is going to happen when it comes to COVID-19, aka, the Wuhan China Virus.
Because fully vaccinated individuals were still advised to wear masks while taking public transportation or in places like hospitals, prisons, and homeless shelters, the terrified bleating sheep among us will still demand that everybody continue to wear face masks in other indoor venues such as grocery stores, restaurants, gyms, and offices.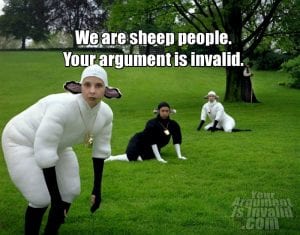 Just wait and see. What do you want to bet that signs like "Face Masks Required" will not disappear on entranceways anytime soon—despite the CDC's new pronouncement.
Why? Because apparently, mask-wearing has become as American as apple pie and baseball. And if you refuse to slap that mask onto your mug, why you are just downright unpatriotic—or worse, you're a domestic terrorist, white supremacist, or an evil Nancy Pelosi-hating insurrectionist.
Mask wearing is now an explicit political statement, like driving an electric car or being a vegan, or refusing to buy goods made by Uighur slave labor in China.
No, wait. That last item can be ignored. After all, Americans still need to buy stuff.
So what else did Dr. Walensky say Thursday?
"We have all longed for this moment when we can get back to some sense of normalcy. Based on the continuing downward trajectory of cases, the scientific data on the performance of our vaccines, and our understanding of how the virus spreads, that moment has come for those who are fully vaccinated.
"I want to be clear that we followed the science here. While this may serve as an incentive for some people to get vaccinated, that is not the purpose. Our purpose here is as a public health agency to follow the science and to follow where we are with regard to the science and what is safe for individuals to do," she said.
She added that individuals with weakened immune systems should consult a physician before giving up masks.
Now, do you get it, sheep people?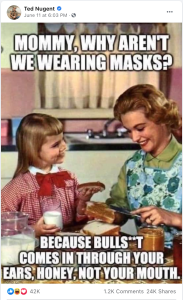 Not wearing a mask is SAFE. You will not get the China Virus and die if you brush against a mask-less fully-vaccinated brute in your local Safeway store or Costco, or Walmart.
Just think of it. You will survive innumerable brushes with these mask-less cretins, despite what millions of whining and panicky sheep people no doubt will tell you.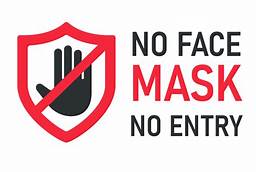 "You can't believe the CDC," the sheep people will bleat. "They have been wrong before. Please put your mask on. Be respectful of others. Don't be unpatriotic."
Maybe they will change their minds if they hear our stumbling, mumbling, bumbling president say it's okay not to wear masks once you are vaccinated.
But wait! Biden did say that Thursday, echoing what Dr. Walensky said.
Never mind that good ole fully vaccinated Joe walked to the outdoor podium all by himself, wearing HIS mask.
A reporter asked what kind of message that sends Americans?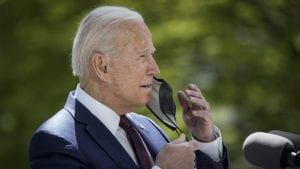 Joe flashed a big smile and said he wanted the cameras and media to see him take his mask off: "and watch me take it off and not put it back on until I got inside."
But Joe, YOU NO LONGER NEED TO WEAR A MASK INSIDE!
"Never mind! Nothing to see here," as the Scarlet Lady, aka press secretary Jen Psaki likes to say.
That's just good ole stumbling, bumbling, mumbling Joe, being Joe.