The Vietnam War ended 47 years ago on April 30, 1975. For those of us who lived through it and the turmoil it created in the United States, it still seems like yesterday. For those of you who view the war as ancient history, here's a chance to test your knowledge.
Few wars in American history are as misunderstood and filled with misinformation and disinformation as the undeclared war in Vietnam. For example one of the enduring myths about Vietnam is that the war was fought predominantly by draftees. In fact, according to statistics kept by the US Army, and corroborated by other sources, only 25% of the troops who served in combat roles in Vietnam were drafted into military service.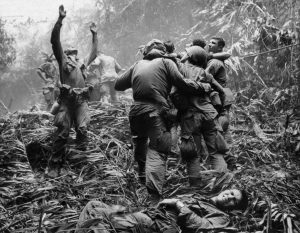 Another myth is that a higher percentage of poor black soldiers fought the Vietnam War than middle class white soldiers. In fact, Pentagon figures show that of the troops who deployed to Vietnam during the years of American involvement, including the crews of the US Navy ships which served offshore in the conflict, about 50 percent came from middle-class backgrounds, were better educated than in any of America's preceding wars (79% had a high school diploma), and were overwhelmingly white (88%). Of all the combat deaths suffered by American forces over the course of the war, 86% were white.
Take this test to see how much you know about the war that divided our country more than any other war since the Civil War in 1861-65.
Click on the link below.
http://history.howstuffworks.com/historical-events/vietnam-war-quiz.htm.