When I learned that actor Ed Asner had passed away at the age of 91 the other day, I couldn't help thinking about the old "Lou Grant" television series in which Asner played the gruff and curmudgeonly city editor of the fictional Los Angeles Tribune.
By the way, in case you were wondering, all city editors are gruff and curmudgeonly—even the women who portray them. It is de rigueur for the job.
I, myself was both an assistant city editor and metro editor (an inflated version of a city editor) at the Chicago Tribune. But that is another story for another time.
The Emmy-winning Lou Grant series ran from 1977 to 1982 and at the time I was based in Los Angeles as the West Coast Bureau Chief for the Chicago Tribune.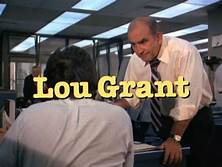 My office was in the Los Angeles Times building so naturally, I was curious about any television series that portrayed the newspaper business.
I admit I watched the show assiduously, looking for any flaw in the reportorial skills of the Tribune's two principal general assignment reporters, Joe Rossi, played by Robert Walden, and Billie Newman, played by Linda Kelsey.
I was intrigued by the kinds of social and journalistic issues the show examined. For example, the show looked at the kinds of ethical questions that often arise in newspaper newsrooms—issues like entrapment of sources, checkbook journalism, plagiarism, conflicts of interest, and staging stories and photos.
Naturally, as all good reporters do, they got into occasional squabbles and spats over stories with their immediate boss, the irascible Lou Grant, who also provided guidance and mentorship for the two general assignment reporters.
Rossi and Newman were also fierce rivals and competitors, as is often the case at big-city newspapers.
Lou Grant was the consummate newsman. He arrives in Los Angeles after being fired from WJM-TV in Minneapolis at the end of the Mary Tyler Moore Show. His friend, Charlie Hume (played by Mason Adams) is the Tribune's managing editor and hires Grant as the paper's city editor. We learn that Grant began his career in journalism as a print journalist, not a TV producer.
Right away, I felt a kinship with Lou Grant. This was a television character I could like.
As it turned out, I met Ed Asner one day while having lunch in a Los Angeles restaurant with a producer.
"You look just like Lou Grant, the city editor of the Los Angeles Tribune," I quipped, shaking his hand.
"Yeah, I get that a lot," Asner responded.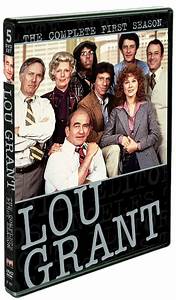 My producer friend explained that I was the Chicago Tribune's West Coast bureau chief based in Los Angeles and that I also had the largest beat any journalist could have.
"In addition to the West Coast, Ron covers Asia and Latin America," the producer said.
Asner's eyes widened.
"You're a foreign correspondent based in Los Angeles?" he asked. "Is that even possible?"
I explained that I had been posted to Tokyo and had covered the fall of Cambodia and Vietnam in 1975, as well as many other countries in Asia, so I had some experience in the area. Latin America, however, was a new part of my beat.
We chatted a little while longer about journalism in general and finally, Asner asked me what I thought of the L. A. Tribune newsroom as portrayed in the series.
"Does it look real?"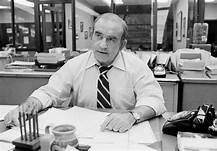 "Whoever created the set did a good job," I said. "But if you want to see a REAL big city newspaper newsroom, you need to go to Chicago and visit the Chicago Tribune. That's a classic newsroom. It's enormous and loud."
Asner revealed that he was traveling to Chicago in a couple of weeks. I offered to let my editors at the Tribune know and said I was sure they would love to show him around Tribune Tower.
"I've walked by that building hundreds of times when I was a student at the University of Chicago and when I was part of the old Playwrights Theater Club. It's a hell of a building."
As we continued to talk we discovered we were both born in Kansas City.
Finally, I asked Asner if he had spent much time talking to reporters and editors at the Los Angeles Times to prepare for his city editor role.
"Yeah, all of the cast did," he responded. "And you know what, I always thought actors had big egos until I began spending time with you reporters."
I had to laugh at that.
I agreed. Many journalists do have outsized egos—especially foreign correspondents. Of course, I added, journalists may have big egos, but their salaries are small.
I then shared a quote about foreign correspondents from the English playwright and screenwriter Tom Stoppard.
"A foreign correspondent is someone who lives in foreign parts and corresponds, usually in the form of essays containing no new facts. Otherwise, he's someone who flies around from hotel to hotel and thinks that the most interesting thing about any story is the fact that he has arrived to cover it."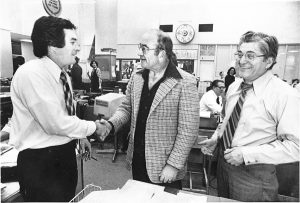 A few weeks later I learned that Asner had indeed visited the Chicago Tribune newsroom. The office sent me a photo of Los Angeles Tribune city editor "Lou Grant" (aka Ed Asner) standing in the middle of the newsroom with Chicago Tribune city editor Bernie Judge and day city editor, Don Agrella—three of the best journalists I have ever known.
"There's only one thing wrong with your portrayal of a city editor," said Bernie Judge (left) to actor Ed Asner (center). "Your phone just doesn't ring enough." Don Agrella (right) agreed.
Otherwise, television's Lou Grant played the part perfectly, storming into the newsroom and bellowing to startled reporters,
"All right you turkeys, get to work."
–30–