Today is Veterans Day. Given that only 7 percent of the people of this nation have ever put on a uniform, I wonder how many Americans know why Veterans Day is a national holiday.
Yes, it means schools and most government offices are closed. But it means a lot more to the men and women who served this country. Originally called Armistice Day, the holiday was declared on the 11th hour of the 11th day of the 11th month beginning in 1919 following the 1918 ceasefire agreement that brought World War I to a close. In 1954, the day was extended to honor all veterans.
Veterans Day gives Americans the opportunity to celebrate the bravery and sacrifice of all U.S. veterans. However, most Americans confuse this holiday with Memorial Day, reports the Department of Veterans Affairs.
Memorial Day honors service members who died in service to their country or as a result of injuries incurred during battle. Deceased veterans are also remembered on Veterans Day but the day is really set aside to thank and honor living veterans who served honorably in the military – in wartime or peacetime.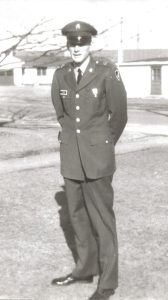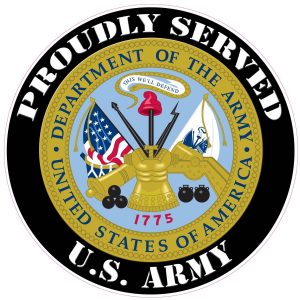 Someone, I don't know who, once defined a veteran this way: "A Veteran is someone who, at one point in his or her life, wrote a blank check made payable to "The United States of America," for an amount of "up to, and including his or her life."
That is Honor. It's a concept that those who have never worn the uniform will ever fully comprehend or appreciate.
There are too many people in this country today who no longer understand what honor and sacrifice are.
Today, when some athletes feel entitled to kneel during the playing of the National Anthem, or when our nation's flag is burned or disrespected, it's a slap in the face to veterans–at least to most of us.
Yes, it is a First Amendment right to display that contempt and to disparage those who served. The great irony is that those who do are permitted to enjoy the advantages and freedom veterans have won for them just the same.
I joined the U.S. Army in the 1960s and spent almost four years on active duty with the Army Security Agency (ASA) where I had a Top Secret & Crypto security clearance doing signals intelligence work focused on the Soviet Union and its Warsaw Pact allies. It was probably the best thing I ever did. It taught me about leadership, self-discipline, and working as part of a team. It taught me to be dependable and trustworthy. And it showed me the importance of serving something more important than yourself—the country that you were fortunate enough to be a citizen of.
I achieved the rank of Sergeant (E-5) and had I re-upped I was promised an immediate promotion to Staff Sergeant (E-6) along with a hefty re-enlistment bonus because I had what the Army considered a "critical MOS" (Military Occupation Specialty). I declined because I wanted to finish my college education and become a foreign correspondent. I achieved both and I credit my time in the U.S. Army with teaching me about setting goals and doing what is necessary to achieve them.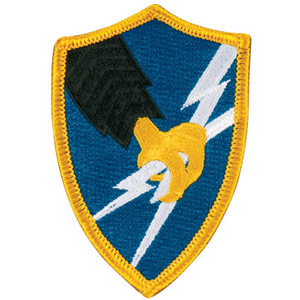 Let me end with a few facts about the nation's veterans.
There are 18 million veterans living in the United States as of 2020, according to the Census Bureau. Of these, 1.7 million are women.
As of last year, there were 6.4 million American veterans who served during the Vietnam era and 7.1 million who served in the Gulf War era,

which spans 

from

 August 1990 

through

 the present

. (Some veterans served through both eras.)
There are also about 250,000 World War II veterans still living, down from 5.7 million in 2000. There are another 1.6 million who served during the Korean conflict, the VA estimates.
World War II veterans are dying at an average of 234 every day.
About three-quarters (77%) of veterans in 2020 served during wartime and 23% served during peacetime.
A large proportion of the veteran population, 9.2 million, are aged 65 and older, while 1.6 million are younger than 35. By service period, Post-9/11 veterans were the youngest with a median age of about 37; Vietnam Era veterans had a median age of about 71, and World War II veterans were the oldest with a median age of about 93.
Currently, nine-in-ten veterans (91%) are men while 9% are women, according to the VA's 2016 population model estimates. By 2045, the share of female veterans is expected to double to 18%.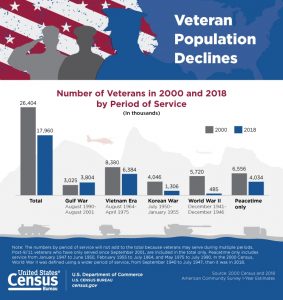 Fewer members of Congress have prior military experience than in the past. As the share of Americans who are veterans has declined, so has the share of Congress members who have previously served in the military. In the current Congress, 20% of senators and 19% of representatives had prior military service, down drastically from just a few decades ago.
The American labor force has 7.2 million veterans ages 18 to 65. Of these, 6.8 million are employed. Male and female veterans' annual median incomes are both higher than their nonveteran counterparts.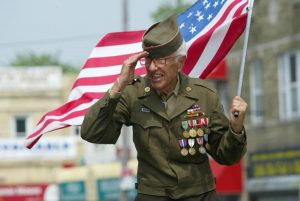 Veterans from recent service periods have the highest levels of education. More than three-quarters of Post-9/11 and Gulf War veterans had at least some college experience, and more than one-third of Gulf War veterans had a college degree.
Post-9/11 veterans had a 43% chance of having a service-connected disability, after accounting for differences in demographic and social characteristics among veterans —significantly higher than that of veterans from other periods.
Among veterans who had a service-connected disability, Post-9/11 veterans had a 39% chance of having a disability rating of 70% or more — significantly higher than for veterans from other periods.
So, this is just a quick shout out to all of my fellow veterans who put on the uniform of this country and served: HOO-RAH!  
Musical artist Sailor Jerri shares her music video of Hallelujah that she rewrote as a tribute song for Veterans. Click on this link to hear her: