I had never heard of Winsome Sears before Tuesday's Virginia gubernatorial election.
Why not?
She is charismatic, smart, confident, and formidable. She is a 57-year-old mother of three, a former U.S. Marine, vice-president of the Virginia Board of Education, and a business owner. And she was running for Lt. Governor of Virginia along with the state's newly-elected Governor Glen Youngkin.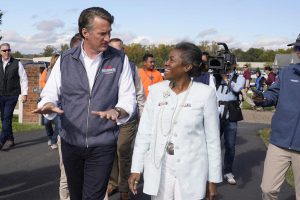 But she has one flaw as far as America's corrupt legacy media are concerned.
She's a conservative Republican.
That makes her persona non grata when it comes to national media coverage.
In today's America, you cannot be a conservative black woman and expect to receive any kind of positive coverage by the mainstream media.
Here for example, is how CNN portrayed her Wednesday morning:
"(Sears) was national chair of Black Americans Making America First, a coalition that promotes initiatives by former President Donald Trump and has defended him after controversies and racist comments. Asked about her support for Trump, Sears told CNN, "I am an independent thinker" and promised to ensure "more diverse representation is appointed on boards and commissions."
In other words, because she supported Donald Trump, she is, as Joe Biden says, not really black. Her skin color, race, and heritage are somehow diluted by her conservative beliefs.
Nevertheless, Sears will be the first Black woman and woman of color to serve as lieutenant governor of Virginia. She also is the first and only Black Republican woman, female veteran, and legal immigrant elected to the Virginia House of Delegates. Sears immigrated to the United States from Kingston, Jamaica with her parents when she was 6 years old.
"There are some who want to divide us and we must not let that happen," Sears said after her election. "They would like us to believe that we are back in 1963 when my father came to America. Here I am, living proof. In case you haven't noticed, I am black and I have been black all my life. But that's not what this is about. What we are going to do is be about the business of the commonwealth."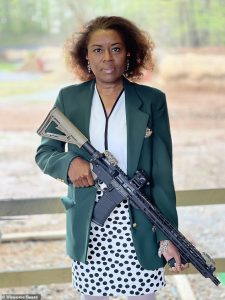 And here is another strike against Sears as far as the national media are concerned. She is a Second Amendment advocate. In April, she posted a photo of herself at a gun range on Twitter, citing the constitutional right of every American to bear arms and declaring her opposition to red flag laws, which make it easier for law enforcement to seize guns from individuals whose family members have reported them as mentally unstable.
"Marines know how to use guns and I won't ever support a red flag law! The 2nd Amendment says the peoples' right to bear arms 'shall not be infringed!'" she wrote in her post.
Good for her.
And here's somebody else you won't see the mainstream media talking about. His name is Jason Miyares, a Republican who was elected as Virginia's first Latino attorney general.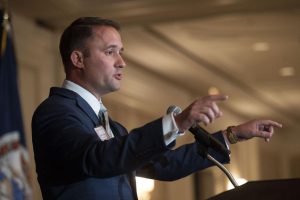 Miyares was the first Cuban American elected to the Virginia General Assembly, and often highlighted his Cuban background on the campaign trail by telling the story of his mother's immigration to the US in 1965.
He is also critical of the state's lenient policies when it comes to releasing violent criminals.
"The victims of violent crime are too often ignored or forgotten in Richmond," Miyares' website says. "An out-of-control parole board has let … felons, rapists, murderers, cop killers, and child abusers out of prison and back in our neighborhoods and communities."
"On day one, we'll work toward a safe and secure Virginia and ending the criminal first, victim last mindset," Miyares said Wednesday. "Virginia has spoken – we want safe streets, we want our police to be well trained and supported in the community – and we want the rule of law respected. I intend on delivering on my campaign promises."
It's about time.
Sears said that while Democrats center many of their messages on being friendly to immigrants and the black community, they actually sow division in each election cycle.
"This is what the Democrats do over and over again," Sears said. "They come into the black community and they try to gin up our anger over some supposed threat or some supposed slight, and then we're supposed to run out and vote for them because they're coming to save us.
"We want them to go find another victim. You see that they come and they try to get our vote, but only at election time, people. And after that, they are gone again for another four years," Sears said. "They're like the cicada."
In addition to the unanticipated ouster of Virginia's Democrats from the governor's mansion, Republicans also recaptured the Virginia House of Delegates—another sound rejection of Joe Biden and his socialist policies.
"The red wave is here, and things are only going to get worse for Joe Biden and the Democrats come November 2022," said Republican National Committee (RNC) Chairwoman Ronna McDaniel.
As Winsome Sears might say: "Keep those cicadas entombed."