"And now for something completely different," as they used to say on the old Monty Python show.
Duriing any given week I receive heaps of emails containing bits of wisdom, humor, anonymous information, and lots of weirdness.
Normally, I give these things a quick read and delete them.
Today, however, I thought I would share some of these epistles and dispatches with readers as a way for all of us to disengage from the steady stream of depressing news about COVID, inflation, world events, and the Washington swamp that overwhelms and engulfs us day after day.
So sit back, enjoy, learn, or laugh—or not, it's your choice.
What the Donkey told the Tiger
The donkey told the tiger, "The grass is blue."
The tiger replied, "No, the grass is green."
The discussion became heated, and the two decided to submit the issue to arbitration, so they approached the lion.
As they approached the lion on his throne, the donkey started screaming: ′′Your Highness, isn't it true that the grass is blue?"
The lion replied: "If you believe it is true, the grass is blue."
The donkey rushed forward and continued: ′′The tiger disagrees with me, contradicts me and annoys me. Please punish him."
The king then declared: ′′The tiger will be punished with 3 days of silence."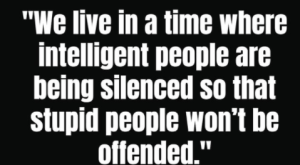 The donkey jumped with joy and went on his way, content and repeating ′′The grass is blue, the grass is blue…"
The tiger asked the lion, "Your Majesty, why have you punished me, after all, the grass is green?"
The lion replied, ′′You've known and seen the grass is green."
The tiger asked, ′′So why do you punish me?"
The lion replied, "That has nothing to do with the question of whether the grass is blue or green. The punishment is because it is degrading for a brave, intelligent creature like you to waste time arguing with an ass, and on top of that, you came and bothered me with that question just to validate something you already knew was true!"
The Moral of the Story?
The biggest waste of time is arguing with the fool and fanatic who doesn't care about truth or reality, but only the victory of his beliefs and illusions. Never waste time on discussions that make no sense. There are people who, for all the evidence presented to them, do not have the ability to understand. Others are blinded by ego, hatred, and resentment and the only thing that they want is to be right even if they aren't. When IGNORANCE SCREAMS, intelligence moves on.
Interesting Statistics from the Vietnam Memorial Wall.
There are 58,267 names now listed on that polished black wall, including those added in 2010.
The names are arranged in the order in which they were taken from us by date and within each date the names are alphabetized. It is hard to believe it is 65 years since the first casualty.
The first known casualty was Richard B. Fitzgibbon, of North Weymouth, Mass. Listed by the U.S. Department of Defense as having been killed on June 8, 1956. His name is listed on the Wall with that of his son, Marine Corps Lance Cpl. Richard B. Fitzgibbon III, who was killed on Sept. 7, 1965.
There are three sets of fathers and sons on the Wall.
39,996 on the Wall were just 22 or younger.
8,283 were just 19 years old.
The largest age group, 33,103 were 18 years old.
12 soldiers on the Wall were 17 years old.
5 soldiers on the Wall were 16 years old.
One soldier, PFC Dan Bullock was 15 years old.
997 soldiers were killed on their first day in Vietnam.
1,448 soldiers were killed on their last day in Vietnam.
31 sets of brothers are on the Wall.
Thirty-one sets of parents lost two of their sons.
54 soldiers attended Thomas Edison High School in Philadelphia. I wonder why so many from one school.
8 Women are on the Wall, nursing the wounded.
244 soldiers were awarded the Medal of Honor during the Vietnam War; 153 of them are on the Wall.
Beallsville, Ohio with a population of 475 lost 6 of her sons.
West Virginia had the highest casualty rate per capita in the nation. There are 711 West Virginians on the Wall.
The Marines of Morenci – They led some of the scrappiest high school football and basketball teams that the little Arizona copper town of Morenci (pop. 5,058) had ever known and cheered. They enjoyed roaring beer busts. In quieter moments, they rode horses along the Coronado Trail, stalked deer in the Apache National Forest. And in the patriotic camaraderie typical of Morenci's mining families, the nine graduates of Morenci High enlisted as a group in the Marine Corps. Their service began on Independence Day, 1966. Only 3 returned home.
The Buddies of Midvale – LeRoy Tafoya, Jimmy Martinez, Tom Gonzales were all boyhood friends and lived on three consecutive streets in Midvale, Utah on Fifth, Sixth and Seventh avenues. They lived only a few yards apart. They played ball at the adjacent sandlot ball field. And they all went to Vietnam. In a span of 16 dark days in late 1967, all three would be killed. LeRoy was killed on Wednesday, Nov. 22, the fourth anniversary of John F. Kennedy's assassination. Jimmy died less than 24 hours later on Thanksgiving Day. Tom was shot dead assaulting the enemy on Dec. 7, Pearl Harbor Remembrance Day.
The most casualty deaths for a single day happened on January 31, 1968, with 245 deaths.
The most casualty deaths for a single month was May 1968 – 2,415 casualties were incurred.
Most Americans who read this will only see the numbers that the Vietnam War created.
To those of us who survived the war, and to the families of those who did not, we see the faces, we feel the pain that these numbers created. We are, until we too pass away, haunted with these numbers, because they were our friends, fathers, husbands, wives, sons, and daughters. There are no noble wars, just noble warriors.
'Golden Girls' Quotes That Stand the Test of Time
 Picture it: Miami, 1985… When The Golden Girls premiered on NBC in 1985, its premise seemed unlikely to resonate with younger viewers — four female senior-citizen housemates in Miami bicker and banter about everything from sex to menopause to marriage equality, all while wearing very '80s fashion (think: huge shoulder pads and copious amounts of hairspray).
Yet Golden Girls remains one of America's most widely beloved sitcoms of all time. More than 35 years later, the series still has legions of loyal fans spanning all ages and backgrounds. It has won numerous Golden Globes and Emmys and has been broadcast around the world, even inspiring international versions in Russia, Spain, and the Philippines.
The series aired for seven seasons and featured four iconic actresses: Bea Arthur, who played sarcastic Dorothy Zbornak, a substitute teacher from Brooklyn prone to eye rolls and a quick temper; ue RMcLanahan, who played lusty Southern belle Blanche Devereaux; Betty White, who played sweet, ditzy Rose Nylund with way too many stories about life in St. Olaf, Minnesota; and Estelle Getty, who played Sophia Petrillo, Dorothy's wise-cracking elderly Italian-American mother. Together, the four unlikely housemates pushed the envelope with their unmatched wit, unabashed sass, and undeniable love for one another.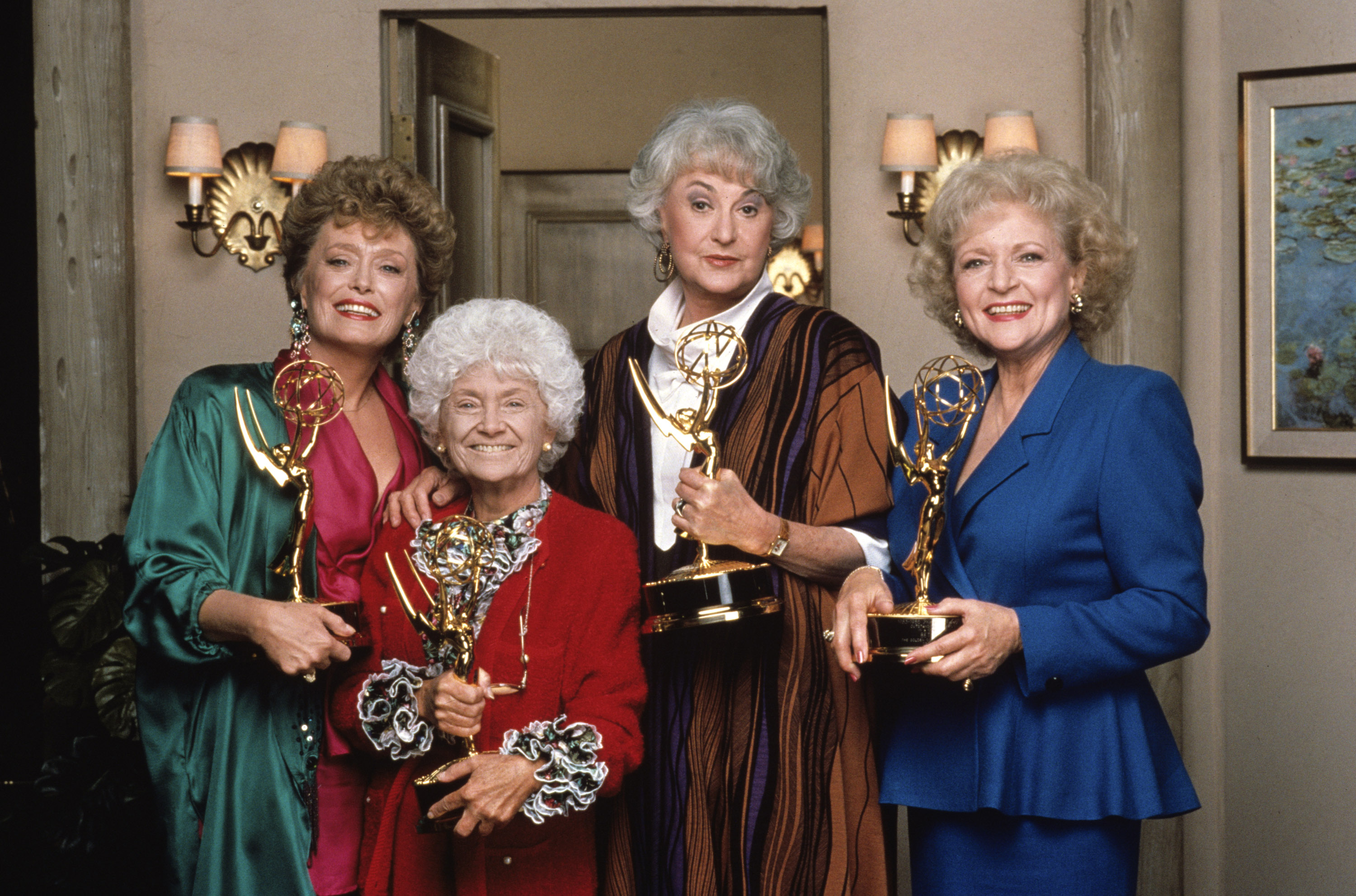 "I think everybody — including younger people — when they reach an age when they feel alienated, the thought of being alone and spending your life alone is terrifying," show creator Susan Harris said of the show's lasting appeal. "These women were at an age where they were alone and were likely to stay alone until they found each other. Then they constructed a family that really, really worked. They encouraged each other and had a life together."
Below, are several memorable quotes from The Golden Girls that have stood the test of time. Get the cheesecake ready.
People waste their time pondering whether a glass is half empty or half full. Me, I just drink whatever's in the glass— Sophia (Estelle Getty)
My mother used to say: The older you get, the better you get. Unless you're a banana— Rose (Betty White)
No matter how bad things get, remember these sage words: You're old, you sag, get over it— Sophia (Estelle Getty)
You know what they say: You can lead a herring to water, but you have to walk really fast or he'll die— Rose (Betty White)
After 80, every year without a headstone is a milestone— Sophia (Estelle Getty)
It is not easy being a mother. If it were easy, fathers would do it— Dorothy (Bea Arthur)
You know my motto. Today could be the last day of your life— Sophia (Estelle Getty)
The bottom line is, in life, sometimes good things happen, sometimes bad things happen. But honey, if you don't take a chance, nothing happens—Blanche Devereaux (Rue McLanahan)
Everyone wants someone to grow old with, and shouldn't everyone have that chance?— Sophia (Estelle Getty)
How come whenever my ship comes in it's leaking?— Dorothy (Bea Arthur)
Why do blessings wear disguises? If I were a blessing, I'd run around naked— Sophia (Estelle Getty)
I eat raw cookie dough. And occasionally, I run through the sprinklers and don't wear a bathing cap. And at Christmas, I've been known to put away more than one eggnog— Rose (Betty White)
Look, you didn't ask me for my opinion, but I'm old, so I'm giving it anyway— Sophia (Estelle Getty)
U.S. Army SOS Recipe
For those who spent time in the military (for me it was the U.S. Army), you will appreciate this recipe. It's for that old military standby called "SOS"—otherwise known as "Shit on a Shingle."
I'm sure I ate gallons of the stuff during my four years of active duty, but I never thought about making it. I bet a lot of you haven't either. Well here's your chance. Read on and get those ingredients ready!
1-1/2 Lb. (24 oz.) of lean ground beef
2 Tbsp. butter
1 cup chopped onion
3 Tbsp. flour
2 Tbsp. granulated garlic (or garlic powder)
2 Tbsp. soy sauce
1 Tbsp. Worcestershire sauce
2 cups milk
Salt & Pepper to taste
Brown meat, drain. Back to the pan, add butter, and stir. Add chopped onions and cook until they are translucent. Add flour, stir and cook for two to three minutes. Add garlic, soy sauce, Worcestershire sauce and mix thoroughly. Add milk and stir until it thickens.
Serve over toast, biscuits, or eggs.
Lip-smacking scrummy! Right?
Useful Things I have done during the COVID Pandemic
Organized my collection of used bubble gum wrappers
Watched reruns of Lawrence Welk
Listened to Pat Boone records backward to see if there were any satanic messages
Lip-synced the entire Mozart opera "Die Zauberflöte"
Perfected my recipe for ice cubes
Visited Portland & Seattle to watch the riots
Took my pet turtle for long walks
Searched for Bigfoot and the Loch Ness Monster
Listened to every speech ever given by Hillary Clinton and Kamala Harris (also backward to see if there were any satanic messages. There Were!)
Phrases of Wisdom

If you're too open-minded, your brains will fall out.
Age is a very high price to pay for maturity.
Going to church doesn't make you a Christian any more than going to a garage makes you a mechanic.
Artificial intelligence is no match for natural stupidity.
If you must choose between two evils, pick the one you've never tried before.
My idea of housework is to sweep the room with a glance.
Not one shred of evidence supports the notion that life is serious.
It is easier to get forgiveness than permission.
For every action, there is an equal and opposite government program.
If you look like your passport picture, you probably need the trip.
Bills travel through the mail at twice the speed of checks.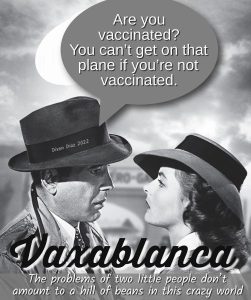 A conscience is what hurts when all your other parts feel so good.
Eat well, stay fit, die anyway.
Men are from earth. Women are from earth. Deal with it.
No husband has ever been shot while doing the dishes.
A balanced diet is a Twinkie in each hand.
Middle age is when the broadness of the mind and narrowness of the waist change places.
Opportunities always look bigger going than coming.
Junk is something you've kept for years and throw away three weeks before you need it.
There is always one more imbecile than you counted on.
Experience is a wonderful thing. It enables you to recognize a mistake when you make it again.
By the time you can make ends meet, they move the ends.
Thou shalt not weigh more than thy refrigerator.
Someone who thinks logically provides a nice contrast to the real world.
Blessed are they who can laugh at themselves for they shall never cease to be amused.
And there you have it. Some wisdom. Some laughs. And some useful information—especially that SOS recipe!
I hope you enjoyed it! Don't worry, I will do this again once I accumulate enough material. Believe me, there is plenty of it!
In the meantime, remember what the Danish storyteller & author Hans Christian Andersen said: "Enjoy life. There's plenty of time to be dead."