If you have never listened to Thomas Sowell, please do so now! The man is one of the most brilliant thinkers in America and has been for decades.
Below is a link to an interview he gave in 1995!
Sowell's words are so prescient and perceptive you would think he time-traveled to America today and then traveled back in time to do this interview.
Just who is Thomas Sowell?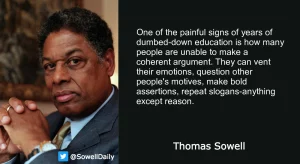 He is a 91-year-old American economist, historian, and social theorist, who dropped out of his Harlem, New York high school because of financial issues and problems in his home.
After serving with the U.S. Marine corps during the Korean War, his high scores on the College Board exams helped him gain admission to Harvard University where he graduated magna cum laude. He earned a master's degree in economics from Columbia University and earned his doctorate in economics from the University of Chicago.
Sowell admits he was a Marxist in the 1950s but by 1960 he questioned the validity of Marxist economic theory and abandoned it in favor of America's free-market economy.
He has served on the faculties of several universities, including Cornell University, Amherst College, University of California, Los Angeles, and, currently as a senior fellow at Stanford University's Hoover Institution.
He is a prolific writer and has written books on economics, education, race and ethnicity, philosophy, and political theory.
If there is one person living today that I would love to have dinner with, it is Thomas Sowell. I envy those college students who had the opportunity to have a college class with him.
Click below and WATCH!
You WILL NOT BE DISAPPOINTED!