I am pleased to share this interview that I did a while back with Sarah Creeley of the Online Book Club. I hope you find it thought-provoking.
I knew I liked writing when I was in the sixth grade. I loved writing stories, and I had a teacher (Mrs. Gooch) who encouraged me. My mother also bought me books and took me often to the library—a place that I found magical and magnetic. She often read to me, and when she did, I could "see" the stories unfolding before me. When I could read myself, I began to devour everything I could get my hands on. Reading took me places I could not, as a growing boy, otherwise go. I used to tell my journalism students at the University of Illinois if you want to write well, read well.
I have taken over the upstairs bonus room in our house. It is about 400 square feet. In it, I have my rather prodigious library, a good sound system for playing classical music or jazz, a large screen T.V. for watching sports, Discovery, History, and National Geographic channels when I need a break from writing. My window looks out onto a plant and boulder-strewn foothill that rises in front of my house. Another window looks down onto the Temecula valley some 2,000 feet below. It is quiet and soothing. I couldn't have a better place to write.
3. Over the years, what was the best piece of advice you've gotten?
I have received a LOT of advice over the years. For example, as I was being sent to Asia as a foreign correspondent by the Chicago Tribune, a crusty old editor gave me this advice: "When you get over there in Asia where people eat a lot of strange food and if you are ever offered something that you've never seen or eaten before, go ahead and eat it, because, in Asia, it's not polite to turn down a dish from a host. And just remember this, everything tastes more or less like chicken."
When it comes to writing, I was fortunate to receive this advice from Elmore Leonard several years ago. "You have to be mean to your characters. Don't let 'em off easy. Hurt 'em, knock 'em around. Hell, even kill 'em. And remember this: life is hard, then you die."
4. Let's talk about your book The Lost Years of Billy Battles. You state that the book is "faction." What do you mean by that?
I call my work "Faction," because it is both fact and fiction. Some of the events in the book–especially those dealing with real people, did happen. Was my character directly involved in them? No. However, members of my family were native Kansans, and some of the experiences I write about did happen. I also used many of the expressions and adages I heard my great-grandparents, grandparents, uncles, aunts, cousins, and even my parents use when I was growing up in Kansas. I also have woven some of my experiences covering war and revolution in Asia and Latin America into the storyline.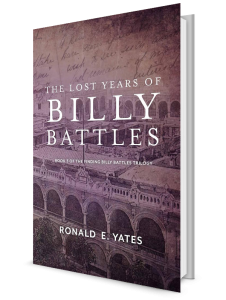 5. Considering that this book is partly fact, which characters are based on real people?
There are several "real" people in the trilogy, including such western legends as Wyatt Earp, Doc Holiday, and Bat Masterson. There are also other real people that Billy interacts with, including General Frederick Funston, George S. Patton (when he was a shave tail lieutenant), General John J. "Black Jack" Pershing, Mexican revolutionaries Pancho Villa and Emiliano Zapata. My fictional characters, such as Billy's cousin, Charlie Higgins, and the baroness Katharina von Schreiber are composites of people I knew.
6. Which character was your favorite, and why?
Well, William Fitzroy Raglan Battles is the main character in the book, so naturally is my favorite. His father is killed during the Civil War, so he is reared by his mother, Hannelore, a second-generation German-American woman who has to be both mother and father to her only son. It is a tall order, but Billy grows up properly and is seemingly on the right path. His mother, a hardy and resilient woman, makes a decent living as a dressmaker in Lawrence, Kansas. An ardent believer in the value of a good education, she insists that Billy attend the newly minted University of Kansas in Lawrence. She is a strong influence in his life, as are several other people he meets along the way.
One of those he meets who is also one of my favorite characters is the Baroness (and widow) Katharina von Schreiber, who Billy meets on an ocean liner bound for the orient in 1894. Katharina is a strong woman of keen intelligence. While at first Billy and Katharina don't hit it off, they are eventually flung together because of their unique backgrounds and the fact they are both at vulnerable places in their lives. Katharina and Billy become soul mates.
Another of my favorite characters is Billy's semi-outlaw cousin, Charlie Higgins. Higgins is what they called a "shadow rider" in the old west. A man who lived his life on both sides of the law. Charlie and Billy are not only cousins; they are the best of friends. Charlie helps Billy out of several scrapes and is not afraid to use violence to do so.
7. Much of the book is in Mexico. How did you learn so much about Mexico and its history?
I spent a lot of time in Mexico (and other parts of Central and South America) as a foreign correspondent with the Chicago Tribune. I made it a point to learn as much history about Mexico as I could so I could better understand the country and provide a relevant background for the news stories I filed from there. I also learned Spanish. One of the things that I wanted to do with the entire trilogy was to focus on little-known historical events. Most of the events and incidents that Billy finds himself involved with were relatively obscure. They were not things that we learned very much about in our high school or college history classes. I love focusing on those types of events.
8. What was the hardest part of the book for you to write?
I always hate to kill off characters, but of course, death is a part of life, and no character in a historical fiction novel is immortal. So, I won't say which characters I had to send to the "great majority," but suffice it to say they were ones that I liked.
9. This is the last book in a trilogy, so what's next for you?
I am currently finishing a novel about foreign correspondents in Asia. It is not historical fiction, and it is based on some of my own experiences covering war, revolution, and mayhem around the world. The working title is Asia Hands: A Tale of Foreign Correspondents & Other Miscreants in the Orient.
Here is a short blurb that will appear at the front of the book:
A mysterious object of unknown origin hidden in the heart of an impenetrable S.E. Asian jungle. A covert alliance of dangerous people determined to keep it concealed. Treacherous secret agents. Betrayal. Assassination. Murder.
It's one hell of a story, and two foreign correspondents—one recently retired and the other approaching burn out—are on the scent.
Meet Cooper McGrath and Clayton Brandt.
They have just stumbled onto the biggest story of their lives—one that could have staggering ramifications for the planet and its people.
Now all they have to do is live long enough to tell it.
Will they meet their deadlines, or will they meet their deaths?
I like to end on some fun questions.
10. Cats or dogs?
Dogs. I have nothing against cats, but a dog seems more friendly and responsive than a cat. Besides that, I grew up with dogs and horses.
11. Black and white or color?
Color. I want to see every hue that nature offers us. Black and white seems just too limiting.
12. Notepad, typewriter, phone, computer, or a combination?
I have used all of the above at one time or another in my career as a journalist. Of course, now I use a computer, and I can't imagine returning to a typewriter.
13. What's on your nightstand right now?
I am beta reading a memoir by a Vietnamese-American woman named An Ngo Lang that tells of her harrowing escape from Vietnam when it was falling in 1975. I just finished reading "The Lost Side of an Orphan's Moon," by Caleb Pirtle III that I have just reviewed on Amazon.