I recently received the following commentary via e-mail, and it resonated with me because of the indisputable truth it reveals. Why are so many Americans hesitant to show their patriotism these days? What are they afraid of?
The answer, I submit, resides in the unequivocal assaults and unwarranted disparagements against America by leftists, socialists, and even our sitting president, who has managed, in less than two years, to diminish our nation's once admirable reputation and status in the rest of the world with his constant criticisms and denigrations of the country he purports to lead.
While many Americans may well insist our nation is still a super-power, the fact is, we are hanging on to that reputation by a thread. China—a despicable and vile communist nation rife with human rights abuses and where the Biden crime family has earned millions of dollars—is rapidly overtaking us.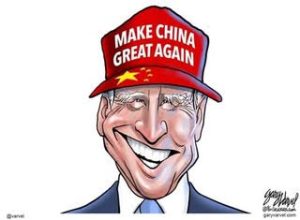 Meanwhile, Biden, like Rome's mad Emperor Nero, appears to be fiddling while our nation burns and falls apart. Instead of uniting the nation, as he promised on the campaign trail, Biden has driven a wedge deep into the nation's heart, dividing it more than I can recall it ever being.
Open borders have allowed some two million migrants to enter our nation illegally in the past 18 months—an insidious scheme by Biden and the Democrat Party to import unlawful voters and thereby shore up that party's steady loss among America's middle and working class.
But even worse, in my estimation, is the iniquitous plan to undermine our children's education by supporting and imposing fallacious and racist curricula such as Critical Race Theory and the debunked 1619 Project on our schools.
The result is a generation of young people who are learning not to love America but to hate it. It's a goal that Communists and socialists have been trying, mostly unsuccessfully, to achieve for most of my lifetime.
No more. They are well on the way to succeeding.
When I hear school children parroting clear-cut communist propaganda that disparages our nation, its founders, and our Constitution, I fear our nation is on a path to obliteration.
Where are the patriots? They certainly are not in the White House. Nor are they the majority in Congress, our corrupt legacy media, our leftist social media, our woke corporations, and perhaps even our military's misguided and woke leadership.
As the author of the following commentary asks: "When Will it be Safe to "Come Out" as a Proud American?" I don't know about you, but I am a proud American, and nothing nor no one will ever alter that fact.
When Will it be Safe to "Come Out" as a Proud American?
By Greg Ganske
An amazing thing happened at Harvard's graduation ceremonies recently.  One of this year's Harvard grads, Julie Hartman, class of 2022, was chosen by the Headmaster of her House (dormitory) to give its graduation speech on May 3, 2022, delivered at Harvard Chapel.
As a Harvard program graduate and the proud father of two daughters and a niece with Harvard graduate degrees, I have been dismayed at the woke "shut up" if you disagree with us" culture at Harvard, the Ivy League schools, and universities in general.
What surprised me about Ms. Hartman's speech was not only what she said but how brave she was to give it. What did not surprise me was that she received no applause, no recognition, no standing ovation for her profound courage.
All that greeted her from the crowded Harvard Chapel was silence.
The fact that there, in deepest wokedom and despite the threat of career canceling that goes with deviancy from the ultra-left dogma, this young bright woman rejected the common wisdom that infects so many young people.
She would not self-censor. She would not muzzle herself even though she knew that what she was about to say would be a threat to her career. She spoke her mind.
And this was her profile in courage.
America was founded on life, liberty, and equal opportunity.  We celebrate its founding based on Western classical liberalism each Fourth of July as enunciated by our Founding Fathers. That this brave young woman could bravely "come out" for our country's values, patriotism, and goodness—even while standing in the midst of Harvard's woke culture, at woke Ground Zero–there is hope for America.
Do yourself a favor and watch her six-minute speech. Click on the link provided.
Her words struck hard because I just attended the funeral of a Marine Korean War veteran who was a Naval aerial navigator. Dave was buried at Fort Snelling National Cemetery in Minneapolis.  Over 250,000 soldiers and families are interred in those fields of white gravestones stretching over 450 acres. Each funeral honor ceremony includes a color guard, a rifle volley, the folding and presentation of the flag by aging VFW members, and "Taps" by a bugler.
Dave had a sense of humor.  Once when returning from a bombing mission, he was radioed a request for his location.  Dave's response, "We are lost but heading there as fast as we can!"  He fought for and loved his country deeply.
The ceremony made me also think about my own father, who was a Navy aviator in WWII and was about to be sent to the Pacific for the invasion of Japan when President Truman dropped the atomic bombs that ended the war.  If every American could attend such a ceremony and learn of the sacrifices so many have made to preserve our liberties, I think we would see a change in attitudes, especially by younger citizens.
Last year before the Fourth of July, there was a poll. Most students interviewed at Georgetown University said they were "embarrassed" to be an American.
Embarrassed?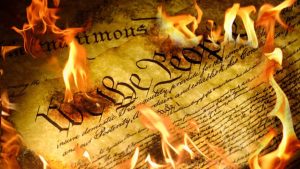 The majority struggled to even say they were proud of being American.  One student summarized his feelings, "I think a lot of things about this country are really embarrassing: racist history, colonization, even currently just what's going on with politics and the cops."  Many said, "I don't think this is the greatest country in the world," and that "a lot of times it's just embarrassing" to be an American, citing how we support Israel, which dislocates Palestinians.
It is interesting that when they were asked for a better country to live in, none could come up with a different country.  Maybe seeing all the immigrants lined up to get into our country gave them pause.
A Pew Research Center poll a year ago said that only 39% in the U.S. say they are proud of our country "most of the time."  One in five are ashamed of their country. 48% of Christians in this country were proud of their country most of the time compared to only 22% of non-Christians.  Those on the left were most ashamed of racism, and those on the right of "PC culture."  Republican participants tended to see "patriot" as a positive label, and those on the left hesitate to call the word patriotism "positive."
America is not perfect, but its history is replete with attempts to correct its mistakes to improve it. The emphasis on the negative, especially in our schools and culture, has gone on for some time. Two days after 9/11, I stood at the demolished heap of the Trade Center after firefighters and police officers had raced into the buildings to try to save lives.  They were heroes, many lost their lives with the victims. Amid the smoke and dust of thousands of Americans, there was an American flag draped on crossed twisted girders.
To my dismay, the creative director of the 9/11 Museum expressed his distaste at what he called "rah-rah America" and did not want the photograph of three ash-covered firefighters raising that American flag at Ground Zero.
I am sorry, Mr. Museum curator, but how did someone with your views even get the job? The United States is first among nations because it is based on the best of values and has defended them for us and for millions of others.
Like my friend, David.
Unfortunately, too many Americans don't know the history of our country.  The 1619 Project says slavery is "at the very center of our national narrative" and makes 1619 the date of our nation's founding rather than July 4, 1776.  According to the 1619 narrative, the Constitution was crafted to protect slavery which was the major motivation of the Revolutionary War.   Sure, slavery is part of our history, but this is a false interpretation of the Revolution's causes as noted by many prominent historians, most of whom are liberal. And 700,000 Americans died in the Civil War to end slavery.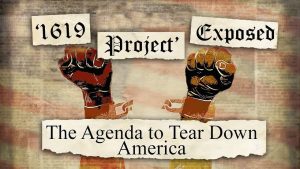 When I served in Congress, our family attended countless Fourth of July parades and patriotic celebrations, concerts, and picnics.  On parade routes, my children would love to throw candy at the kids while I would zigzag, running back and forth across the street, shaking hands.  In small towns and large, one could see the pride in our country and share the goodwill with everyone.
It didn't matter if my Congressional colleagues were Republican or Democrat–on the Fourth of July, we were Americans marching to celebrate our National Holiday.  One of the gifts I've given my children is to appreciate that.
Today, if you question woke ideology and advocate for an exceptional America, especially with a conservative viewpoint, you could lose your job and friends or even family. Harvard grad Julie Hartman was targeted for her views.
However, after deciding to "come out" with her views, she told Dennis Prager the truth has set her free.
A few years ago, during a budget spat with Congress, the Obama administration stopped the National Park Service from allowing fireworks at Mt. Rushmore on the Fourth of July.
One woke park service bureaucrat staffer cautioned that allowing fireworks ". . .might even offend some people on Twitter!" President Trump fought the Park Service woke bureaucrats to get the magnificent fireworks show reinstituted. How is it not surprising that President Biden denied the request for 2021 and again this year!
We watched the fireworks elsewhere for Independence Day.
But 4th of July fireworks on a warm summer evening don't make an American patriot.
If you want to be a patriot, follow the example of Julie Hartman. Don't ever allow yourselves to be bullied into hiding your love of this country.
Instead, speak up as did our Founding Fathers and challenge the naysayers, remind them all about the good our country has done for the world and still does.
Greg Ganske, MD, is a retired surgeon who served Iowa for eight years in the United States Congress.
[If you enjoyed this post, please consider subscribing to ForeignCorrespondent and tell your friends to subscribe. IT'S FREE! WHAT A DEAL! If you've received this from a friend and would like to be added to our distribution list for future blog posts, please enter your email address in the sign up for notifications box at https://ronaldyatesbooks.com/category/foreign-correspondent  You can also find my commentaries on the American Free News Network at https://afnn.us. And please feel free to comment. WE LOVE COMMENTS!]