I received this interesting little note from USAFacts and thought I would share it with my followers and subscribers. I found it interesting. I hope you will also.
Today is Thanksgiving, and USAFacts has been busy cooking up dessert. The 7 days of pie buffet has returned for a wide-ranging, fact-based look at nonpartisan numbers. If you're looking for a conversation starter, dig into these data dishes.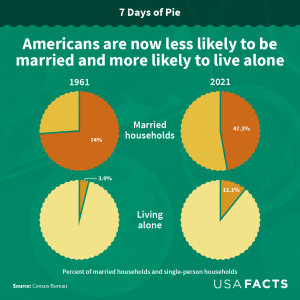 Single-person households have increased more than fivefold since 1960, from 7 million to 37 million. Last year, 47.3% of households had married couples, while 11.1% of people lived alone. Those figures were 74% and 3.9% in 1960, respectively.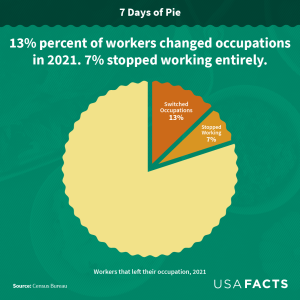 The odds are good that at least one person at your dinner table either switched occupations or left the workforce last year. Bartenders were the most likely to change occupations in 2021, while taxi drivers and chauffeurs were the most likely to stop working entirely.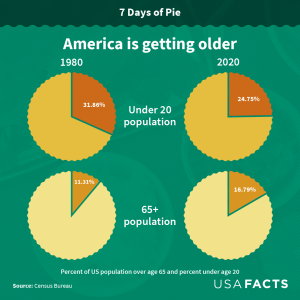 The share of the population younger than 20 has decreased by more than 13 percentage points since 1970. And since 2000, the 65 and older populations in Alaska, Nevada, Idaho, and Colorado have more than doubled.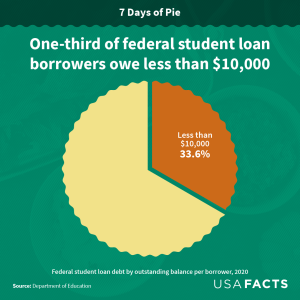 Federal student loan borrowers might have something extra to be thankful for this year. In August, the Biden administration announced the cancelation of up to $10,000 in federal student loan debt for borrowers who earn less than $125,000 annually. As of June 2020, the median federal debt for Asian, Black, and white women was $20,000. It was $25,000 for Asian men, $14,000 for Black men, and $18,000 for white men.
Hungry for more? See the other pie charts and explore the related articles. Then test your knowledge of the data in a special weekly fact quiz.
Data behind the news
People are facing steep ticket prices as they take to the skies for holiday travel. From September 2021 to September 2022, the overall inflation rate for all items in the Consumer Price Index (CPI) was 8.2%. However, airline fares rose 42.9% during the same period. Are you likely to experience delays at the airport? See your destination's track record here.
Minnesota raised more turkeys than any other state last year. Illinois grew 652 million pounds of pumpkins, more than the next five pumpkin-producing states combined. Learn more about the farm origins of favorite Thanksgiving dishes at USAFacts.
One last fact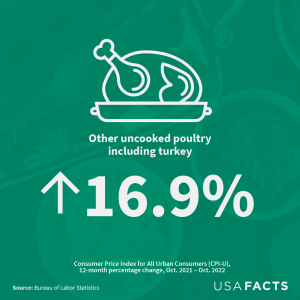 October's food prices were up compared to a year prior. Turkey and other uncooked poultry were up 16.9% over 2021. (For comparison, it rose 1.7% from October 2020 to October 2021.) Flour was 24.6% higher, while butter was up 26.7% USAFacts collected metrics from the CPI so you can see which kitchen staples might cost this holiday season.
[If you enjoyed this post, please consider subscribing to ForeignCorrespondent and tell your friends to subscribe. IT'S FREE! WHAT A DEAL! If you've received this from a friend and would like to be added to our distribution list for future blog posts, please enter your email address in the sign up for notifications box on the right side of this post or at: https://ronaldyatesbooks.com/category/foreign-correspondent  You can also find my commentaries on the American Free News Network at https://afnn.us. And please feel free to comment. WE LOVE COMMENTS!]