If you watched Super Bowl LXII, you might have seen two $20 million ads promoting Christianity and Jesus Christ that were sponsored by the religious craft store Hobby Lobby and other anonymous donors.
One of the two "He gets us" ads portrayed Jesus as a refugee in an attempt to reach out to other marginalized groups. The ad depicted stills of people from various aspects of life arguing, yelling, and screaming at each other while the song "I'm Only Human" by Rag'n'Bone Man played in the background. It builds up to the message, "Jesus loved the people we hate. He gets us. All of us."
The other ad advised viewers to "be childlike" in accepting Christ. The ad showed images of children being helpful with the caption: "Jesus didn't want us to act like adults. He gets us. All of us."
In her typical twisted logic, Rep. Alexandria Ocasio-Cortez (D-NY) concluded that the ads were promoting Fascism.
AOC tweeted: "Something tells me Jesus would *not* spend millions of dollars on Super Bowl ads to make fascism look benign."
So "Love your enemy" equates to Fascism?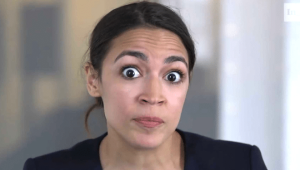 Anybody following AOC's enigmatic adventures in Congress will know that her latest precipitous outburst is in keeping with past nonsensical rants.
Take a look at some of these beauties.
On the surge of migrants on the southern border: There is definitely not a surge at the border, and the insurgents are not really insurgents but refugees, and anyone who calls them insurgents is advocating White Supremacy. And that's a problem because this is not a surge, these are children, and they are not insurgents, and we are not being invaded, which by the way, is a white supremacist idea-philosophy." (Not knowing the difference between the meaning of 'surge' and 'insurgent'—and then using it as a talking point about white supremacy is classic AOC.)
Regarding ICE detention Centers: "The U.S. is running concentration camps on our southern border, and that is exactly what they are. That is exactly what they are. They are concentration camps. The fact that concentration camps are now an institutionalized practice in the Home of the Free is extraordinarily disturbing, and we need to do something about it." (Does Der Führer, Joe Biden, know about this?)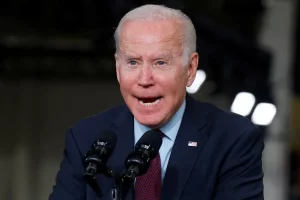 On capitalism: "Unemployment is low because everyone has two jobs." When pressed on why the unemployment rate was low in a capitalist system, AOC chirped: "Unemployment is low because people are working 60, 70, 80 hours a week and can barely feed their kids. To me, capitalism is irredeemable." (So, the failed systems of socialism and communism is superior?)
On Climate Change: Ocasio-Cortez likened combating climate change to the challenge posed by Nazi Germany in World War II. "So we talk about existential threats, the last time we had a really major existential threat to this country was around World War II, and so we've been here before, and we have a blueprint of doing this before.  There's scientific consensus that the lives of children are going to be very difficult. And it does lead young people to have a legitimate question: Is it okay to still have children?" (In AOC's perverse mind, celibacy may be the answer to solving climate change)
More on Climate Change: "Millennials and people, you know, Gen. Z and all these folks that will come after us, are looking up, and we're like: 'The world is gonna end in 12 years if we don't address climate change, and your biggest issue is how are we gonna pay for it?' " AOC went on to say that for millennials, the effort to combat climate change is "our World War II." (No comment needed.)
AOC's rants and bombasts are essentially a convenient cover for her dismal performance in Congress.
According to a recent report from the nonpartisan Center for Effective Lawmaking — a joint initiative of Vanderbilt University and the University of Virginia —, AOC was among the least effective members of the previous Democrat-controlled House.
AOC proposed a total of 21 bills, all of which were considered "substantive" by the center — but that's where the story ends. According to the center, which uses data from Congress.gov, the official website for US federal legislative information, her bills saw no committee action, no floor votes, and none of them ever became law.
Regarding the legislative efficacy of all 240 Democrats in Congress, AOC was ranked 230th out of 240. She came in dead last among the 19 Democratic legislators from New York State.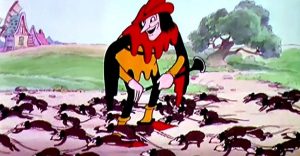 While AOC hasn't done much of anything in Congress, she has managed to accumulate some 14 million Twitter followers—a majority of whom can't wait for her next semi-cerebral tweet and who are apparently prepared to follow the ditsy pied piper of the Bronx into oblivion like the rats of Hamelin.
We can only hope….
[If you enjoyed this post, please consider subscribing to ForeignCorrespondent and tell your friends to subscribe. IT'S FREE! WHAT A DEAL! If you've received this from a friend and would like to be added to our distribution list for future blog posts, please enter your email address in the sign up for notifications box at https://ronaldyatesbooks.com/category/foreign-correspondent  You can also find my commentaries on the American Free News Network at https://afnn.us. And please feel free to comment. WE LOVE COMMENTS!]