Today, I am reposting a commentary by Erin Geary, who describes herself as a "Renaissance Woman." Her commentary originally appeared in the blog produced by John Kass https://johnkassnews.com/. I am particularly focused on Chicago because I lived and worked there for many years as a Chicago Tribune reporter and editor–in addition to a significant stretch as a foreign correspondent.
Now, Chicago is facing a critical election run-off that will no doubt impact the future of the "city that works"–as Chicago was once known. Today, Chicago is a place ridden with crime and horrendous leadership, thanks to defeated ex-Mayor Lori Lightfoot, who was, without a doubt, the most ham-fisted and bungling mayor in Chicago's glorious history. Had she been reelected, you could have said goodbye to the "city of big shoulders," as Carl Sandburg once called Chicago. Take a look at Erin Geary's take on the vital April 4 run-off election.
 What Will it Take to Lose the Blues in Chicago
by Erin Geary
And now there are two.
For those not paying attention, Paul Vallas and Brandon Johnson are vying for mayor of our toddlin' town. Paul Vallas has the endorsement of the Fraternal Order of Police (FOP), though he is not receiving campaign donations from the union itself.
He also just received former mayoral candidate Willie Wilson's backing on Wednesday. Brandon Johnson, on the other hand, has been endorsed by the Chicago Teachers Union (CTU) and another CTU favorite, Cook County Board President Toni Preckwinkle.
The lines are being drawn, and before the April 4 runoff, politicians, unions, and CEOs are being divvied up like school kids picked for dodgeball teams.
Having watched Wednesday's debate, there are obvious differences between the two candidates. Brandon Johnson focused his attention more on his biography and his attempts to connect with voters. Paul Vallas used each of his 45-second responses to answer questions with facts and figures to tie them to his plans as mayor.
Johnson spent much of his time trying to hammer home that Paul Vallas, a lifelong Democrat, has the support of Republican donors like Ken Griffin. But quite honestly, that could actually work in Paul Vallas's favor. It shows that Vallas is garnering endorsements from both sides of the aisle.
Some may appreciate Vallas's knowledge of facts and figures but are turned off by his lack of the warm and fuzzy personal story approach. But this isn't a race for student body president. This election is immensely important, and voters' decisions should equally be serious minded.
Beyond public safety, education is a linchpin in this election. Johnson lives in the Austin neighborhood and keeps sharing his tales of being a CPS teacher and parent. However, he taught at magnet schools and has children attending Kenwood Academy. As a supporter of school choice, I applaud Johnson for choosing to teach and put his own children in the best educational positions. But hiding behind the semantics of those schools being CPS schools without context is misleading.
For a man trying to portray Vallas as a closeted MAGA supporter out to destroy public schools through school choice, Johnson's argument is weak at best. Magnet schools are a form of school choice.
Though an overhaul of CPS is due, Johnson's ties to the Chicago Teachers Union (CTU) are concerning. Before becoming a Cook County Board Commissioner, he was a paid CTU organizer working under now-deceased CTU President Karen Lewis and then Jesse Sharkey. Johnson was a pivotal leader in the teacher strikes of 2012 and 2019.
Not surprisingly, the current president of CTU, Stacy Davis Gates, also happens to be the executive vice president of the Illinois Federation of Teachers and the vice president of the American Federation of Teachers. She has skillfully wielded her positions by handsomely donating millions to Johnson's campaign. The unholy alliance between Gates and Johnson will not benefit CPS students. But, remember, children don't vote.
In Wednesday's debate, Johnson was asked about this conflict of interest and said he would resign from his current position. We'll have to see if this is enough to convince voters that he will focus on bettering CPS and student outcomes rather than continue to promote CTU causes.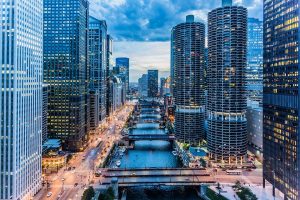 I do agree with Johnson's holistic approach to education. Undeniably, there are many outside factors that put CPS children at a disadvantage before they've even started school, including poverty, gangs, single-parent households, language barriers, generational illiteracy, etc.
You can't merely "fix" public education separately without equally focusing on other failing Chicago bureaucracies. All are inextricably intertwined and have shepherded our inner-city youths toward a perpetual cycle of hopelessness and, in many cases, lawlessness.
Yet when Johnson was asked about his ideas for improving schools, he first placed the blame on Covid. Then he focused some attention on the need for a black history curriculum in addition to a "well-rounded curriculum." I would love to know which schools in CPS don't teach black history.
Our schools have been failing for decades, yet we keep pouring money into our broken system because of the CTU and its contract demands, causing even deeper budgetary issues. This wasn't something Johnson was concerned about when he advocated for strikes. I understand the concept that happy teachers bring their contentment into a classroom, but striking for eleven days isn't the best way to show your students that you care.
It's no secret that CPS students' basic reading and math skills are abysmal. During the debate, Vallas noted that only 6% of black students in CPS are proficient in math, and only 11% are proficient in reading. Vallas would like to reopen closed schools to the community, return funding to local schools, and add "supplemental educational support" because of learning regression due to Covid school closures. However, CPS is having a difficult time retaining teachers. Who will be providing the extra support these children need?
Willie Wilson's endorsement of Vallas on March 8 was due in large part because of Vallas's track record as CEO of CPS and his future vision for the schools.
Wilson stated, "These kids graduating from these schools right now can't even read or write. Can't even tie their shoes. That's a serious concern of mine…If they can't do that now, and every year there seems to be a strike, how are you gonna improve that? What else is gonna happen if the CTU gets even more power?" (Chicago Sun-Times). I really appreciate Willie's candor because he gets it.
Does either candidate really understand the schools like Willie? Because what struck me was that neither candidate stated the obvious. There are Chicago schools, both within and outside CPS, that are doing well, and it would be helpful to bring principals and teachers from failing schools to see what is working. Regardless of how a school is labeled (e.g., public, parochial, private, magnet, charter) those that are producing educated students should be used as models.
CPS needs to get its act together but, instead, has consistently prioritized its relationship with CTU members over parents and children. Better contracts for teachers and a larger budget have not created positive educational results, which is why Vallas is pushing for school choice.
We have the fourth largest school system in the country, with enrollments on a downward trend each year. CPS has been grossly mismanaged. Then came the ridiculously poor decision to close CPS schools for well over a year during Covid, which underscored students' beliefs that education was no longer important. This has led to high truancy rates and the even greater educational regression seen today. How to get students to return to school will be a challenge for the new mayor.
The problems are fixable but will not be seen overnight, which means another few years of searching for the light at the end of the tunnel.
For Chicago to run like a well-oiled machine, law and order need to return with more police officers, not fewer. Our children need to be enrolled in effective schools of their parent's choosing. Eventually, these students will become valued employees/employers instead of shooting and looting. And these remedies, in turn, will attract large and small businesses that will invest even in our low-income communities.
Everybody wins—except the Chicago Teachers Union. But Brandon Johnson and Paul Vallas claim they are going to be their own men and do what's right for Chicagoans. Thus, the CTU and the FOP shouldn't be factors, right? Wait and see.
There's not much time to decide who really has the experience and fortitude to get the arduous job done. Make the wrong choice, and we'll become the city that Billy Sunday should shut down.
-30-
Erin Geary says she is a Renaissance woman regarding the career paths she has taken—from flight attendant to English teacher and things in between. She is a writer and consultant who has been dismissed from editorial pages of traditional journalism for her Superman beliefs in truth, justice, and the American way. You can join her at Common Folk 365 [commonfolk365@substack.com] to read twice-weekly content that is decidedly pro-American, value-driven, and logical.