Last week we learned that Robert F. Kennedy Jr filed the required paperwork with the Federal Election Commission so he could run for president as a Democrat in 2024.
Talk about a blast from the past!
I don't know a lot about Robert F. Kennedy Jr. beyond the fact that he is the son of Sen. Robert F. (Bobby) Kennedy, who was assassinated in 1968  in Los Angeles by Sirhan Bishara Sirhan as he was running for president.
So, when I read that Kennedy would officially announce his candidacy in opposition to incumbent Joe Biden later this month, I began doing a little research on him.
I wondered about his health after listening to him during a recent interview. His speech seemed strange. Then I learned that RFK Jr. suffers from a condition called "spasmodic dysphonia," which causes his voice to quaver and makes speech difficult.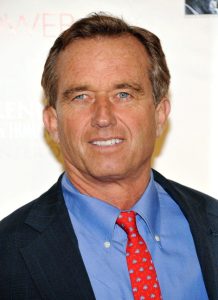 Given that Joe Biden himself can barely articulate a coherent sentence, I decided that Kennedy's condition was a non-starter—though I have to wonder what a debate between the two men would sound like.
As intriguing as that might be, the most important thing I learned about the 69-year-old Kennedy is that he is a rare breed these days in the Democrat Party. He is a moderate Democrat—not one of the harebrained and loopy leftist Democrats that have taken over the party his father and uncle, John Fitzgerald Kennedy, once represented.
Well, I guess I should include this caveat about RFK Jr. Even though he is a member of the Kennedy family and even though he was once considered a likely aspirant to continue the Kennedy political dynasty, he has drifted a bit from the norm.
Recently, RFK Jr has been criticized for his anti-vaccine viewpoints and for his support of various conspiracy theories.
Hmmm. What, I wonder, does THAT mean?
Apparently, about 20 years ago, Kennedy began speaking out about the damage and injury associated with various vaccines, and most recently, the COVID-19 gene therapy "vaccines."
As a result, leftist Democrats have attacked RFK Jr and most recently led CNN anchor Jake Tapper to call Kennedy an "anti-vaccine quack."
But Kennedy is having none of it. He responds that Tapper and other critics can't point to a single erroneous statement he's made.
"Everything we post is vetted. It is sourced and cited to government databases or peer-reviewed publications," he said after he was suspended from Instagram for spreading what it called "vaccine misinformation."
"When they use the term 'vaccine misinformation,' they are using it as a euphemism for any statement that departs from official government policies and pharmaceutical industry profit-making," RFK Jr. added. "It has nothing to do with whether it's true or false, it only has to do with what the political implications are."
Okay, I am not going to delve further into RFK Jr.'s stance on vaccines. Suffice it to say that his views on vaccines changed after he repeatedly encountered and talked with parents of severely vaccine-injured children. At the time, Kennedy says, those parents were the only people standing up to Big Pharma and government regulatory agencies.
In 2011, Kennedy founded the nonprofit Children's Health Defense, which is dedicated to solving "chronic health conditions caused by environmental exposures." Critics of CHD charge it is "a group mainly known for anti-vaccine propaganda and has been identified as one of the main sources of misinformation on vaccines."
Does that make Kennedy an "anti-vaccine quack?" I don't think so. I think it makes him somebody who doesn't embrace the persistent homeopathic orthodoxy we hear from pharmaceutical companies and regulatory agencies who may or may not be in bed with them.
I am more intrigued by RFK Jr's views on the state of our nation—a nation that he says is on the verge of collapse and irrevocable corruption.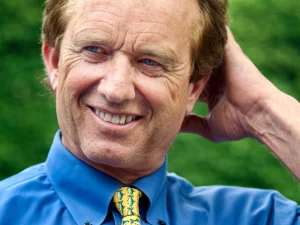 In a recent interview with the Epoch Times, Kennedy lamented that America is no longer a democracy and that its elections are controlled by wealthy donors.
"It's more of an oligarchy or a plutocracy that only is responding to the needs of the rich and to the needs of corporations, who are paying the lobbying election costs of the politicians, who then become their indentured servants on Capitol Hill," Kennedy said.
Hmmm. Sounds a bit like what Donald Trump called the swamp.
"What we have to understand as a people is that fascism is the domination of government by business," Kennedy said. "Communism is the domination of business by government, and it's not on a linear surface. It's a circle. If you push either of those philosophies, by logical conclusion, you end up in the same place, and that's exactly what's happened in China today, where there is no distinction between a Chinese corporation and the Chinese government."
Kennedy adds THAT outcome "is the scariest thing of all" because people become commoditized, the landscape becomes commoditized . . . and that's what's happening to us today.
"America is enduring an apocalyptic tribal polarization more toxic and dangerous than any time since the Civil War, and while Democrats battle Republicans, elites are strip-mining our middle class, poisoning our children, and commoditizing our landscapes," Kennedy said. "I will focus my campaign not on the issues that divide us but the values we have in common."
Kennedy says the American people need to walk that narrow path of free-market capitalism and democracy where "big business is kept at bay with our left hand, and the government is kept at bay with our right hand."
The only way to accomplish this, Kennedy argues, is "with an educated public that is capable of critical thinking," but "equally important, we need an independent, fiercely skeptical, robust press that is always speaking truth to power!"
"We've lost that completely. We have a press that has become a vessel for corporate and government propaganda. It's a press that is crushing the powerless, not helping them."
After reading those comments, I began to wonder if Kennedy is actually a closet Republican.
Then I realized that he is just a moderate, or perhaps a conservative Democrat (I guess there are still a few left) who seems to have a lot of common sense—a quality sorely missing among today's writhing nest of mawkish socialists pretending to be Democrats.
He reminds me of the Democrats who, years ago, occupied one wing of my own family—the ones who lived in Missouri and not in Republican Kansas, where I come from. I recall mostly friendly spats between sensible Democrat family members and rational Republican kinfolk when we got together—not the heated harangues we see playing out today on cable news shows.
Well, there was the fact that my Missouri relatives called us Kansans "Jayhawkers," after the Kansans who used to raid Missouri farms to free slaves in the 1850s and 1860s. In return, we dubbed our Missouri kin "Slavers."
But I digress.
Back to RFK Jr., who has denounced the unethical "capture" of American regulatory agencies that become indebted to the industries they're supposed to regulate, particularly the pharmaceutical industry.
"When I began litigating and advocating on the vaccine issue in 2005, I was immediately dumbstruck by not only the level of agency capture within the public health agencies, but the financial entanglements, which were unprecedented in other agencies that basically put agency capture on steroids," Kennedy said in a recent TV interview.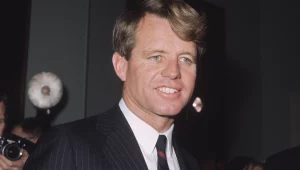 Kennedy asserts that the U.S. Food and Drug Administration receives 75 percent of its drug approval budget and 45 percent of its total budget from the pharmaceutical industry.
"Not only NIH [National Institutes of Health] as an agency but individual scientists within NIH are allowed to patent drugs that they work on and then turn them over to the pharmaceutical industry and collect royalties on them. Those scientists over the past decade or so have collected some $300 million in royalties," he said.
So, here we are, on the cusp of witnessing another member of the Kennedy clan running for president.
Could Robert F. Kennedy Jr wrest the Democratic nomination away from bumbling, stumbling Joe Biden?
If he did, maybe it would seem like ethical reparation for the time in 1987 when Biden plagiarized parts of speeches Bobby Kennedy made 19 years earlier and that JFK made during his inaugural address in 1961.
Click here to see for yourself: https://www.youtube.com/watch?v=fmuAB5MqP0Y
The ghosts of the Kennedy clan are always with us, Joe.
[If you enjoyed this post, please consider subscribing to ForeignCorrespondent and tell your friends to subscribe. IT'S FREE! WHAT A DEAL! If you've received this from a friend and would like to be added to our distribution list for future blog posts, please enter your email address in the sign-up for notifications box at https://ronaldyatesbooks.com/category/foreign-correspondent. You can also find my commentaries on Substack at https://ronyates.substack.com/ and the American Free News Network at https://afnn.us. And please feel free to comment. WE LOVE COMMENTS!]