Today, ForeignCorrespondent is pleased to host author Mary Adler, who is the Rave Reviews Book Club's first SPOTLIGHT AUTHOR of 2019. You can find the link to her entire tour, which began on Sunday, January 13, at https://ravereviewsbynonniejules.wordpress.com/spotlight-authors/
Mary is sharing an excerpt from her exciting mystery debut novel, In the Shadow of Lies: An Oliver Wright WWII Mystery. Book Two in the award-winning mystery series is entitled: Shadowed by Death. Both are available on Amazon: https://www.amazon.com/gp/product/B07JD526JT?ref=series_rw_dp_labf
Take look!
YOU CAN GO HOME AGAIN
PART TWO
In You Can Go Home Again, Part One, I wrote about how my writing allows me to spend time with people and places I have loved that are now gone.  The following passage from In the Shadow of Lies: An Oliver Wright WWII Mystery involves Lucy Forgione—more than loosely patterned on my grandmother—and her friend Edna Hermit, her best friend in real life.  Dom tried to kill Lucy's nephew Steve and blame it on Nate, Mrs. Hermit's son. Maurizio, the man known to be hiding Dom has just come into the Cafe Avellino.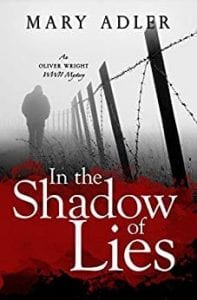 Lucy heard a familiar voice and peeked around the door. Maurizio was flirting with the counter girl while she made sandwiches for him.
            Lucy whispered to Mrs. Hermit.
            "He's the one hiding Dom. We need to get help, tell someone he's here." She tried calling her nephew again. Still busy. She wished Nate were there.
            The bell over the door rang. Maurizio crossed the street and got into a green coupe. Dom looked out the passenger window.
            "Come on, Edna. We have to follow them."
            "I can't believe I'm saying this, but why don't we call the police?"
            "Because he'll get away!" She grabbed Edna's arm. "Can you drive?"
            "Drive what?"
            "There. The chicken man's truck. The motor's running and I don't see him."
            "I drove the truck on the farm when I was young."
            "Then get in, and let's go."
            "Lucy, we can't."
            "Dom hurt my nephew and your son was blamed."
            Edna needed no more urging. Lucy struggled to pull herself into the truck, and Edna jumped into the driver's seat. She pressed the clutch and ground through the gears until she found first. They hopped through the alley and turned left after the green coupe. It was several cars ahead of them, stopped by the wigwag at the railroad crossing where a long freight train lumbered out to the bay.
            Edna had the driving fundamentals down, but no practice. Lucy had to give her credit—she only stalled once. They rolled down the windows and listened to the chickens cackling behind them. Soon they were crawling up MacDonald.
            "I think I'm getting the hang of it."
            Lucy's feet didn't touch the floor. She bounced in her seat, grabbed at the dash, the door, anything to keep her balance. When they stopped at a light, a man grabbed a crate of chickens and ran. She wagged her hand in the air.
            "Madonna. Now I owe the chicken man for a crate of chickens."
            "And that highway robber didn't give you any coupons for them!"
            They laughed, perhaps a bit hysterically, as what they were doing sunk in.
            "We stole a truck and we don't know how many chickens."
            "We didn't steal them, Edna. We're taking them for a ride."
            Traffic began to clear. Soon they were only two cars behind.
            "Dom knows you, Lucy. Get out of sight!"
            Slimy produce and God knew what else littered the floor.  "I'm not going down there." Lucy snatched a bandanna from the rearview mirror and tied it over her head. She would wash her hair when she got home. More than once. "He knows you, too."
            "He won't recognize me." Edna winked at her. "We all look alike."
            The coupé climbed into the hills, and Edna struggled to hang back without stalling the truck. The car pulled onto a dirt lot. Lucy turned her back to the window as they passed the men and drove around the bend. The truck stuttered.
            "Edna, what are you doing?"
            "It's not me. I think the truck is running out of gas."
            With that, the truck stopped. Edna tried the ignition; it ground but wouldn't start.
            "We need a phone." She jumped out of the truck and gave Lucy a hand down.
            Lucy looked into the back.  "I think the chickens are cold and want to go to sleep."
            They found a tarp in the truck and pulled it over the crates, Lucy hopping up and down to reach her side. She hushed the chickens. "Shh. Go to sleep. You should be happy you went for a ride in the fresh air. You could be in someone's oven."
            "What now?"
            "We have to call Harry. Tell him where Dom is."
            Edna pointed at The Grand Canyon Chateau sitting like a dowager aunt on the hill above them. "I heard they're closed for remodeling."
            "Let's hope their phone is still in order." Lucy smoothed down her dress. "You stay and watch in case another car comes.  I'll go find the phone."
            "I should come with you."
            "No. Keep watch. If a car comes, you can get its license number."
            She climbed the road to the chateau, now respectable after its rowdy past as a speakeasy. No one was there, and the door was locked. Paint buckets and ladders littered the porch. She hoped she wouldn't have to use one to get to an open window on the second floor. She walked around the building and tried the windows until one slid upward. Luckily, the sill was only a foot above the porch floor. She crossed herself, hiked up her skirt, and climbed in.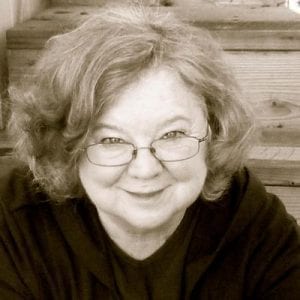 Follow Mary online:
Twitter – @MAAdlerwrites
Facebook – https://maryadlerwrites.com/
Author Bio:
Mary Adler was an attorney and dean at CWRU School of Medicine. She escaped the ivory tower for the much gentler world of World War II and the adventures of homicide detective Oliver Wright and his German shepherd, Harley. She lives with her family in Sebastopol, California, where she creates garden habitats for birds and bees and butterflies. She is active in dog rescue and does canine scent work with her brilliant dogs — the brains of the team — and loves all things Italian.