I am honored to be nominated for the Sunshine Blogger Award by fellow author and blogger Gwen Plano over at https://gwenmplano.com/
Thank you, Gwen! If you don't already know Gwen, be sure to check out her wonderful blog.
The Sunshine Blogger Award is an award given by bloggers to other bloggers they find creative, talented, and entertaining. It's a great way of opening yourself to the community as well as to your readers and followers because you are required to answer 11 questions from the blogger who nominated you. Then, you write your own 11 creative questions and nominate additional bloggers who need to do the same.
Part of the nomination process requires that I answer 11 questions. Here are the questions Gwen Plano asked me to answer:
What motivates you to write?
I love telling stories. Storytelling is something I did for 25 years as a foreign correspondent (thus the name of my blog). https://ronaldyatesbooks.com/category/foreign-correspondent/
Today, I continue to do that but I do it through fiction rather than via journalism.
When do you like to write?
I like to write in the morning. I am usually at my desk by 8 a.m. I have taken over the upstairs bonus room in our house. It is a 400 square foot space where I have my rather prodigious library, a good sound system for playing classical music or jazz, and a large screen HD TV for watching sports, the Discovery, History, and National Geographic channels when I need a break from writing. My window looks out onto a plant and boulder-strewn foothill that rises in front of my house. Another window looks down onto the Temecula valley some 2,000 feet below. It is quiet and soothing. I couldn't have a better place to write.
Do you carry a notepad to jot down inspirations?
I used to do that, now I make notes on my iPhone or iPad and send them to my desktop computer.
What character so captured your imagination that s/he still gives you pause?
I am still fascinated by the main character in my Finding Billy Battles Trilogy—William Fitzroy Raglan Battles. As I developed this character I began to "see" him and "hear" him. It was as if he was sitting next to me as I wrote. Strange and kind of uncanny.
Do you eavesdrop on your characters or do you craft them to fit the story?
As with most characters authors create, I think some of my characters are patterned after real people I have either known or overheard somewhere. I am a "people collector."
 If you have a stack of books on your nightstand, what is the principle genre?
I love reading books about history. I also love historical biographies, so a lot of the books I read are in those genres. I also like reading good science fiction and mysteries too!
What frustrates you about writing and what rewards you?
I have often said that writing is both a gift and a curse. It's a wonderful gift if you allow the process to come to you and don't force it. However, don't let anybody tell you it is not damned hard work. It is. The joy of writing for me is telling a good story. I don't care about imparting a "message." Nor do I care about creating any hidden "meanings" that some literature professor will hold forth about in a writing class when I am no longer around to rebut him/her. I just want to tell a good story. That, to me, is the ultimate goal of writing.
The curse is that writing can take over your life, isolate you from family and friends, and turn you into a kind of sophistic recluse if you are not careful. Writers need to take breaks from working. If they don't I believe they run the risk of becoming stale, self-absorbed, and misanthropic.
Do you ever find yourself between worlds – this one and the fictional one?
Oh yes. When I am deep into the plot of a book I find myself entangled in the story and asking myself what I would do in a similar situation. I also dream about the stories I am writing and often wake up with a new plot twist. My Finding Billy Battles Trilogy is about the past so when I was writing those books I had to "leave" the world I live in and travel back in time to the 19th and early 20th centuries. On some days, that took some emotional and perceptual adjusting.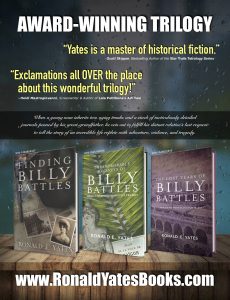 How do you structure your time to make room for writing?
I look at writing as my job, so I set hours for myself. As I mentioned earlier, I am usually at my desk pounding the keyboard by 8 a.m. I often write until about noon. I find that four hours of intense writing is enough. If I write longer than that, I discovered that the quality of my writing declines a bit. However, there some days when I get on a writing jag and I may write six or seven hours with no drop off in quality. Those days are few and far between, however.
Do you have books waiting to be written?
Yes. I have about three. One is a novel about foreign correspondents in Asia and is based on some of my own experiences covering war and mayhem around the world. Actually, that book is about three-fourths finished. It's working title is: "Asia Hands: A Tale of Foreign Correspondents & Other Miscreants in the Orient.  There is also a biography about Iva Toguri, AKA "Tokyo Rose" that I am working on. Finally, at some point I want to write a memoir about some of my experiences as a foreign correspondent. I'm thinking of calling it "Looking for Trouble."
I go out on my patio and read. I try to read two or three books each month. I don't always manage that, but I try to. I also go hiking in the hills around my house an in a large wildlife preserve not far away. There I find it relaxing to experience and listen to nature.
For accepting the Sunshine Blogger Award nomination, there are a few rules.
Thank the blogger(s) who nominated you and link back to their blog.
Answer 11 questions the blogger asked you.
List the rules and display the Sunshine Blogger Award in your blog post.
Nominate 11 new bloggers & their blogs. Leave a comment on their blog to let them know they received the award and ask your nominees 11 new questions.
 My Nominees for the Sunshine Blogger Award
Here are my 11 nominations for the Sunshine Blogger Award. They are listed in no particular order. It's difficult to choose only 11 blogs to nominate because there are so many excellent sites out there. However, I did my best to nominate ones that I find interesting and well-written, so please be sure to check them out too.
My 11 questions for my nominees are listed below. If there are any questions you do not wish to answer, please feel free to give them a pass. Many of these questions are directed at authors, but if you are not an author and are primarily a blogger please feel free to adapt any question to fit your expertise.
When did you first realize you wanted to be a writer or blogger?
What advice would you give to someone who wants to become a published author or blogger?
What do you think makes a good story?
If your book became a movie, who would be your first choice to play the lead roles?
Do any of your characters have qualities/characteristics that are similar to yourself?
Is anything in your books based on real-life experiences or are they all solely the product of your imagination?
If you could have dinner with one person, dead or alive, who would it be and why?
What books have most influenced your life?
If it were mandatory for everyone to read three books, what books would you suggest?
If you could spend a day picking the brain of one author, who would that be? Why?
What do you think makes a book "a great book?"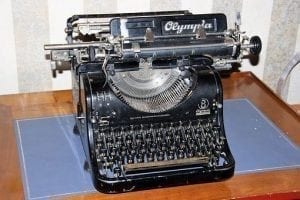 I wish you great success with your writing and/or blogging in 2020!