I spent nearly 30 years of my life working as a journalist. It was an honor to be a member of what some have called The Fourth Estate.
I began my career in the Windy City at the Chicago Tribune. At the time, Chicago was probably Journalism's toughest and most merciless proving ground. I had just graduated from the William Allen White School of Journalism at the University of Kansas. It was a good education, but when I arrived inexperienced and unproven in the cavernous Tribune newsroom it didn't take long for me to realize that I had a long way to go before I earned my journalistic chops.
Chicago, I quickly learned, was a damned tough newspaper town.
I worked five years covering every kind of story imaginable: cops, crime, fires, disaster, the good, the bad, the ugly. I worked the most ungodly hours imaginable: 5 p.m. to 1 a.m., midnight to 8 a.m., and 9 to 5 the hard way (that's 9 p.m. to 5 a.m.).
Chicago had five competing newspapers when I began my career and compete they did. You learned to be fast and observant, but most of all you learned to be accurate and fair. If opinion crept into one my stories, some crusty, in-your-face editor would let me have it.
"Yates, keep your fatuous opinions out of your stories," he might thunder. "Nobody gives a crap (or some other suitable expletive) what YOU think. Just keep it fair and accurate." Then, with his big black pencil, he would eliminate what I was sure was some of my best insightful prose.
Sadly, that is NOT the kind of mentoring (or hectoring) that is de rigueur in today's newsrooms. The result is often sloppy journalism and stories filled with a reporter's attitudes, biases, and judgments.
That is NOT journalism. That is propaganda. Joseph Goebbels would applaud the misleading and dishonest stories I see today in newspapers and on network television and cable news shows. So would Pravda, the erstwhile Soviet Union's disinformation outlet.
It is distressing to see the profession I was once proud of decline into a morass of misinformation, indoctrination, mendaciousness, and bias. Am I exaggerating? No, not when reputable journalism organizations like the Pew Foundation and others report that coverage of the Trump administration is 90 to 95 percent negative. I think the American media gave Adolph Hitler more dispassionate and impartial coverage during World War II than it does today to Donald Trump.
All of this is my way of introducing the following commentary on the media by Victor Davis Hanson entitled The Doctrine of Media Untruth. I hope you will take a look at it. It is thought-provoking and on point.
As a general rule, when the New York Times, the Washington Post, National Public Radio, Public Broadcasting Service, NBC, CBS, ABC, MSNBC, and CNN begin to parrot a narrative, the truth often is found in simply believing just the opposite.
Put another way, the media's "truth" is a good guide to what is abjectly false. Perhaps we can call the lesson of this valuable service, the media's inadvertent ability to convey truth by disguising it with transparent bias and falsehood, the "Doctrine of Media Untruth."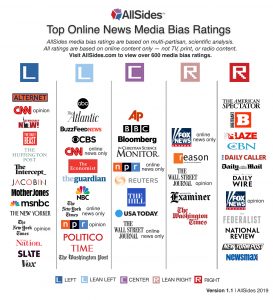 Take the strange case of the respective records of liberal New York Governor Andrew Cuomo and Florida counterpart Ron DeSantis. Both states have roughly equal populations, with Florida slightly larger by about 2 million. Both have populations that travel daily back and forth between their respective major cities. Both are major international tourist and travel hubs. Both have widely diverse populations.
Both have large numbers of retirees and long-term-care homes. Yet, New York has suffered 14 times the number of coronavirus deaths as has Florida. Florida is now increasingly open, and on May 19 saw 54 deaths attributed to the virus. That same day, New York was completely locked down and yet saw nearly twice that number at 105 deaths.
One would never know from the media of the contrasting fates of the two states during the epidemic. DeSantis is often rendered little more than a reckless leader who exposed Floridians to needless danger. Cuomo, in contrast, increasingly is deified by the media as likely presidential timber who finesses press conferences in the lively fashion of his legendary beloved father, and iconic liberal, Mario Cuomo.
Yet on the principle of media's commitment to untruth, the public legitimately could deduce from the hagiographic news coverage that the frenetic Cuomo has proven the most incompetent governor in the nation in dealing with the virus. He sent the infected into vulnerable long-term care homes. He neither applied social distancing to, nor cleaned, mass transit. And Cuomo exaggerated his need for some medical supplies, while neglecting shortages in others.
In contrast, the media furor at DeSantis is a good guide to his successes in both mitigating viral fatalities while charting Florida's path back to economic normality.
Hagiography of the Unfit and Unprofessional
The media assures us that failed Georgia gubernatorial candidate Stacey Abrams is a statuesque heroic figure who is an experienced state politician, a successful polymath, and would be a valuable asset as Joe Biden's vice-presidential pick, but even better—wink-and-nod—a likely next president.
That new media consensus narrative is best typified by a recent and obsequious promo piece in the Washington Post. So given the media deification and the Doctrine of Media Untruth, we might assume that Abrams never has held statewide office, in incoherent fashion could not concede her legitimate defeat in the last Georgia gubernatorial race, and until recently still had not paid off an enormous credit card, student, and tax debt well over $200,000.
In other words, read the media narrative on Abrams and without knowing much else, one could conclude that she is not a photogenic candidate; she is not gracious in defeat; and she is without much experience of victory. Her baggage and lack of even a statewide constituency would mostly hurt a Biden ticket, which explains why his opponents hope that she is the vice-presidential nominee.
The Doctrine of Media Untruth was a valuable guide during the serial psychodramas to abort Donald Trump's presidency. When Yale psychiatrist Bandy X. Lee was canonized for tele-diagnosing Donald Trump as unhinged and in need of forced removal under the 25th Amendment, we knew the media glorification signaled she was unprofessional in making such a diagnosis of a patient she never met, and would never dare offer such a long-distance mental assessment of presidential candidate Joe Biden, based on his obvious cognitive impairment, memory lapses, and frequent cul-de-sac patterns of thought.
Trump's antics simply lured the snails out of their shells and showed the public they were glorified slugs all along.
The more that CNN and MSNBC put ambulance-chasing lawyer Michael Avenatti on the air, and gushed about his tailored suits, his possible presidential gambit, his cocky take-downs of Trump, and his advocacy of supposed female victims of the predatory Brett Kavanaugh, the more we knew he was a fraud, a criminal, and likely a legal predator of his own clients. That he was sent to prison was predictable the more one heard the media gush.
Do we remember that for a while "Bob" Mueller was Washington's hallowed prosecutor, investigator, or inquisitor par excellence? No wonder he had assembled a "dream team" of "all-stars" who, as "hunter-killer" squads of legal eagles, would tear apart Trump's supposedly doddering third-stringers and send Trump either to jail or into ignominious exile. So, the more that legal eagle narrative saturated the liberal media landscape, the more we knew the opposite was true.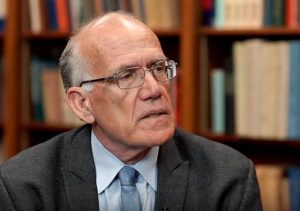 Mueller himself had a spotty history. He was both physically and cognitively unable to run an effective two-year high-intensity investigation. He was the un-Durham—as leaky and hodge-podge as the latter's probe is quiet and professional. Mueller likely outsourced his tasks to an incestuous group of partisan and progressive lawyers, many of them incompetent, with conflicts of interest and blinded by partisanship.
In the end, Team Mueller's chief legacy was burning through more than $32 million in federal funds, hiding evidence, rigging a now-withdrawn indictment of Michael Flynn, initially hiding the amorous unprofessionalism of Lisa Page and Peter Strzok—and Mueller himself testifying before Congress that he knew little of anything about the Steele dossier and Fusion GPS, the fonts of his own investigation.
Mythology of the Weak and Pathetic
The country once knew little of Representative Adam Schiff (D-Calif.). But once the media sanctified his role after the 2018 election as the chairman of the House Intelligence Committee, we knew what lay ahead. No sooner had the Renaissance Schiff assumed the chairmanship of the committee than we were lectured ad nauseam how he was a Harvard Law graduate, with a sly sense of humor, who had he not blessed the country with his stellar political career otherwise might well have been a successful Hollywood screenwriter. He ran his committee with flair and competence lacking under the former chairman, the supposedly plodding dairy farmer Devin Nunes (R-Calif.). In other words, we quickly discovered the truth through the Doctrine of Media Untruth.
Within about a year, the public knew that Schiff was a fraud. He had suppressed key testimonies that long ago revealed that the functionaries in the collusion hoax had admitted under oath they had no evidence for the accusations they made daily in the media, and that CrowdStrike, in fact, could not prove a Russian genesis for the hacking of DNC emails.
Schiff himself tapped into the communications records of his own colleague and the former chairman of his committee, Nunes. He lied habitually, most egregiously in denying that he or his staff had anything to do with the Ukrainian "whistleblower" when in fact his team had been in close communications with him.
Each time Schiff assured the media of "bombshells," that the "walls were closing in," or that there were all sorts of new top-secret, classified, rarified information known only to him, which would shortly "prove" Trump "collusion," we understood that he was a con man and prevaricator who had no proof at all or any such evidence. Whatever report he issued (cf. the "Schiff memo"), would certainly be dishonest and not factual. And, of course, it was.
Empowering of the Deceptive Expertocracy
Nowhere has the Doctrine of Media Untruth been more helpful than in following Trump during the coronavirus epidemic. The media fixated on hydroxychloroquine because Trump said it might be a game-changer and he took it himself as a prophylactic. That ensured that the ubiquitous, long-tested, mostly safe, and cheap anti-malarial, anti-lupus household drug would suddenly be declared useless and deadly.
Would the media ever repent and empirically report that in some cases hydroxychloroquine is considered to be efficacious in treating the early symptoms of the disease by front-line doctors, in line with a series of pre-COVID-19 studies that it could be helpful against SARs-like viruses?
If tomorrow Barack Obama gave a press conference, and should confess that when he travels he takes the drug, given its general safety and scattered reports it might have prophylactic value against COVID-19, we would soon read headlines of a "miracle drug" that is cheap, accessible, and vital to the world's poor and at-risk.
When readers are told that Trump is an idiot for suggesting that the virus might end up like a bad flu year, that his advocacy for opening up the country is a death sentence, that his travel ban was too late and too porous, and that the economy has been wrecked permanently by his incompetence, then we should assume that the death tolls by autumn might approximate or slightly exceed the flu's lethality in years like 1957-8 or 1967-8, that states that open up do not have much greater spikes in virus morbidity than do states that do not, that the travel ban saved thousands of lives and would likely not have been issued by most traditional presidents so early, and that the economy likely will begin its ascendance by autumn.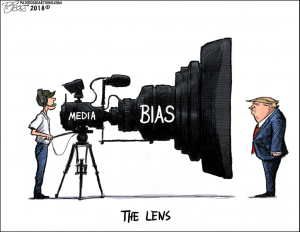 Finally, early on in the COVID-19 crisis, the media consecrated Dr. Anthony Fauci as the godlike man of science, in antithesis to the buffoonish, pre-Enlightenment fool Trump. If Fauci uttered a truism, it reverberated across the media world as gospel—but also as a sly putdown of the oblivious, oafish president. So, under the Doctrine of Media Untruth, the more the Fauci hallowing grew, the more we knew he had feet of clay.
The more Fauci was brilliant, prescient and sibyllic, the more we knew that he came late to the danger, had once declared the virus to be not much of a threat, suggested that hook-ups and cruise trips need not be too much derailed by the virus, declared that opening up locked-down states would be a terrible idea, fueled wild modeling estimates of several hundreds of thousands soon to die from the virus, doubted the efficacy of masks, and warned we should not expect an effective vaccination for years.
In other words, under the Doctrine of Media Untruth, the more Fauci was turned into a god and an anti-Trump avenging angel, the more he was human and not especially any more prescient medically than Trump was politically.
Today, the public knows that if Fauci issues a periodic warning from on high, listeners should contextualize it as a valuable data bit, collate his warning with underappreciated economic realities, consider that it might be seen as a subtle putdown of Trump, and move on—all the more so as the media blares out that Trump ignores the latest brilliant forecast from the Einsteinian viral master.
Trump Draws Them Out
The hatred of Donald Trump explains some, but not all, media bias. During the Obama years, a media cohort came of age assuming that the hip, young, educated, urban classes like itself were in permanent ascendance. It did not need to worry about listening to others, venturing beyond coastal corridors, or questioning whether it was really educated or merely branded with mostly mediocre degrees.
Being in the media was analogous to being issued a union card or belonging to the late Soviet party: one was part of an unthinking herd, mouthing platitudes, and hoping to get by and ahead that way.
When knowledge, wisdom, independent thought, even basic competence were no longer requisites for success, then the media naturally slid into mediocrity, valued youth and looks, rank partisanship, obeisance to conventions and stereotypes, and mastered networking and obsequiousness instead of valuing independence.
Trump's antics simply lured the snails out of their shells and showed the public they were glorified slugs all along.
Victor Davis Hanson is an American military historian, columnist, former classics professor, and scholar of ancient warfare. He was a professor of classics at California State University, Fresno, and is currently the Martin and Illie Anderson Senior Fellow at Stanford University's Hoover Institution. He has been a visiting professor at Hillsdale College since 2004. Hanson was awarded the National Humanities Medal in 2007 by President George W. Bush. Hanson is also a farmer (growing raisin grapes on a family farm in Selma, California) and a critic of social trends related to farming and agrarianism. He is the author most recently of The Second World Wars: How the First Global Conflict was Fought and Won (Basic Books).