Happy to share some good news regarding Book 3 of the Finding Billy Battles Trilogy.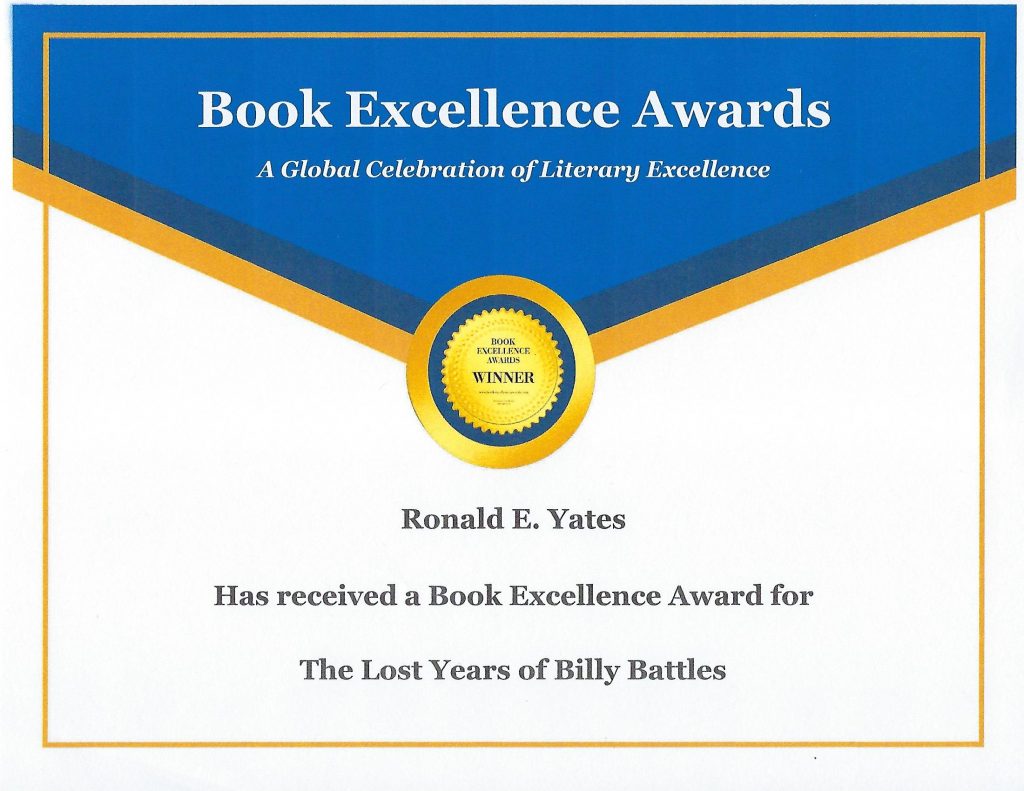 In case you aren't familiar with the trilogy or Book #3, here is a little teaser about both:
About the Finding Billy Battles Trilogy
The Finding Billy Battles trilogy tells the story of a man who is born in 1860 and who dies in 1960. In between Billy Battles lives an improbable and staggering life of adventure, peril, transgression, and redemption. At one point in his life, Billy mysteriously disappears. For several years his family has no idea where he is or what he is doing.
Finally, with his life coming to an end, Billy resurfaces in an old soldiers' home in Leavenworth, Kansas. It is there when he is 98 that he meets his 12-year-old great-grandson and bequeaths his journals and his other property to him — though he is not to receive them until he is much older.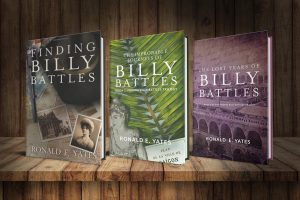 Years later, the great-grandson reads the journals and fashions a three-volume trilogy that tells of his great-grandfather's audacious life in the old west, as well as his journeys to the Far East of the 1890s—including French Indochina and The Philippines—and finally, in the early 20th century, to Europe and Latin America where his adventures and predicaments continue. Trouble and tragedy dog Billy his entire life. In each book of the trilogy, we witness Billy's ability to handle setbacks and misfortune as well as his successes and relationships.
Each book in the trilogy blends historical fact with fiction. The books are meticulously researched down to the last detail so readers not only find themselves immersed in a compelling story, but are exposed to historical events and real people that make the worlds of the late 19th and early 20th centuries come alive.
My purpose in writing the trilogy was to tell a compelling story that, while fiction, is grounded in accurate historical fact. As such, I was careful to use the vernacular of the time and to describe places and events as they were in the late 19th and early 20th centuries.
There is no great literary message in the books, other than to demonstrate that many people in the past lived remarkable lives filled with adventure, sadness, struggle, joy, and love just as today. They were not, as so often portrayed in the pallid black and white photographs of the time, stiff, lifeless figures without vivacity and depth.
The Finding Billy Battles trilogy is targeted at readers who enjoy historical fiction topped off with a generous helping of action and adventure. It takes readers to an earlier time devoid of the relentless intrusion of today's prevailing technology.
People who lived during Billy's prime were not dominated by and yoked to technology the way so many of us are today. It was a time when the notions of "honor," "fidelity," and "duty" were guiding principles in most people's lives. People were less harried and stressed and more disposed to stop and smell the flowers than their 21st-century counterparts.
If there is one message my books have it is this: Reading a book is a lot like life; you live it one page at a time. 
Synopsis: The Lost Years of Billy Battles (Book 3)  
Where in the world is Billy Battles?
As Book Three of the Finding Billy Battles trilogy begins we know where Billy is. He is in Chicago with his wife, the former Baroness Katharina von Schreiber living a sedate and comfortable life after years of adventure and tragedy. That changes with a single telephone call that yanks Billy and Katharina back into a life of turmoil and peril.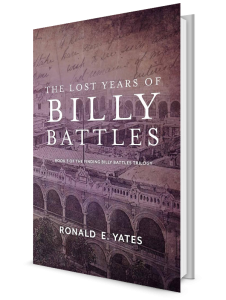 Persuaded by a powerful old friend to go undercover for the U.S. government the two find themselves in Mexico during the height of the violent 1910-1920 revolution. There they grapple with assorted German spies, Mexican revolutionaries, devious political operatives, and other miscreants. Caught in the middle of the 1914 American invasion of Veracruz, they must find a way out while keeping their real identities secret.
After managing to extract themselves from danger, disaster strikes. It's an ordeal Billy is all too familiar with and one that will send him plummeting into a painful abyss of despair and agony. Consequently, Billy vanishes leaving family and friends to wonder what happened to him. Where is he? Is he dead or alive? What provoked his disappearance? In Book Three of the Finding Billy Battles Trilogy, those questions are answered, and the mystery behind Billy's disappearance is finally revealed.
If you haven't read any of the books I hope you will take a look. If you have, many thanks, and if you haven't already don't be shy–go ahead and write a review on Amazon, Goodreads, or Barnes & Noble.