I am sharing this look back at 2022 that I received from USAFacts. It is a numbers-driven, all-angles look back at 2022. Here are some highlights.
This has been a year of rising prices, the war in Ukraine, landmark Supreme Court decisions, and delayed flights. The nation still averages thousands of new daily COVID-19 infections, but the numbers are closer to summer 2020 levels. However, the US also hit a grim milestone for coronavirus deaths this year.
1 million
In May, the United States officially surpassed 1 million deaths from COVID-19. That's one in every 331 people in the US. The nation has reached almost 1.08 million coronavirus deaths as of early December.
$113.77
The price for a barrel of oil in June, a 14-year high. Russia's war in Ukraine affected prices, though costs had risen steadily since the pandemic's beginning.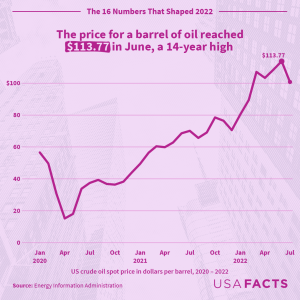 9.0%
In June, consumer prices had their highest 12-month increase in 40 years (compared with the same month a year prior), jumping by 9.0%. There are so many items in the Consumer Price Index that no one commodity tends to swing it in either direction, but 2022 has been a year of high inflation rates compared to rates over the past decade.
Six (and seven)
Six states (Texas, Florida, Oregon, Colorado, Montana, and North Carolina) gained congressional seats after the 2020 census. Seven states (New York, Illinois, Michigan, Ohio, West Virginia, California, and Pennsylvania) lost a seat each. The 2022 midterm was the first congressional election after these gains and losses.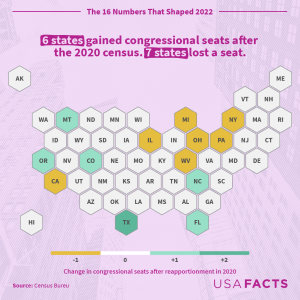 $10 billion
The cost of the James Webb Telescope project through the fiscal year 2021. Photographs from the James Webb seized the nation's attention over the summer. The powerful telescope has captured, among other subjects, the formation of a new star and the deepest infrared image of the universe to date.
5,972
The number of firearms the Transportation Security Administration (TSA) seized last year. Eighty-six percent of those were loaded. From January to June this year, the TSA stopped 3,000 firearms from entering planes, an average of 17 daily.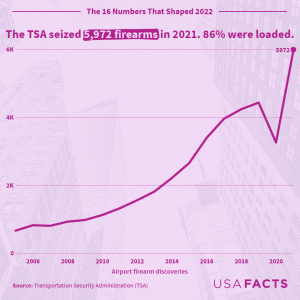 60%
Crime in 2020 was 60% lower than 40 years prior. The crime rate hit a high in the early 1990s and fell annually between 2001 and 2020. There were nearly five times as many property crimes as violent crimes in 2020, so despite violent crime rising by 4.7% from the year prior, the overall crime rate was down 6.2%. (Note: This is a surprise)
Click the URL below to see the entire list:
https://usafacts.org/articles/the-16-numbers-that-shaped-2022/?utm_source=Mailchimp&utm_medium=Email&utm_campaign=Dec-19-16-numbers-2022&utm_content=article
Data behind the news
During the weekend of December 10, Border Patrol officers in El Paso, Texas, recorded more than 7,000 migrant encounters. Learn more about what encounters entail in this article from our archives, then learn how Title 42 altered border encounters during COVID-19.
State governments are taking steps to limit TikTok on state-owned devices. And last week, the US Senate voted to ban the app on government-issued phones. If you're not on a government-owned telephone, ensure you get government data on hot topics by following USAFacts.
Once you've read up on the 16 numbers that shaped 2022, test your knowledge with the weekly fact quiz!
One last fact
The Great Smoky Mountains National Park had 14.2 million visits in 2021, retaining its status as the country's most-visited national park.
Visitors to the Grand Canyon rose by 57% compared to the year prior. Yosemite visits grew by 28%, but trips to both parks remained below pre-pandemic levels.
[If you enjoyed this post, please consider subscribing to ForeignCorrespondent and tell your friends to subscribe. IT'S FREE! WHAT A DEAL! If you've received this from a friend and would like to be added to our distribution list for future blog posts, please enter your email address in the sign up for notifications box on the right side of this post or at: https://ronaldyatesbooks.com/category/foreign-correspondent  You can also find my commentaries on the American Free News Network at https://afnn.us. And please feel free to comment. WE LOVE COMMENTS!]