During the course of a week, a lot of information and hearsay finds its way to my desk, either from The Internet or via snail mail. It often merely sits there on my computer or on my desk until I delete it or send it into the "round file."
Normally, this material is not enough to warrant a complete post by itself. As the Aussies like to say, it's a "dog's dinner"—an assortment of scraps that, when mingled, can make a meal for a dog, or in this case, a comprehensible post.
So today, I have prepared a dog's dinner for you. It's a collection of thoughts and ideas, and commentary that I hope you will find enlightening.
Corporate Wokeness
Let's begin with a tongue-in-cheek bit of intelligence I received from the Babylon Bee regarding new merchandise from America's woke companies that we will soon see on store shelves.
G.I. Joe – Diversity Training Edition: This G.I. Joe sits in a chair all day and consumes diversity training modules! A real American hero.
Honey Bunches of Crickets: Now you can have breakfast AND have a perfect ESG score.
State Farm Monkeypox Insurance: You can never be too safe.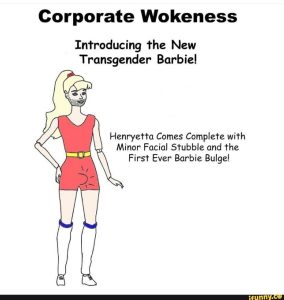 Dylan Mulvaney American Girl Doll: Now your daughter can play with a doll version of the prettiest lady in the world!
Holy Bible – Inclusive ChatGPT Translation: Finally, a Bible that doesn't have all that offensive stuff about sin and God's wrath.
Victoria's Secret Menswear: Sure to contain secrets you never knew Victoria had.
Literally everything at your local grocery store: Who are we kidding? It's pretty much ALL woke at this point.
These new products are only the tip of the iceberg. Get out to a store right away and find out what else you need to boycott!
Boy Scouts of America
When I was growing up, I joined the Boy Scouts of America and rose to the rank of "Life," which is just below the highest rank of Eagle Scout. I learned a lot in the Boy Scouts, not the least of which was to respect nature and how to live a useful and responsible life. A lot of what I learned has remained with me.
I still remember the Boy Scout Oath:
On my honor, I will do my best
To do my duty to God and my country and to obey the Scout Law;
To help other people at all times;
To keep myself physically strong, mentally awake, and morally straight.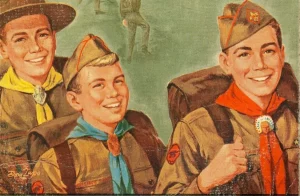 That oath made sense to me then, and it makes sense to me now, decades later. So did the Boy Scout motto: "Be Prepared!"
I learned that the oath contained three obligations or duties that you have when you recite it:
Duty to God and country
Duty to other people
Duty to self
Today's Boy Scouts of America bears little resemblance to the organization I joined when I was about 12 years old.
I learned that from an email I received from an anonymous author a while back. Take a look at what he had to say:
"The Boy Scouts are holding their National Jamboree in West Virginia. And for the first time in history – gay rights organizations have been invited to pitch tents.
"The Washington Post said one tent was decorated with a canopy of LGBTQ flags and bowls of rainbow bracelets. Also on hand were pronoun stickers and diversity patches.
"The tents — offering free merchandise, panel discussions, and guidance for scouts on 'how to be an ally'— appeared more popular than the Methodist and Mormon tents down the gravel lane," the Post reported.
"The Post also reported that attendance was dismal – just 15,000 Scouts compared to more than 40,000 at the previous jamboree. Overall, the Scouts lost half its membership between 2019 and 2020.
"The Scouts jumped down the slippery slope in 2015 by admitting gay men. Then came transgender scouts in 2017 and biological girls in 2018. And then there were the hundreds and hundreds of sex abuse cases.
"The Post reports that Scouts "seized the moment to press for a focus on diversity, equity and inclusion."
"A collective dubbed 'Scouts for Black Lives' successfully pushed the organization to commit to a slate of projects, including a new diversity merit badge required for Eagle Scout rank. And at this year's National Jamboree, the BSA has for the first time created community spaces for historically excluded populations," the newspaper reported.
"When your grandfather was in the Boy Scouts, he learned to do his duty to God and Country. To be mentally awake and morally straight. But the most important value in the Boy Scouts these days is diversity. If you go to their website – and click on "About the BSA," – the very first page is about diversity, equity, and inclusion.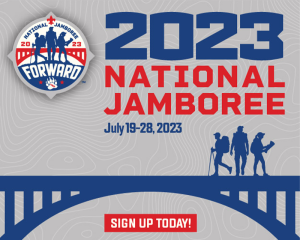 "Ironically, it seems the only people who are not welcome in the Boy Scouts these days are boys. And specifically church-going, heterosexual, biological boys."
The author ended his comments by suggesting that parents sign their sons up for Trail Life USA – a scouting program rooted in the early traditions of the Boy Scouts – without all the woke nonsense. Trail Life actually prides itself as an organization that lets boys be boys.
"What a novel concept," he concluded.
I am not familiar with Trail Life USA, but I checked out their website at: https://www.traillifeusa.com/. According to its mission statement: "Our Mission is to guide generations of courageous young men to honor God, lead with integrity, serve others, and experience outdoor adventure."
If I am not mistaken, that used to be the mission of the BSA.
It's amazing to me how the woke mentality of the BSA has made the leap into our military, which seems today to be more concerned about Diversity, Equity, and Inclusion than how to fight and win a war. That is particularly troubling when you consider that we have lost or failed to win every major war we have engaged in since World War II—including the Korean War, Vietnam, and now, after 20 futile years, Afghanistan.
You would think that with that kind of military record, our military leaders might be more focused on combat readiness, unit cohesion, and tactics as they impact the battlefield rather than what pronoun you use when you address a superior or how to relate to a transgender soldier or a sailor experiencing gender dysphoria.
The U.S. Women's Soccer Team & their World Cup Washout
For years I have watched the U.S. Women's Soccer Team pretty much dominate the world when it comes to Olympic and World Cup soccer. I figured they would do the same at this year's FIFA World Cup competition in Australia and New Zealand.
Boy, was I disappointed. This year's team was a pathetic imitation of past U.S. teams. From the outset in its game with an outmatched team from Vietnam, the American women seemed to be sleepwalking their way through their round of four matches, wound up with a lackluster 1-0-2 record, and limped into the knockout round where they lost to a tough Swedish team on penalty kicks.
Here are some of my impressions of the American women.
First, I was disappointed by some team members who either kneeled during the playing of the National Anthem or who refused to sing along. Wasn't this team representing the USA? Shouldn't they be proud to do so?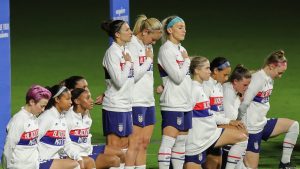 I had the feeling that some of them felt like they were being forced to represent the United States. I know several had complained about being paid less than their male counterparts on the professional soccer circuit, but I thought that disparity had been resolved.
Others grumbled about the diversity of the team or the lack thereof. Did they think there weren't enough black or Hispanic or gay players on the team? It seemed pretty diverse to me—though I don't think any team that represents the United States on the world stage in any sport should be built based on DEI—diversity, equity, and inclusion.
It should be assembled based on talent and ability—not race, religion, or sexual orientation.
In any case, the Americans put on a dismal performance and were sent home early. Meanwhile, teams like Spain, Sweden, England, and the Australians played their butts off, and now England and Spain will face off in the championship game this Sunday.
Good for them. These are two teams who have never had the opportunity to play for a World Cup Championship, and I think that is probably good for international soccer.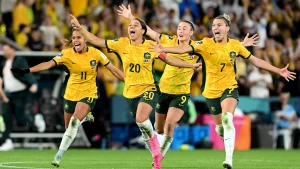 Meanwhile, the American team has some soul-searching to do and probably needs to find a new coach and maybe some new competitive blood when it comes to its team members. Who knows, maybe they will add a couple of transgender men to the roster. I wouldn't be surprised, given the fatuous wokeness of America's sports world.
I hope, however, that no matter what happens, we can field a team that is actually proud to represent the USA and doesn't use the World Cup or Olympic Games to stage a DEI protest by taking a knee during the playing of the Star Spangled Banner or disrespecting the American flag.
For me and others who still believe in American exceptionalism and patriotism, it's as if the team was giving us the middle finger.
That's when I switched my allegiance for this year's World Cup to the Australian Matildas. You could tell they were proud to represent their country—and they played like it!
–30–
[If you enjoyed this post, please consider subscribing to ForeignCorrespondent and tell your friends to subscribe. IT'S FREE! WHAT A DEAL! If you've received this from a friend and would like to be added to our distribution list for future blog posts, please enter your email address in the sign-up for notifications box at https://ronaldyatesbooks.com/category/foreign-correspondent. You can also find my commentaries on Substack at https://ronyates.substack.com/ and the American Free News Network at https://afnn.us. And please feel free to comment. WE LOVE COMMENTS!]